Marie Berta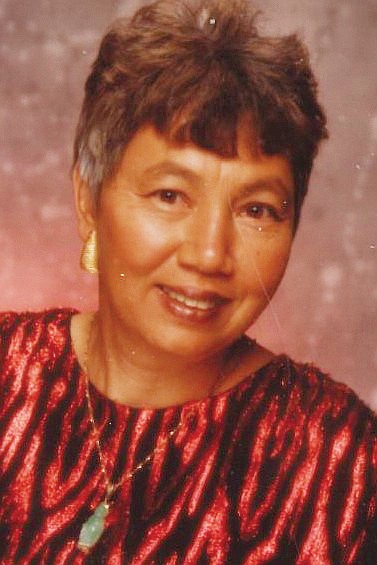 Marie Berta (Nguyen Thi Bê)
|
September 15, 2021 2:00 AM
Marie Berta (Nguyen Thi Bê), 71, of Columbia Falls, Montana was born on Dec. 3, 1949, and grew up in Vung Tau, Vietnam. God called Marie home on Sept. 8, 2021, where she was reunited with the love of her life. Her beloved husband of 50 years, James Edward Berta passed away in 2015, and Marie looked forward to reuniting with him in heaven.
As a young girl Marie enjoyed the beaches and loved music. She was a hard worker from a very young age. She met her husband, Jim Berta when she was only 14 years old while working at a restaurant in Vung Tau. Jim was serving in Vietnam and had Marie's boss asked her if she wanted to grab a Coke with him, to which she agreed. They sat on the beach, drank their Coke and their love story grew from there.
While Jim was stationed in Vietnam, Jim and Marie went on numerous dates. Jim proposed to Marie on the beach, and they were married before returning to America. Jim traded his guitar to a nurse for her plane ticket to get Marie back home with him.
In 1965, they settled in Columbia Falls where they raised three children together. Marie had many roles and loved earning her own paycheck. She eventually stopped working to join Jim on the road during his trucking career. She loved collecting souvenirs on the road, including a t-shirt at each stop and trinkets for her grandkids; she loved to shop.
Marie lived her life in full color and loved "bling, bling." Her home and heart always remained open to all who met her and all who met her became her extended family. She loved being around people and loved taking pictures. Marie was always excited to travel, go to concerts and experience everything new that she possibly could. She was selfless and loved to watch people "enjoy" and have fun.
Marie loved to watch sports. She was the Wildcats/Kats #1 fan. If there was a home game, you could guarantee that you could find her in the stands and when possible, she would travel to watch the teams play. Marie loved to go to every sporting event, it did not matter what sport was being played. She was known as "Grandma" to many people in Columbia Falls and she loved to support the kids, whether she knew anyone playing or not.
Her laugh was contagious, her soul was genuine and her love for life and for people was evident.
Marie lived a full, vibrant, adventurous, and happy life. She passed away at the Kalispell Regional Medical Center after a short battle with cancer. Marie is survived by her three children, Elizabeth (Gregory) Mutzenberger, Robert Berta, and Denise Holm. She was a loving and fun grandma to six grandchildren, Ryan Mutzenberger, Rylie Mutzenberger (Josh Ericson), Ashton Berta (Trevor Russell), KC Holm, Montana (Levi) Gottsch, and Hailie Holm. Marie is also survived by her "bonus son" Edward (Nichole) Bechtel and their children Tavia and Logan.
Marie was preceded in death by her husband, James (Jim) Berta; son-in-law, Mackenzie (Mac) Holm; mother, Nguyen Thi Hoa; father-in-law Patrick Berta; mother-in-law Edith Berta; and numerous relatives and friends.
A funeral service will be held on Friday Sept. 17, 2021, at 1 p.m. at St. Richard's Catholic Church. A reception will immediately follow the service in the basement of St. Richard's Catholic Church.
Columbia Mortuary in Columbia Falls is caring for the family.
---