Spikers drop Stevi in 5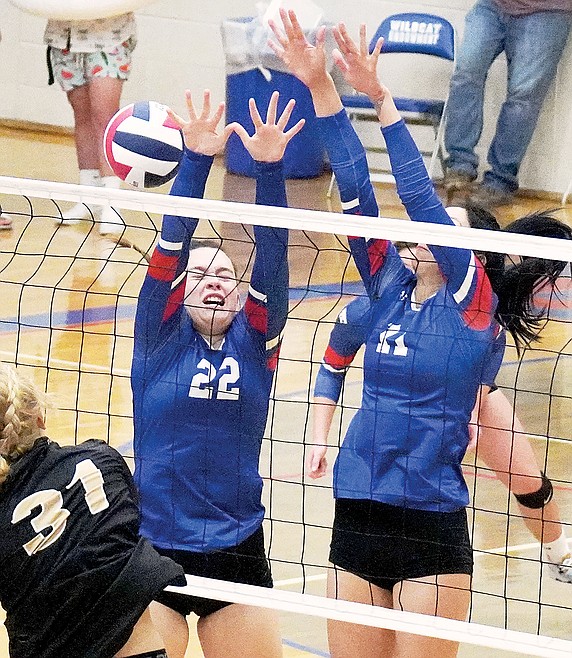 Maddy Collins (22) and Jazzy Marino jump up for a block against Stevi. (Nancy Underdahl photo)
by
CHRIS PETERSON
Editor
|
September 8, 2021 7:20 AM
The Columbia Falls volleyball team came back to beat Stevensville in their home opener Saturday in five sets, 27-25, 15-25, 27-29, 25-23, 15-11.
The Wildkats had 42 kills, led by Madeline Stutsman with 12, Jazzy Mariono with 10 and Grace Gedlaman with seven.
Marino had 21 assists and four aces. Gedlaman had three blocks. Stutsman had 12 assists as well.
"It was a battle back and forth," coach Jolandie Brooks said. "We let them get too far ahead in set two and didn't work our way back. In set three, we were ahead and let them come back to win. We got the job done in sets one, four and five. It was great experience for my girls. You can't mimic those types of situations in practice, and man, to come away with the win, it feels great."
The Kats travel to Havre this Friday for their only match of the week.
In football the game against East Helena was canceled as Helena had problems with coronavirus.
---