Woman's body found in Glacier National Park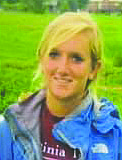 |
September 6, 2021 7:25 AM
A woman who had been missing in Glacier National Park was found dead Sunday. Jennifer Lee Coleman, 34, of Virginia was believed to be hiking around Logan Pass on Aug. 30 or 31. She was supposed to check out of the West Glacier KOA Aug. 31 but never returned. She was reported missing Sept. 1. Her car was found at the Logan Pass parking lot.
A ground and air search ensued in the Logan Pass area.
Few details were released on the location of her body, other than it was near the Continental Divide. She was initially said to have either been hiking or climbing near the Highline Trail or the Dragon's Tail of Mount Reynolds.
Both areas are rife with cliffs and other hazards.
Her body was not immediately removed Sunday due to high winds which made flying a helicopter treacherous.
The cause of death is under investigation.
Glacier Park rangers and staff as well as Flathead County Sheriff's Department, Glacier County Sheriff's Department, Two Bear Air Rescue, and the Flathead National Forest were all involved in facets of the search.
Recent Headlines
---