Girls tie for title at Libby Invitational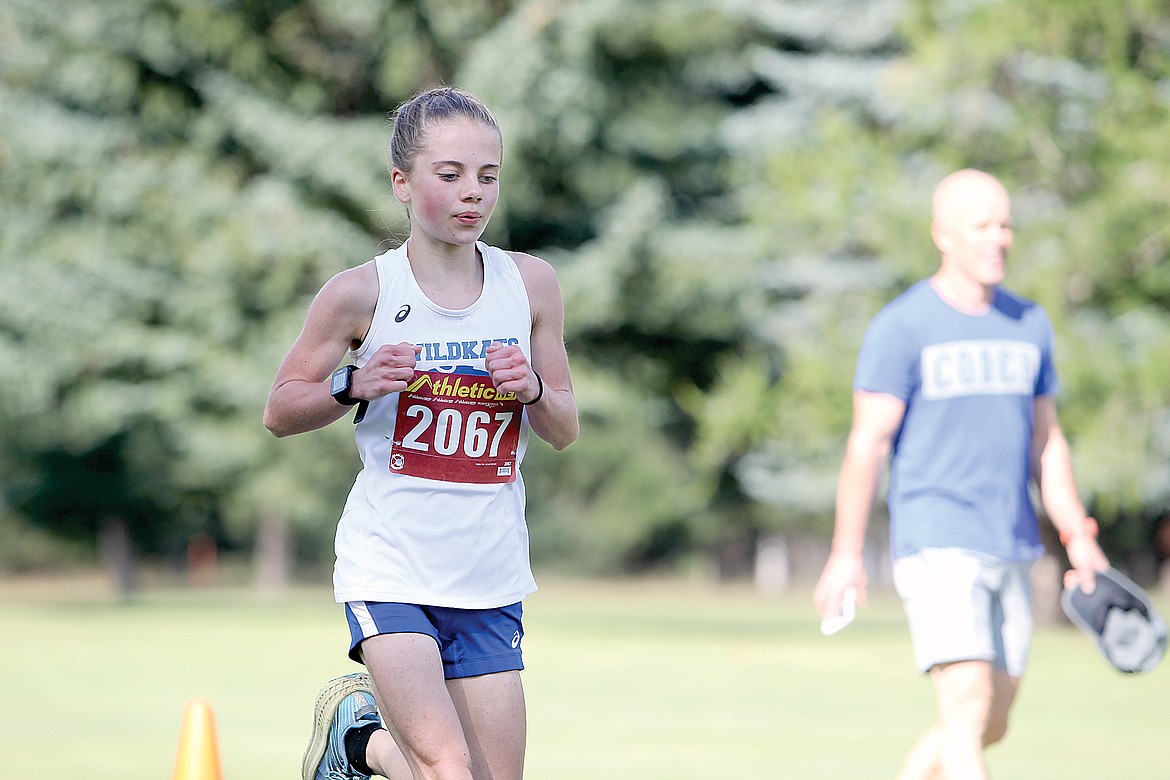 Marissa Schaeffer runs in the Libby Invitational. She had a nice outing for her first varsity race. (William Langhorne photo)
by
STAFF REPORT
Staff Report
|
September 1, 2021 7:10 AM
Hungry Horse News
The Columbia Falls girls cross country team tied for the title with Couer d'Alene at the Libby Invitational Friday. The Wildkats were led by Siri Erickson and Hannah Sempf, who took first and second respectively.
Coach Jim Peacock was pleased with the performances.
"They looked comfortable and cruised together.  Anyone brave enough to go with them fell off pace one-by-one, leaving them to enjoy each other's company for the bulk of the race.  With about a 1/4-mile to go, they were still side by side.  Siri decided to kick it in, and finished first.  Hannah cruised in for second.  Siri's time placed her on the Columbia Falls cross country Hall of Fame board, and she's now the sixth fastest girl in school history," Peacock said.
Erickson clocked a 20:11.4, Sempf a 20:20.82.
The Wildkats also had strong performances from Courtney Hoerner, Ally Sempf and freshman Marissa Schaeffer, who took 11th through 13th respectively.
Julia Martin was 18th.
The top runner for the boys was Logan Petersen, who took seventh with a 17:39.47. They took fourth as a team.
"The boys' varsity accomplished what I hoped for in the first meet.  This is a young team that is going to gain experience every week, and with that, they will keep gaining experience and confidence.  Most of the team ran career best times, showing these guys have gained strength in the past year," Peacock said.
Peacock was also impressed with freshman Brock Swope, who ran well in his first varsity race.
Swope was 31st, with a 19:58.
---