Cats thump Stevi in home opener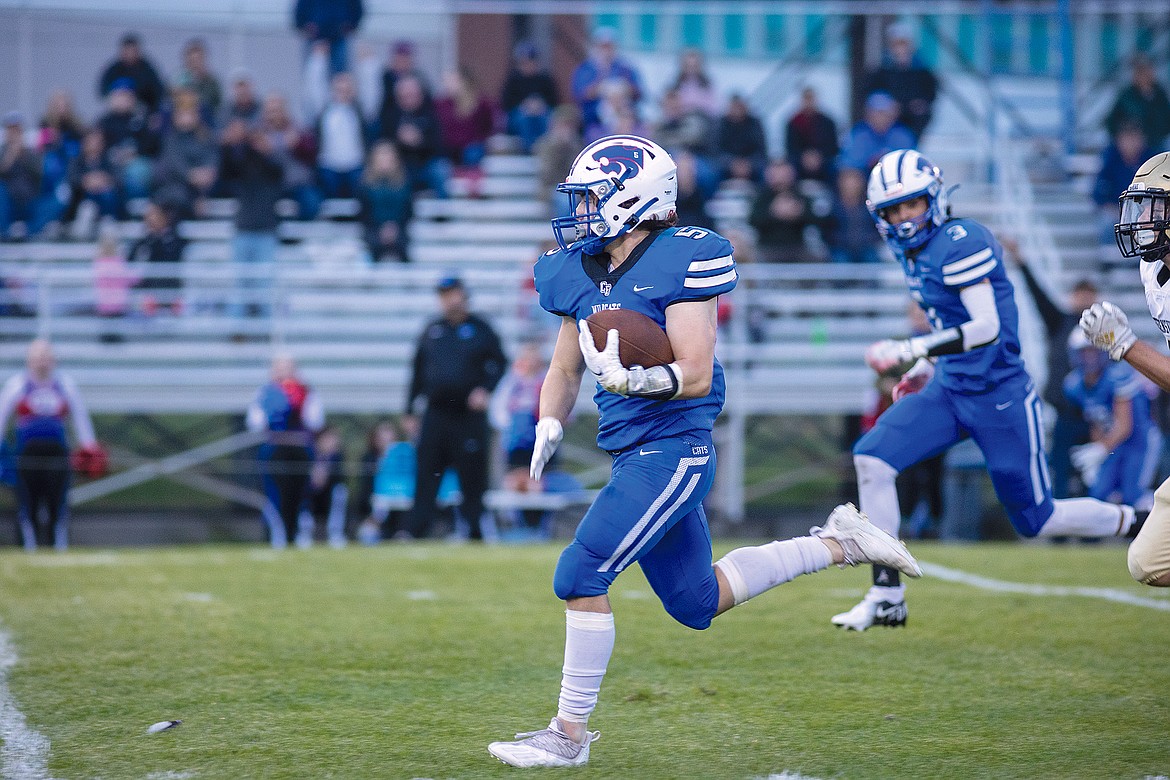 Isaiah Roth runs for a touchdown in the first half against Stevensville.
by
CHRIS PETERSON
Editor
|
September 1, 2021 8:10 AM
Lightning delayed the start of the football opener — the first weather delay in decades.
No matter.
Columbia Falls running back Isaiah Roth had some lightning of his own, as he ran for 170 yards on 14 carries and three touchdowns as the Wilkdcats dumped Stevensville at home, 35-6 to open the season.
Roth had touchdowns on a two-yard catch, a 63-yard run and added a 16-yard touchdown run in the third quarter.
Cody Schweikert had his first full start at quarterback and the sophomore performed well, going 12 for 18 for 110 yards.
Schweikert also had 51 yards rushing. He had one interception in the second half as there were three turnovers in three possessions. Stevi fumbled, then intercepted Schweikert and then Stevi fumbled again as the rain pounded down.
The game actually started out with pleasant weather. The thunderstorm that brought the lightning ended up sliding to the south, but then rain rolled in during the second half.
Jace Duval had a great night as well, with a touchdown catch of 12 yards. It looked like he had a second touchdown in the first half as he stretched out and touched the pylon with the ball, but the referees marked it down at the half-yard mark.
The next play Roth had the short TD catch.
Rowdy White rounded out the scoring for the Wildcats, with a 32-yard scamper in the second half.
Mark Robison had a great night kicking point-after attempts, hitting all five.
The young offensive line did a good job blocking. Stevensville was bigger, but not better, than Columbia Falls.
Col. Falls 14 7 7 7 - 35
Stevensville0 0 0 6 - 6
CF — Isaiah Roth 2 pass from Cody Schweikert (Mark Robison kick) CF — Roth 62 run (Robison kick) CF — Jace Duvall 12 pass from Schweikert (Robison kick) CF — Roth 16 run (Robison kick) CF — Rowdy White 32 run (Robison kick) Stevi — unavailable 2 run (run failed)
---