Yesterdays: Glacier Park was considering tent camps for backcountry hikers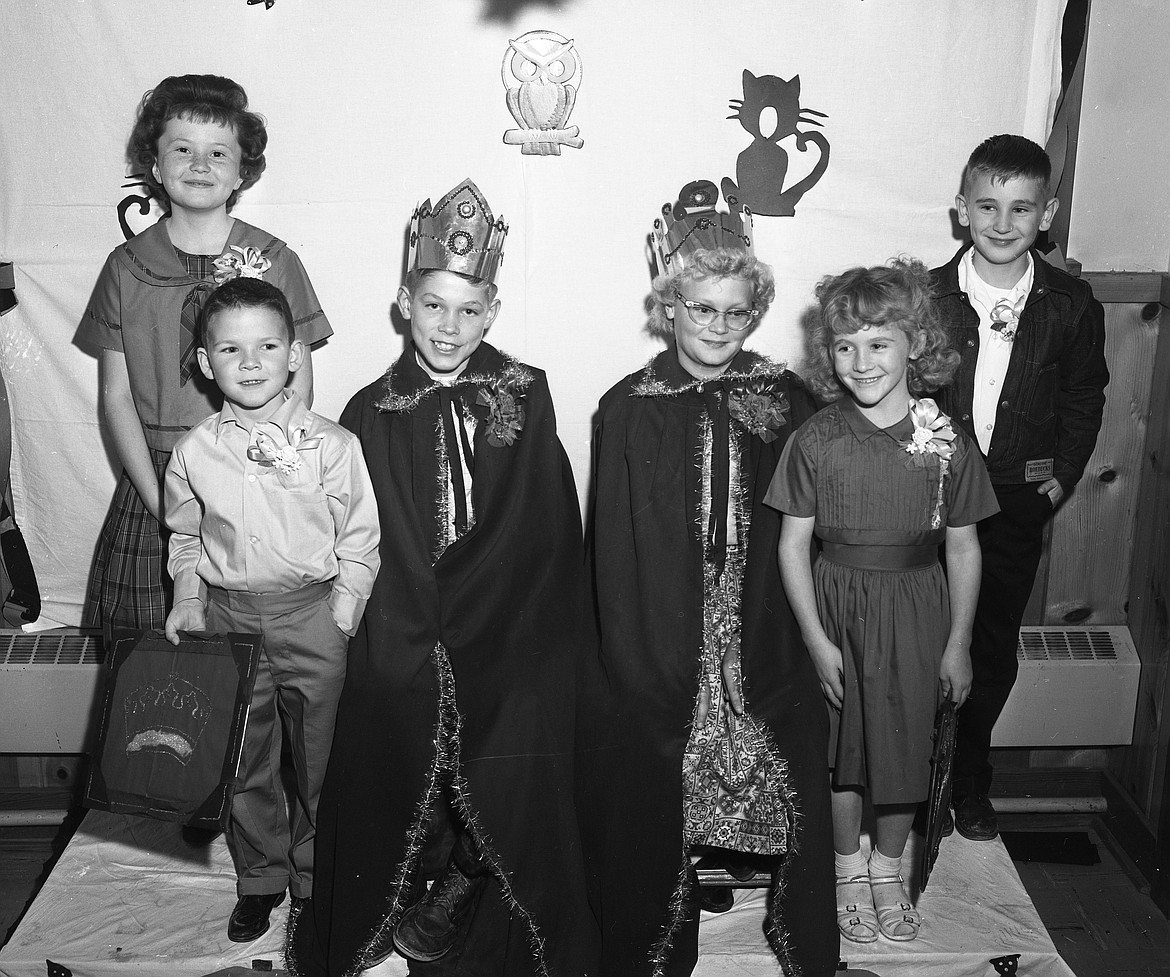 Halloween royalty at the Coram School in October, 1961 were Larry Kickbush and Verna McVay, center. Then from left are Becky DeReu, Jackie Corbett, Lori Bras and Ray Fisher. (Mel Ruder photo)
|
October 27, 2021 7:20 AM
70 years ago
Oct. 25, 1951
A search was on for James Wishart, a 21-year-old hunter who had gone missing in the Doris Creek drainage near the Hungry Horse Reservoir. Heavy snow was falling at the time but there was still hope they could find him, or his body. Glacier Park was considering tent camps for backcountry hikers. Hikers could use the tents for a nominal fee.
60 years ago
Oct. 27, 1961
Six-year-old Donny Thompson received skin grafts and almost died at one point. He was severely burned after he was playing near a fire and had become wet with gasoline. Like many stories even today, there was no insurance available to pay for his treatment. Several people were working to get a 5-point bull elk stuck out the mud near Kila.
50 years ago
Oct. 29, 1971
The Flathead National Forest was planning on aerial seeding by helicopter larch, spruce and Ponderosa pine on more than 2,100 acres of land over several different districts. The mixed seeds apparently did better than just one species.
40 years ago
Oct. 29, 1981
With a host of layoffs, crime was up in the valley and one of the top items stolen was chainsaws. They were portable, hard to trace and easy to turn around for cash. Almost no one, it turned out, wrote down the serial number of their chainsaw.
30 years ago
Oct. 31, 1991
A $1 million bond was expected to go before city voters to pay for city sewer system upgrades. It was expected to be a snowy Halloween with 6 inches of snow already on the ground and more on the way.
20 years ago
Oct. 25, 2001
The boys soccer team won the state A title, beating Whitefish 2-1. Whitefish was ahead 1-0 at the break, but Eric Hagen had a header to tie it and then Michael Cooper had a header to win it at the 70-minute mark. The Columbia Falls girls fell to Whitefish 1-0, in the first class A girls championship in Montana.
10 years ago
Oct. 26, 2011
Derrick Williams won the state A crown in cross country, clocking a 15:30.76. The Columbia Falls football team had a tougher time, losing to Libby its it final game of the season, 35-28. The Cats finished 2-6.
Recent Headlines
---