Grit gets Cats to championship
|
October 27, 2021 7:55 AM
One down, one to go.
The Columbia Falls boys soccer team battled to a 1-0 state A soccer semifinal playoff win over Loyola on the road Saturday.
The Wildcats scored in the first minute of the game as Josiah Kilman found the back of the net on a feed from Kai Golan.
The literally hung on after that, noted coach O'Brien Byrd.
The Loyola field is a converted football field, so it's just 50 yards wide and 100 yards long — the bare minimum allowed under soccer rules. Flip Darling Field, by contrast, is 76 yards wide and 116 yards long.
Add in some mud and divots and the field "was greasy and bumpy" Byrd said.
Loyola played a game of tough, direct soccer "smashmouth" soccer, Byrd said.
But the young Cat squad held tough.
"They had the grit and focus to survive under pressure," Byrd said.
The boys will face nemesis Whitefish in the state A championship at 11 a.m. Saturday at Smith Field. During the regular season, the Bulldogs beat the Wildcats 4-1 and 5-1 respectively.
The first game was much closer than the score would suggest, but the second game, Bulldog Gabe Menicke scored all five goals.
They'll make some adjustments, Byrd said.
"We're evolving and preparing," he said.
Byrd noted the Bulldogs will start 10 seniors. Columbia Falls, one.
Still, the Cats have shown that even against the Bulldogs, they can control a game. The challenge now is finding the back of the net. The boys program as a whole is slowly turning around.
"Hopefully we'll put the cherry on top of the cake," Byrd said.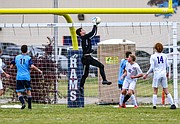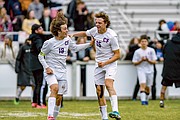 ---