Champs! Sempf takes title as girls cross country takes first ever state A championship
|
October 27, 2021 7:50 AM
Senior Hannah Sempf led the Columbia Falls cross country team to a state A championship in Missoula Saturday.
Sempf won the race in 20:03.40, edging out Kiara Iron Heart of Browning by about four seconds.
Sempf said she held to the back of the front pack with teammate Siri Erickson up to the two-mile mark and then in the last mile began picking off her opponents.
With about 400 meters to go Iron Heart was the only person in front of her. Sempf said she went into her kick with 200 meters to go.
When she passed Iron Heart, "it felt really good."
She said she still is enjoying the title and the team title.
"It feels really good," she said Monday. "I'm kind of floating around."
It was the first ever state championship for the girls program and the first title for Sempf.
Sempf was followed by teammates Courtney Hoerner, who took 18th, Siri Erickson, 20th, Julia Martin 21st and Marissa Schaeffer, 32nd, to round out the scoring for the Wildkats.
The Kats edged Corvallis 92-99 for the title.
Sempf says she plans on running track in the spring and competing in the pole vault as well. After high school she wants to study elementary education. Her mother, Amy Hanson, is an elementary school teacher.
Coach Jim Peacock said he was proud of the team and every runner did their part — beating the opposing team's top five runners.
He said Sempf had a great strategy for the race.
"You don't have to lead a (whole) race," he said. "You just have to win it."
He said this team had the ability all season long to win a championship, and they proved it on the course.
The boys took fifth as team.
James Petersen was 11th to lead the squad. He ran a 17:21.19. Logan Peterson was 21st, followed by Quinn Clark, 35th, Jack Phelps, 40th and Jonathan Blankenship, 41st.
Peacock was pleased with their effort as well. They're a young team, mostly sophomores and freshmen.
"The boys ran exceptionally well across the board," he said.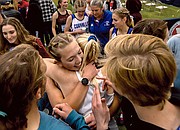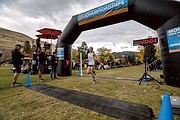 ---