In Somers, a new state park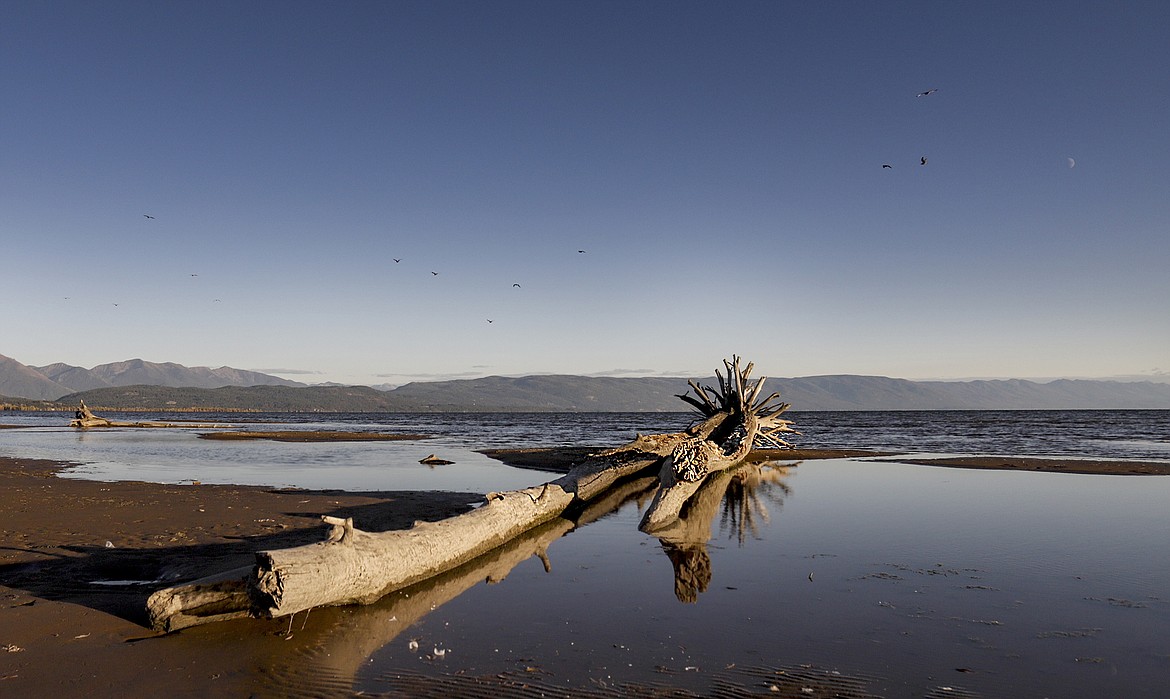 Birds fly over Flathead Lake near a new state park in Somers. (JP Edge photo)
|
October 20, 2021 7:30 AM
JP EDGE
Hungry Horse News
Somers now officially has Montana's newest state park on the northwest shore of Flathead Lake. The size of the park is between 55 and 106 acres, depending on the amount of water in the lake.
The $2.8 million purchase was made official on Oct. 6 between Montana Fish, Wildlife and Parks and the property owners, the Sliter family, who had hoped to use the area for conservation since the '80s. For years, the Sliters have allowed public access to the area, but without amenities like a bathroom or parking area.
"Over the last five years, we've seen how much Montanans love their state parks, especially the sites on Flathead Lake," Coby Gierke, Executive Director of the Montana State Parks Foundation said in a press release. "Adding another park on the lake is an amazing opportunity and we're very glad our partners at FWP didn't let it pass them by."
The Sliters have also promised to match up to $125,000 in a fundraising campaign to help maintain and operate the park, which has $85,000 to date. The campaign is online at: https://www.montanastateparksfoundation.org/somers-beach-state-park
The property sits adjacent to the Flathead Waterfowl Production Area, where flocks of birds can be seen and heard from the park. The federally-owned land is closed between March 15 and July 15.
"We are very grateful for the partners we have worked with to see our dream come into fruition," Andrea Sliter said. "We are hopeful to create this into a piece of land with public access where people and wildlife can coexist."
As one walks along the northern shore of Flathead Lake, most of the lakeshore is deep, sinking mud, perfect for bird habitat. That is, until reaching what is now the State Park, where it becomes a sandy, more friendly beach area. This is because of the gradual slope off of the iconic hill in Somers, according to Paul Travis of the Flathead Land Trust, which helped with the sale.
"It is a unique property because of the gradual angle of the beach that goes pretty far out before you hit the water," Travis said. "There is a lot of sand when the lake levels are lower, which also makes it unique."
Because the state park was just purchased, there has not been any infrastructure built yet. According to Travis, Flathead Land Trust has received complaints from locals about people parking along Somers Road. Until a parking area is built, a solution could be to have visitors park at the Waterfowl Production area for the time being.
The construction of trails, benches, signs, dog bag stations and a parking area is planned to begin after the Park's official grand opening in the spring of 2022. Discussions are yet to be had whether or not to create a camping area.
A long-term vision and development plan for the park will be determined through extensive scoping and public involvement since the site is suitable for a variety of recreational offerings and amenities, such as trails, hand-launch boat access, picnic tables, and restrooms, FWP said.
It is expected that this process and subsequent environmental analysis may take several months, and there is a need for basic visitor amenities to facilitate public use during the interim period. These interim amenities are intended to meet basic public safety and sanitation needs, delineate state park boundaries, and provide visitor information. Specifically, these amenities include parking, portable toilets, trash receptacles, information and regulatory signage, boundary markers and trails to provide non-motorized access to the park.
 A copy of the Environmental Assessment is available at the FWP Region 1 office, 490 N. Meridian Rd., Kalispell; Montana State Library, 1515 E 6th Ave., Helena; FWP State Headquarters, 1420 E 6th Ave., Helena; the FWP website at https://fwp.mt.gov/public-notices; and available for viewing at local libraries. 
A public meeting is scheduled for Thursday, at 6 p.m. through Zoom. The meeting information will be posted online at https://fwp.mt.gov/aboutfwp/regions/region1.
 FWP asks that comments on this draft environmental assessment be submitted to either of the following addresses by 5 p.m. on Nov. 6, 2021 to Stevie.Burton@mt.gov or Somers Beach Acquisition EA, Montana Fish, Wildlife & Parks, 490 N Meridian Road, Kalispell, MT 59901.
---