Cats pound Bulldogs on the road
|
October 20, 2021 6:40 AM
JP EDGE
Hungry Horse News
The Columbia Falls Wildcats toppled the undefeated Whitefish Bulldogs 35-19 in a heated and highly anticipated rivalry matchup Friday. This puts the Wildcats in a good playoff spot, being 4-1 in the league and ahead of the Dogs.
"It was an exciting and well-fought game by both teams," coach Jaxon Schweikert said.
Schweikert attributed the victory to a good offensive line, a lack of turnovers and a defense that was salty from last year's tough loss against the Bulldogs.
Sophomore quarterback Cody Schweikert had a great game with two passing touchdowns and one rushing. He also had a clutch fourth-down sneak for one yard and a sack of Bulldog quarterback, junior Fynn Ridgeway on defense. Schweikert was 10-20, passing for 144 yards.
The Wildcats opened the game with two scoring drives with touchdowns from Isaiah Roth for a 25-yard run and a 29-yard pass to Jace Duval. Whitefish answered with a 27-yard field goal by Ryder Barinowski and a touchdown pass to Bodie Smith for 8 yards. The Bulldogs went for two but failed, bringing the score 14-9 at the end of the first quarter.
In the second half, Whitefish first put points on the board with another field goal by Barinowski, but the Wildcats answered with a touchdown — a 33-yard pass to Duval. The Bulldogs came back to score a touchdown off a 5-yard run by Ty Schwaiger. Roth's second touchdown then came off a 20-yard run on fourth-and-one with 3 minutes to go in the fourth quarter.
Then Alihn Anderson picked off Ridgeway and returned the ball almost 60 yards to the Bulldog's 3 yard line. Schweikert rushed the ball for the final touchdown to put the game away.
Ridgeway was 10-for-28 passing for 85 yards, and two interceptions. The second pick was by Columbia Falls' Mason Peters in the end zone during the game's closing moments.
Columbia Falls will travel to Hamilton this Friday for their last game of the regular season. The Broncs are undefeated. The Cats are now 5-1 (4-1) on the year, second in the Northwest A conference behind Polson.
Columbia Falls 14 0 7 14 - 35
Whitefish 9 0 10 0 -19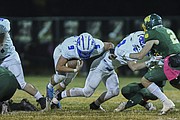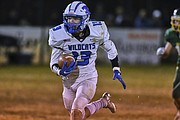 ---