Yesterdays: 'Blood for Korea Day' and other tales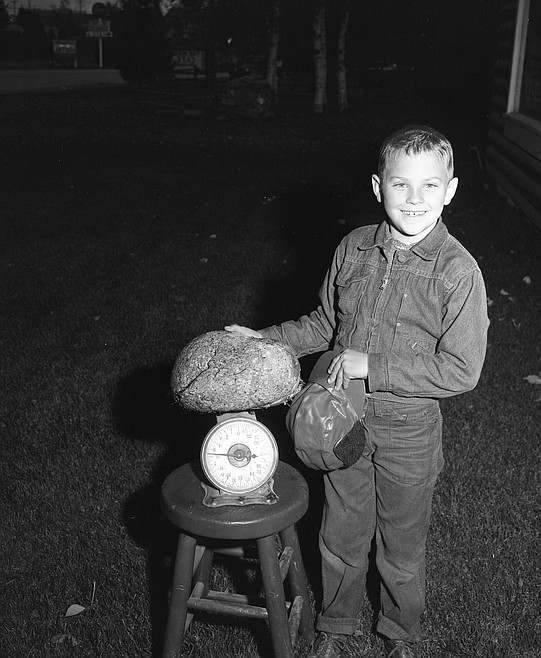 Youngster Howard Shay with a 6-pound mushroom in October, 1961. (Mel Ruder photo)
|
October 13, 2021 12:20 PM
70 years ago
Oct. 12, 1951
Towns like Hungry Horse, Martin City and Columbia Falls were holding "Blood for Korea Day" — giving blood to help soldiers wounded in the war. Glacier Park was building a new campground at the foot of Lake McDonald. It was the newest camp since before World War II and would eventually be named Apgar campground.
60 years ago
Oct.13, 1961
Bear biologist Charles Jonkel had a harrowing encounter with a grizzly bear that had a trap stuck on its foot. Jonkel tracked the bear for three days in an attempt to tranquilize it and remove the trap, but on the third day the bear charged Jonkel and all he could do was shoot it with a .22 revolver. He shot eight times, hit the bear twice and another biologist behind Jonkel finished the bear with a shotgun just a few feet away.
50 years ago
Oct. 15, 1971
Anaconda Central downed the Columbia Falls football team 8-7. The loss would eventually mean the Wildcats would not make the playoffs that year. Central made a two-point conversion to take the lead over the Cats in the third quarter and neither team scored in the fourth. Ray Kuhns gave 82 acres of land he owned along the Middle Fork of the Flathead to Montana Fish, Wildlife and Parks.
40 years ago
Oct. 15, 1981
Foresters Bruce Smith and Harry Rickard were happy they weren't hurt when they startled a grizzly up the North Fork. The two men scrambled up a tree to get a little height over the bear, but concede it could have got them if it wanted to. The bear did swipe at Smith, but he wasn't hurt. It then ran away. They later found its den under a log nearby.
30 years ago
Oct. 17, 1991
The valley saw a big wind storm with gusts up to 60 mph. It knocked down trees and powerlines, sparking numerous fires across the county.
20 years ago
Oct. 11, 2001
The closure of the spring at Berne Park by the Montana Department of Transportation had locals fuming. MDT closed the spring after the Montana Department of Environmental Quality found unsafe levels of E. coli bacteria in the water. The spring would eventually reopen after public outcry. The state put a warning sign up at the popular spring.
10 years ago
Oct. 12, 2011
The Montana Department of Transportation did a traffic study that found a four-way stop sign at Sixth Street and Nucleus Avenue was unwarranted. British Columbia lawmakers were eyeing a bill that would ban mining in the Canadian Flathead. Mining in the drainage had long been a sore point between the U.S. and Canada.
---