Phloris Yvonne Kartheiser, 87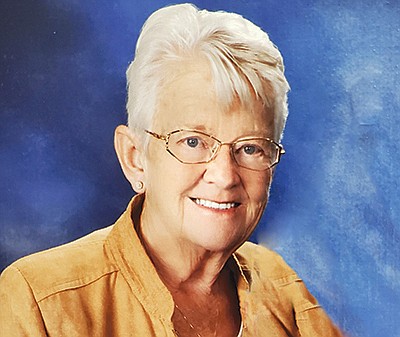 Phloris Yvonne Kartheiser
|
October 13, 2021 1:25 PM
On Saturday, Sept. 25, 2021 at 9 a.m., Phloris Yvonne Kartheiser, loving wife, mother, stepmother, and grandmother, gently passed away from this world and went on to her heavenly home. At age 87, Yvonne was at home and at peace in her lovely bedroom when she passed, where she was surrounded by her children and her devoted husband of the last 50 years.
Phloris, who always went by her middle name, Yvonne, was born in Kalispell, Montana on May 13, 1934. She was delivered at home by a friend of the family. She was small enough to put in a shoebox that was then put in the kitchen oven to keep Yvonne warm. Her parents were Richard Steppe (Dick) Struble and Minnie Struble and she had two siblings: older brother Wayne, and younger brother John. Richard Struble was the worker and owner of the OK Rubber Welders tire shop in Kalispell, and the family lived right in town. Yvonne attended all of her school years in Kalispell. She was an avid tap-dancer, a high achieving Girl Scout member, a Bible camp life guard, and she was very active in school and church activities.
In 1952, Yvonne married her first husband and high school sweetheart, Glenn Louis Weaver. Moving out to the Weaver homestead in Deer Park, Glenn Louis and Yvonne built their home and their family: Kathleen (Kathy) in 1953, Karen in 1955, Connie in 1956, Cheryl in 1957, and last but not least, Little Glenn Richard was born in 1964. Yvonne was the ultimate homemaker and seamstress. She made sure her kids were perfectly dressed in Singer-sown, starched, ironed, and matching outfits that they wore to Deer Park school and to church every Sunday. Yvonne worked hard on the little homestead and you could run a spotless white glove through her home. She also kept busy transporting her five children to school activities, community events, and being the sewing leader of their 4H Club. Life was not always easy for Yvonne at the Deer Park homestead, but she survived the hardships and eventually moved into town with her children and worked at Jack's Pharmacy for a couple of years, until she met the love of her life and best friend of her last 50 years.
In 1971, Yvonne married her new beau, Glen Nicholas Kartheiser from Columbia Falls, Montana. Yvonne had been divorced two years and Glen (late wife Joyce Elizabeth Smith) had been a widower for two years and was a father of six children: Nicholas (Nick), Kathryn (Kathy), Kristine (Kris), Rebecca (Becky), Glenna, and Michelle (Chelly). The couple met at a social dance at the Old River Bridge Inn, and really seemed to hit it off. With Glen's industriousness and Yvonne's hard work they made a perfect fit. Glen told her, "You do the cooking, and I will buy the groceries." Dating was a family affair and eventually the two families combined to make 13, and so they started the merge. They bought 150 acres just outside of town, and built a beautiful six-bedroom home at their Bad Rock ranch in Columbia Falls, Montana.
Life on the ranch was learning to work outside and in. Yvonne and the girls also had two laundries running inside daily. Everything they did became a family project with everyone pitching in. Making school lunches was a weekly event and Yvonne was thrilled when the school started the hot lunch program. There were lots of camping trips to the Hungry Horse Reservoir where Yvonne would make hot fried chicken for the group in the old Bell camper. They also weekly took their brood to St. Richard's on Sunday, often driving two cars, and the group of them occupied a whole bench in church. Merging didn't always go smoothly for everyone, but they were a family.
With the blessings of a new large family and ranch, Yvonne continued to remain an avid and perfect housekeeper, cook, gardener, landscaper, and seamstress, active in the church, 4H, and her community. The family grew a big garden in the summer and Yvonne canned every year until she stocked the fruit room full of garden produce for the winter. There was not much that Yvonne did that she did not work hard at. She helped take care of the family finances, and oversaw the ranch and family when Glen was sometimes gone logging and building roads. She did books for Kartheiser Trucking and belonged to Women in Timber. She had a passion to support the logging industry and once lobbied in Washington, DC for the timber industry. She got involved in helping organize the local town events such as Heritage Days and Night of Lights. Her family participated in the Student Foreign Exchange Program, and hosted three exchange students; she was the president of AFS for two years, and enjoyed meeting the kids from far away. Yvonne was a beloved member of Chapter BI, PEO. She and Glen also went to all the annual fundraisers for Alert and they supported Glacier National Airport.
Later in life, Yvonne loved working at Nine Patch Floral with her daughters, joining all her kids on camping trips up at the Reservoir, and hosting large Christmas parties with sometimes as many as 75 people at her house near the golf course. For many years, she got to enjoy golf, warm weather, and the social life in Mesa, Arizona during the cold Montana winters. Yvonne lived a very full life, and recently it seems she just plain decided that she had lived long enough. Her presence on this earth is greatly missed.
Phloris Yvonne Kartheiser leaves an awesome legacy for her family and is role model for those she leaves behind. She is survived by her husband, Glen Kartheiser, Nicholas (Jan) Kartheiser, Kathryn (Tom) Freeman, Kathleen (Roger) Beck, Kristine (Randy) Loveless, Rebecca (Kim) Mower, Karen Fisher, Connie (Ray) Fisher, Cheryl (Dave) Dorman, Glenna (Mike) Thompson, Glenn (Jena) Weaver, Michelle (Mike) Fisher, along with 27 grandchildren, 44 great grandchildren, and two great-great grandchildren. She is preceded in death by Richard Struble, Minnie Struble, Wayne Struble, John Struble, Tiffany Freeman, Trevor Fehrenbach, Paxton Fisher, and Robert (Bob) Fisher.
"For the gift of God is eternal life through Jesus Christ our Lord." Amen. Romans 6:23
A rosary with viewing was Oct. 11, 2021 at Columbia Mortuary. A Mass of Christian Burial was celebrated Oct. 12, 2021 at St. Richard Catholic Church in Columbia Falls followed by a graveside committal at St. Richard Catholic Cemetery. Columbia Mortuary in Columbia Falls is caring for the family.
---