Boys drop Libby, Polson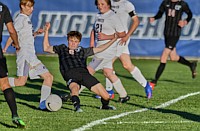 Junior Ethan Austin scores a goal off a header against Polson. (JP Edge photo)
|
October 13, 2021 1:15 PM
Hungry Horse News
Kai Golan has the new school record for goals in a season and Dale Blickhan has the new mark for assists as the Columbia Falls boys soccer team finished the regular season last week by blanking Polson 7-0 and Libby 5-0.
Golan now has 19 goals, eclipsing Logan Stephens 17 set in 2017. Dale Blickhan has 17 assists breaking Justin Pete's old mark of 12.
The boys will travel to either Lone Peak or Billings Central for the first round of the state A playoffs this weekend. The play-in game between the two was played Wednesday night after presstime.
Either way, the Wildcats will be ready, said coach O'Brien Byrd.
The Cats tied Lone Peak earlier this year and they have plenty of additional film on both teams.
"There won't be any surprises," Byrd said,
Byrd commended the squad on a great regular season.
"They're incredibly talented young men," he said. Hard working. Great ethics. "They're a real treat to coach."
Despite struggles against Whitefish, he said the team is playing the best soccer ever in Columbia Falls.
"The technical brand is at its highest level," he said.
Against Libby, Golan had two goals and he had two more against Polson. Blickhan had three assists against the Loggers and one against Polson.
If the Cats can win the first round, they could get a home game if Bigfork, who plays Loyola, upsets the Rams.
The boys would then face Bigfork at home for the semifinals. If Loyola wins and the Cats win, they'd travel to Missoula. The boys finished the regular season at 9-2-1.
---