Zoom meetings on hunting regulation changes coming up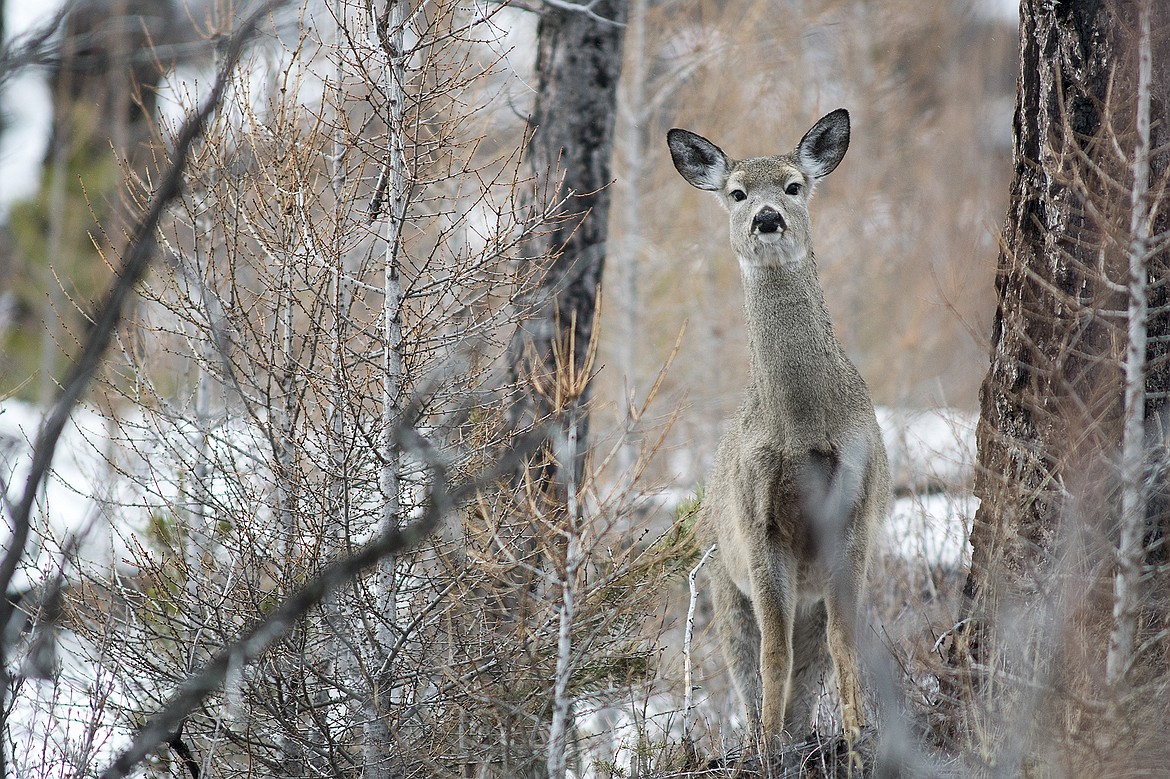 A whitetail deer in this file photo.
|
October 6, 2021 12:00 PM
By WILL LANGHORNE
For the Hungry Horse News
After releasing a series of proposed changes to 2022 hunting regulations, Montana Fish, Wildlife and Parks officials have organized virtual open houses to field comments from the public.
Staff with FWP Region 1, which covers northwest Montana, will hold their open meeting to discuss changes to the 2022 and 2023 regulations on Oct. 14 from 6 to 8 p.m.
Residents looking to join the Zoom meeting should visit the FWP website closer to the open house date for sign-in information.
State officials are not holding in-person meetings to discuss the potential changes due to the risk of spreading the coronavirus. Dillon Tabish, FWP Region 1 information and education program manager, said FWP staff called off plans to host gatherings after cases of COVID-19 surged throughout the state, overwhelming hospitals.
Residents should disregard information about in-person meetings leaked on social media. The proposed changes would help reduce the complexity of Montana's hunting regulations, Tabish said. If adopted, the alterations would trim the number of hunting districts and simply license structures while following scientific recommendations from FWP biologists. Within Region 1, the most controversial regulation change is likely to be the elimination of a limited draw permit for mule deer in the northeast portion of Hunting District 103. Local hunters succeeded in petitioning the state's Fish and Wildlife Commission to create the permit a few years ago.
State officials, however, say that creating the special zone within the district has created confusion.
Most of the other proposed regulation changes in the Lincoln County area concern the consolidation of hunting districts. Hunting districts 103 and 102 would merge into Hunting District 103. Districts 101 and 109 would become Hunting District 101. FWP plans to keep the three-week general, two-week limited permit mule deer regulation for the new Hunting District 101.
State officials also hope to change the boundary between districts 103 and 101 to make the delineation clearer to hunters.
For a full list of the proposed regulation changes, residents should visit the FWP website.
Along with the Oct. 14 virtual open house meeting for Region 1, state officials are holding Zoom meetings for the state's other six regions.
The Region 2 meeting will be on Oct. 5. Residents will be able to weigh in on Region 3 changes on Oct. 13. Staff at Region 4 will open up discussions on Oct. 7. Region 5 will hold a meeting on Oct. 6.
These meetings also will run from 6 to 8 p.m.
Zoom meetings for Region 6 and Region 7 are scheduled for Oct. 12. The Region 6 meeting will run from 5:30 to 7 p.m. and the Region 7 meeting will follow from 7:30 to 9 p.m.
Residents may leave comments on the proposals up until Oct. 20.
Between Oct. 21 and Dec. 13, officials will update the draft regulations based on public input.
The Fish and Wildlife Commission will decide which proposals will enter another 30-day comment period on Dec. 14.
In early February, the commission will adopt final regulations.
Hunters can send comments to state officials via the FWP website, by email at fwpwld@mt.gov or via mail at P.O. Box 200701, Helena MT 59620.
---