Sempf, Erickson, break 20-minute mark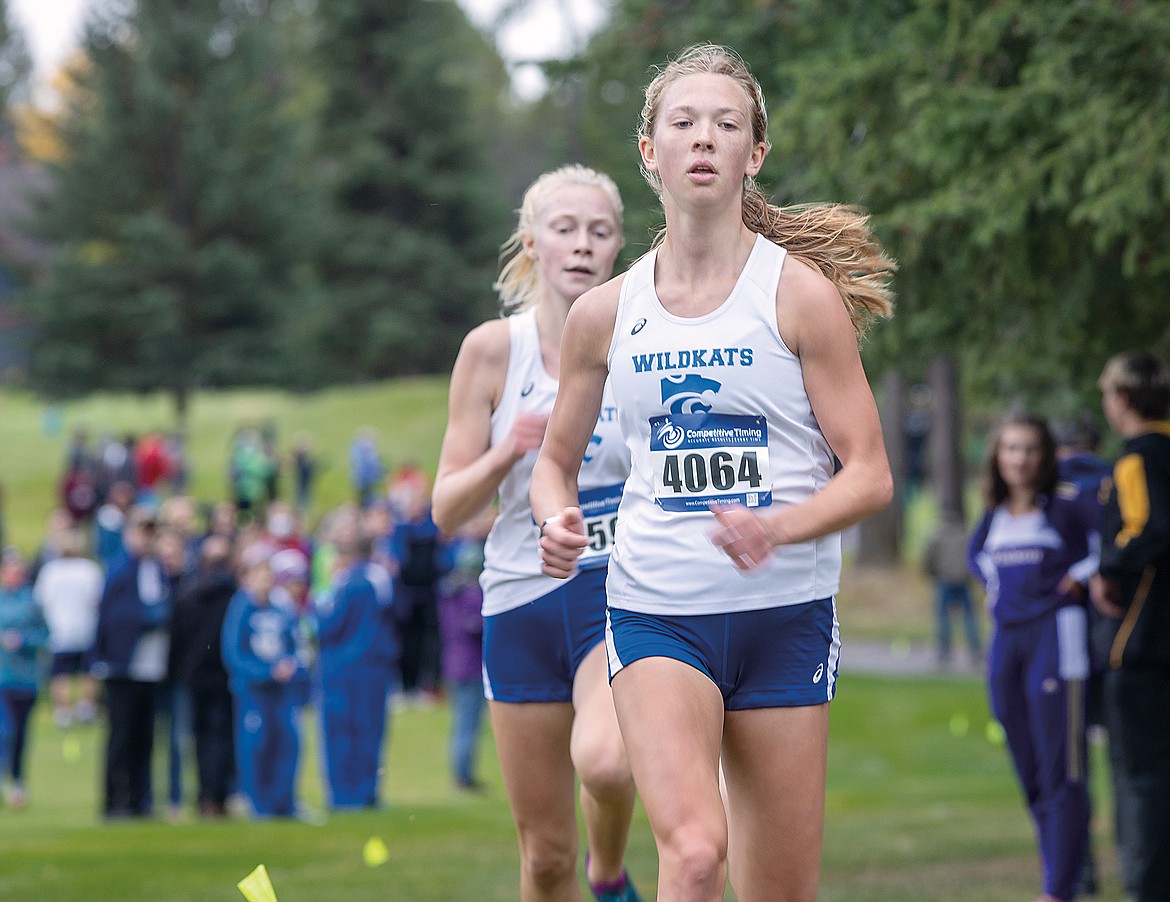 Hannah Sempf, front and Siri Erickson near the finish line at the Whitefish Invitational last week. (Chris Peterson photo)
by
CHRIS PETERSON
Editor
|
October 6, 2021 11:00 AM
Hungry Horse News
Hannah Sempf and Siri Erickson both broke the 20-minute mark at the Whitefish Invitational last week, as the girls took second to AA Flathead.
Sempf finished in 19:56.91, while Erickson finished in 19:57.93 to place second and third respectively on a cool fall day. Julia Martin took 11th with a 21:27.50.
"This is a great landmark (breaking the 20-minute mark).  Martin also had a huge race.  She's a senior, but this is her first year in cross country.  She's still learning how to race and figuring out what she is capable of.  In Whitefish, she got a better glimpse of her own potential," coach Jim Peacock said.
Courtney Hoerner was 17th and Ally Sempf was 23rd to round out the scoring for the girls.
Logan Peterson was top runner for the boys with a 7th place, 17:33.97.
Quinn Clark was 21st with a 18:14.51.
The boys were fourth overall.
At the Mission Shadow Duals Saturday in Polson, Erickson won the event with a 19:56, while Sempf was third with a 20:31. As a team, the girls took second behind Hellgate.
Peterson was 8th for the boys with a 18:04.
"They start the varsity races on a stagger, with a wave of runners taking off every 20 seconds.  The 7th fastest runners start first, followed by the 6th varsity runners, then the 5's, 4's, and so on.  The No. 1 runners on each team end up giving the 7's a 2 minute head start.  One of my favorite aspects of this format is that kids can't pace off their teammates," Peacock said.
The teams wrap up the regular season this week, with meets at Helena Thursday and Libby Saturday.
---