Girls suffer heartbreaker against Whitefish in closing minutes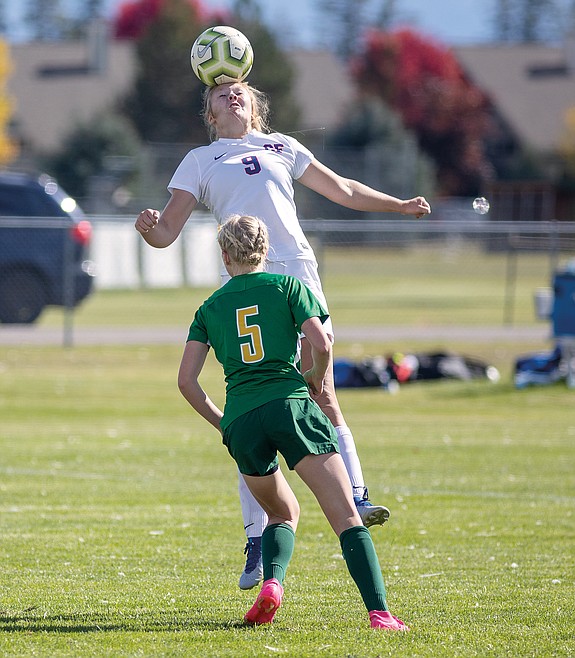 Hope McAtee heads a corner kick against Whitefish. (Chris Peterson photo)
|
October 6, 2021 11:15 AM
Hungry Horse News
It was one of those oh-so-close games.
The Columbia Falls girls soccer team came back to tie Whitefish in the closing minutes the road game Saturday, only to see the Bulldogs make a header on a corner kick in stoppage time to win, 3-2.
Like the first time the two teams played this season, Whitefish struck first with a goal at the 3-minute mark.
But Columbia Falls girls kept the pressure on and Maddie Robison found the back of the net at the 35-minute mark to make it 1-1.
Whitefish responded with a goal five minutes later on a direct shot from the corner to go up 2-1 at the break.
In the second half, Cheyanne Johnston-Heinz broke free from the Whitefish defense and hammered a shot into the back of the net to knot it up at the 78-minute mark.
The Wildcats just needed to hold on for the tie, but Whitefish won the possession battle, got a corner kick and Bulldog Lucy Lowry stuck it in.
Keeper Zoey Byrd had a great game, with some clutch saves to keep the Wildcats in it.
There was still a minute or so of stoppage time left and the Cats got a couple of shots in, but they didn't find the mark.
"I'm super happy with the girls' effort and dedication to the game plan," coach Thomas Clark said. "We played so much better in the second game."
The girls wrap up the regular season with matches against Polson at home Thursday and Libby Saturday.
The girls are now 7-3 overall and 4-2 in conference. They'll take second in the conference.
Like the boys, that sets them up to play the winner of the east play-in game, which would likely be either Laurel or Billings Central. If it's Laurel, the Locomotives beat the girls earlier this season so it will be yet another rematch.
---