New pharmacy aims to lower costs to patients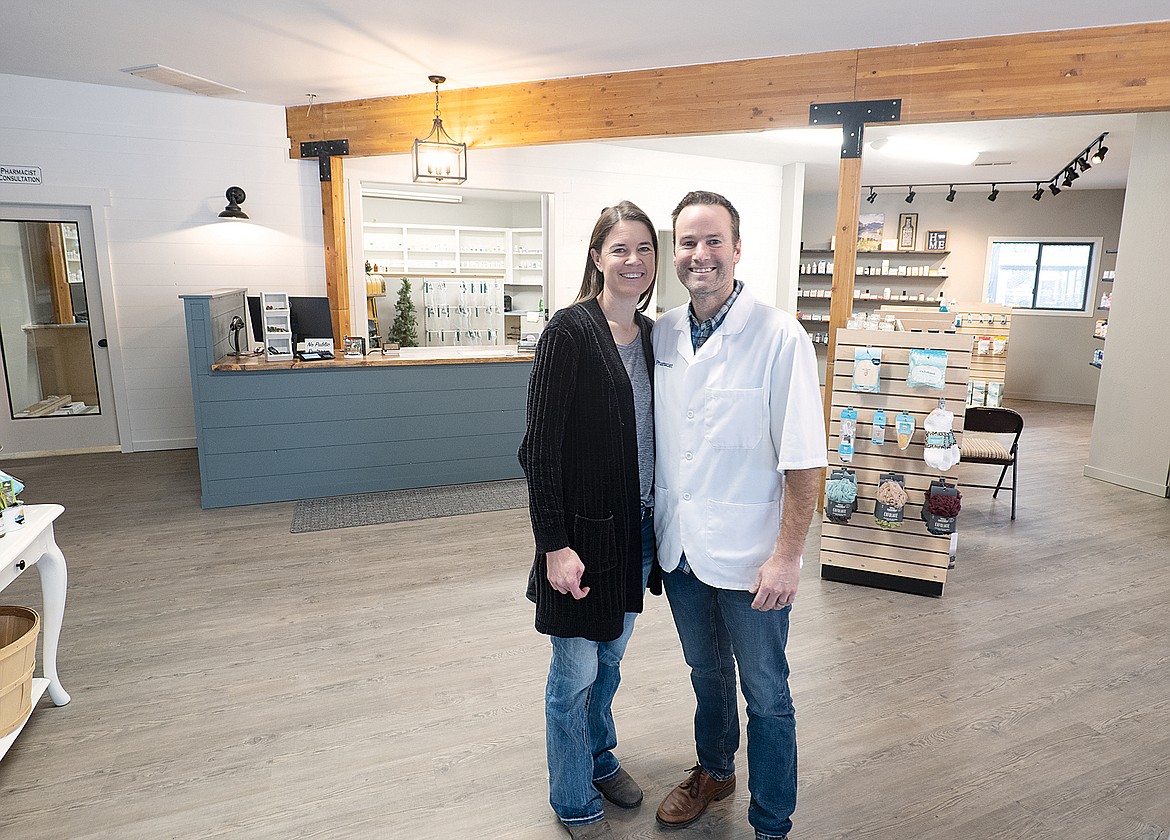 Jennifer and Sam Ashe at the new Beargrass Gift and Drugs last week. (Chris Peterson photo)
by
CHRIS PETERSON
Editor
|
November 24, 2021 6:00 AM
Pharmacist Sam Ashe hopes to make folks lives better, one prescription at a time. Ashe and his wife Jennifer have just opened the new Beargrass Gift and Drug Store near the corner of Nucleus Avenue and Highway 2 in Columbia Falls.
Sam Ashe has been a pharmacist in Columbia Falls for more than 20 years. He graduated from the University of Montana pharmacy school in 2000 and started at Smith's Food and Drug that same year.
But he said not too long ago he was filling a prescription for an elderly woman on a fixed income with Medicare insurance. Her eyedrops for cataracts, with the deductible, were $130 per bottle. Ashe said he knew a generic alternative was available for just $40, but because Medicare was her insurance, there was nothing he could do at the time. He had to give the woman the drug that Medicare had approved.
The woman was worried about how she was going to afford food and the expensive medicine for her eyesight, Ashe noted.
"There's got to a better way," he lamented.
There is a better way for prescriptions, Ashe said during an interview last week. He said his business plan is often better for both the patient and their pocketbooks.
He notes that 90% of all drugs are generic. But insurance companies, both public and private alike, manipulate drug prices, he claims.
"The pharmaceutical industry is very opaque," he said. "You have no idea what you're going to pay until you get to the register."
So Ashe decided to cut insurance completely out of his business model. He doesn't accept it. Instead, he bases his drug costs on the wholesale price, plus a pharmacy service fee.
He claims that for most patients, he can get them their medication for less expense, even if they have insurance.
He also notes that because he doesn't have the overhead costs of taking insurance, he can spend more time with each customer.
He's also transparent about costs, he said.
"You can call me and I can give you a price automatically," he said.
Being independent, he said he also has has more than 25 drug wholesalers to choose from, which also keeps costs down.
In many cases, he can sell the drugs for less than what the co-pay of their insurance is. For example, one customer recently was paying $150 for longterm medication even with insurance.
Ashe was able to sell it to him for $20.
At the very least, Ashe notes, it's worth a phone call, whether one has insurance or not, to find out what a drug will cost.
The store isn't just a pharmacy, however. It also includes a host of Made in Montana gifts and wares, perfect for the holiday season.
Ashe is offering free medication reviews on Saturdays from 2 to 5 p.m.
"We're excited we can do these now," he said.
The pharmacy is open from from 9 a.m. to 6 p.m. Monday through Friday and from 9 a.m. to 2 p.m. Saturday. Folks can call (406) 897-2613 for drug prices and for a free consultation.
---