Making her Mark:Finberg-Roberts had a stellar career at Providence. Now she'll return home to teach, coach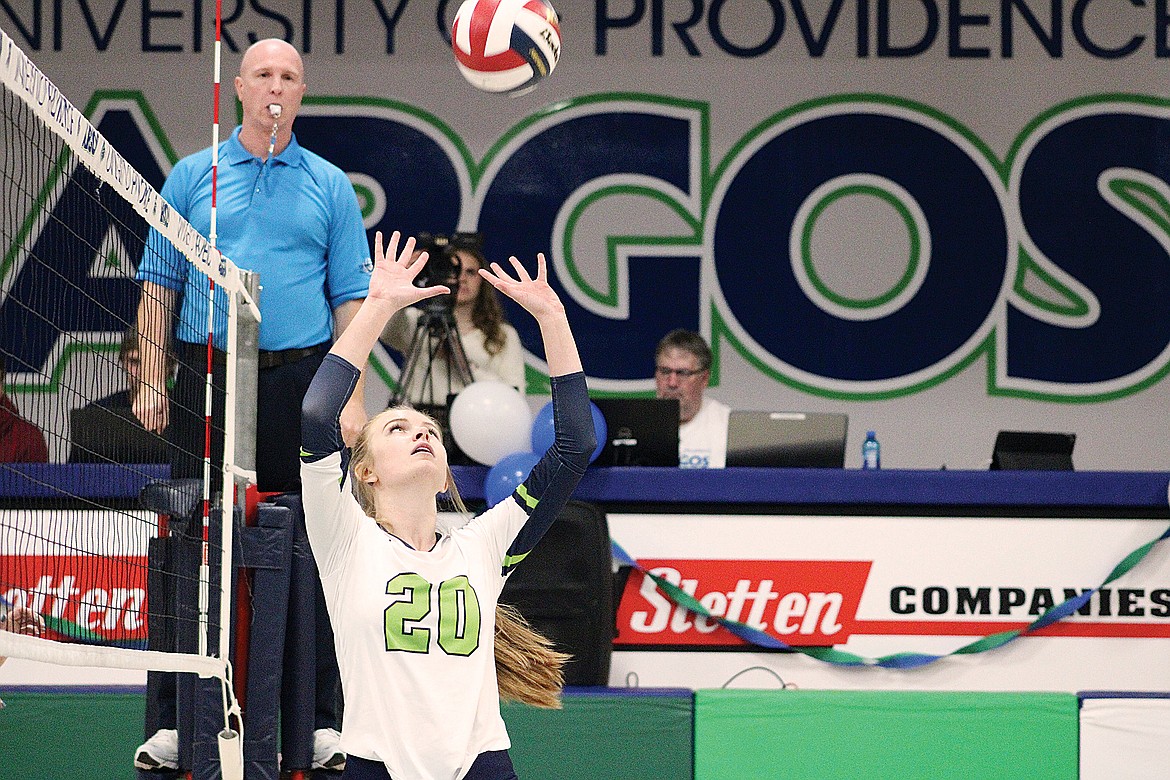 Cydney Finberg-Roberts sets the ball for the Providence Argos earlier this season. Photo courtesy of the Argos Athletic Department.
|
November 24, 2021 6:10 AM
By CHRIS PETERSON
Hungry Horse News
She was a standout athlete during her career in Columbia Falls. Now Cydney Finberg-Roberts has also made her mark in the college ranks.
For the second straight season Finberg-Roberts was recently named both the Frontier Conference Volleyball Player of the Year and the Setter of the Year. Finberg-Roberts (she's married to Shonn Roberts, who was a standout wrestler for Columbia Falls and also had a great college career) is a setter for the Providence College volleyball team in Great Falls.
The redshirt senior was named a second team all-American last year, and won seven Frontier Conference setter of the week awards.
She finished the regular season ranked third in the nation with career assists (1,116 to date) and assists per game (11.8) and broke the school's single season records for assist and assist per game.
Now she will return home to teach at Columbia Falls High School. In December she'll take on a longterm physical education substitute position, which she hopes will turn into a full-time job here.
She plans on helping her father, Cary Finberg, coach the girls' basketball team, Finberg-Roberts said in an interview last week.
She was a standout basketball player for the Wildcats, helping lead them to a state A championship in 2017 (She scored the first eight points for the Wildkats against Hardin in the championship). She also helped lead the volleyball team to two state A championships in 2015 and 2016.
At 23, Finberg-Roberts isn't done with her college career just yet, either. The Lady Argos hammered Florida College in the NAIA Women's Volleyball National Championship Opening Round on Saturday in Great Falls. The Argos (26-2) defeated the Falcons (20-19) 25-10, 25-14, 25-13 in the opening round to advance to the 24-team national tournament in Sioux City, Iowa starting Nov. 30.
The Argos will get two guaranteed games against the two teams in their pool, with the winner of the pool advancing to an eight-team single-elimination tournament. 
Last year the Argos made it to the sweet 16, Finberg-Roberts is hoping they make it further this year.
"The goal is the Elite 8 and keep climbing," she said.
It's been a lot of hard work to get here. She spends hours in the gym, trains with weights an hour each day and then watches film. She's already has her bachelor's degree and is finishing up her master's in sports management.
She said she never expected to see this much success.
"It's outside my wildest dreams," she said. "I can't believe it's happening."
She's also enjoying playing with a fellow Wildkat this season — Madysen Hoerner, who was also a standout volleyball player for the Kats — is now playing for the Argos.
"I got to watch her play (in high school) and now we finally get to play together, it's nice," she said.
Finberg-Roberts' advice for up and coming athletes looking to make their mark in college?
"Do the little things and work extra hard," she said. "Every little step toward the big goal is what gets you there."
---