Girls basketball team should be solid again this year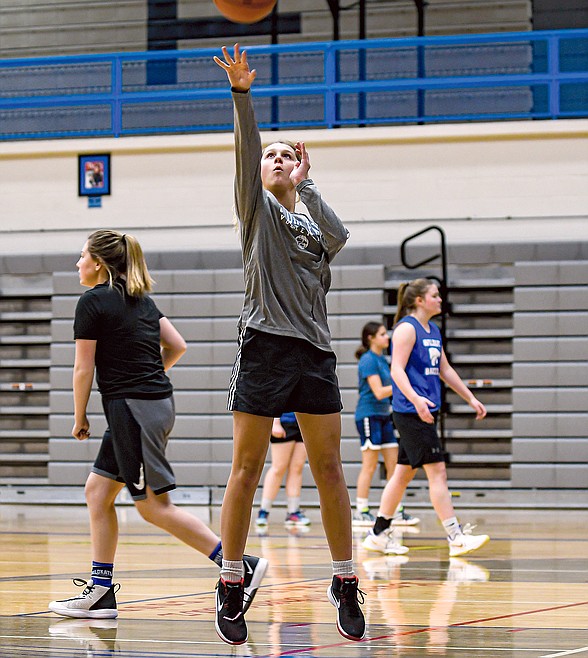 McKenzee West hoists a shot during practice last week. (JP Edge photo)
|
November 24, 2021 6:15 AM
By CHRIS PETERSON
Hungry Horse News
The girls basketball team should be a scrappy, defensive-minded squad this season, coach Cary Finberg said.
"I think we have a chance to be pretty good," Finberg said.
The Wildkats will return several players from last year's squad, including seniors Grace Gedlaman and Maddie Robison. Robison was the Kats' second leading scorer last season and the MVP of the conference.
Gedlaman was the Kats' fourth-leading scorer and provided a valuable presence inside.
They'll also look for good things from senior guard Alexis Green, Madeline Stustman, and sophomore Hope McAtee as well as Scout Medhus, Abbie Darsow, Nevaeh Carlin and Lexi Oberholtzer.
The Kats won the Western A divisional title last year over Ronan to make it to the state tourney, where they went 1-2, losing to the Whitefish Bulldogs in the loser-out bracket.
But this year there's solid teamwork.
"Our seniors are embracing our younger kids," Finberg said. "Everyone is on the same page."
Look for the Kats to be tough defensively. Finberg said he likes their scrappy mentality.
They'll get tested early. The annual tip-off tourney opens in Frenchtown Dec. 10 where the girls will open with games against Corvallis and Hamilton. Hamilton is probably the best team from the south, Finberg noted.
The squad will also bring up four freshmen to the varsity and junior varsity ranks, Finberg said.
"I expect them to step up and get some minutes," he said.
Their home opener is Dec. 14 in Eureka and then they face Browning on the road Dec. 16 to open conference play and then face Bigfork, one of the top teams in Class B Dec. 20.
It will be a good early test for the girls, and Finberg likes it that way.
"We'll be tested early," he said. "That's what we want."
---