Spikers fall just short of a state tourney berth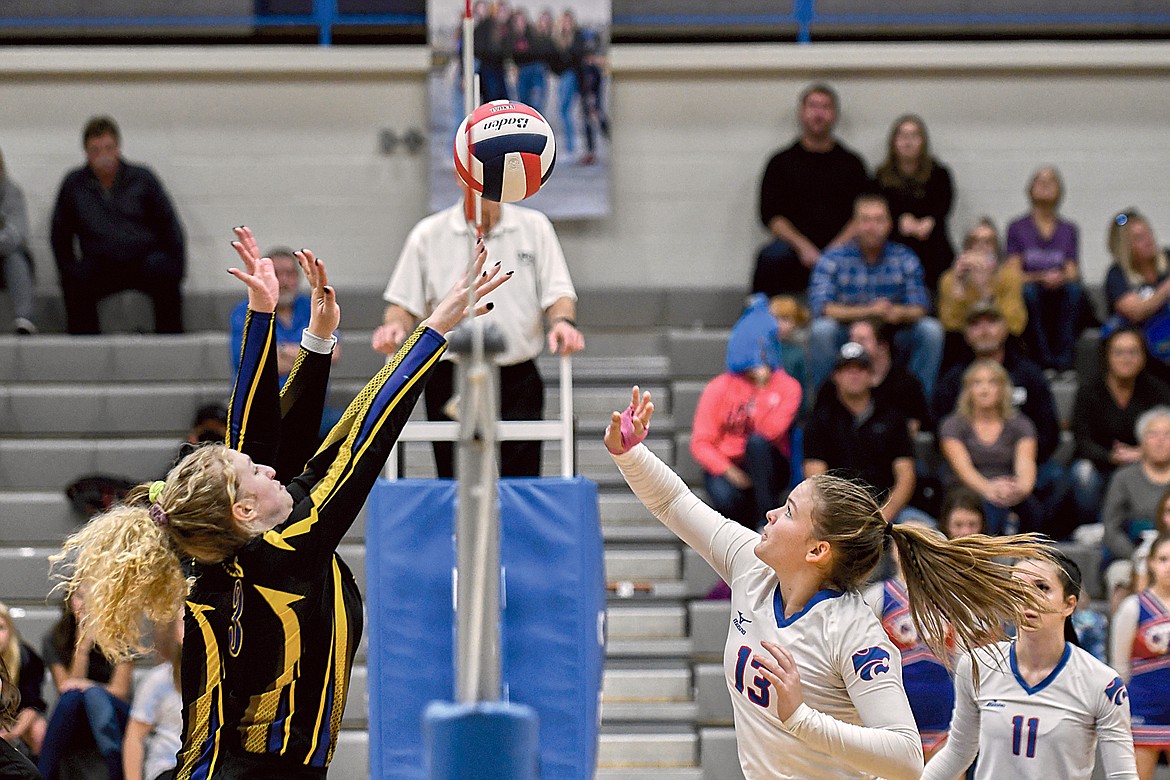 Grace Gedlaman for Columbia Falls and Ember Rode for Libby go for it at the net on Oct. 19, 2021. (JP Edge photo)
|
November 10, 2021 7:25 AM
Hungry Horse News
The Columbia Falls volleyball squad saw its season end at the divisional tournament last week, coming up just short of a state tourney berth.
The Wildkats opened the tournament in Ronan with a loss to Corvallis in straight sets, 25-21, 25-19, 25-21.
But they came back Friday to beat Stevensville, 23-25, 25-16, 25-21, 25-19.
But they couldn't get past Dillon, losing in five sets, 25-21, 25-20, 21-25, 12-25 and 14-16. If they had beaten Dillon, they would have made it to state.
They then lost to Hamilton for fifth place, 18-25, 17-25, 25-18, 22-25 for fifth place.
Coach Jolandie Brooks was happy with the improvement the girls made throughout the season, but disappointed that they fell just short of making it to state.
"It hurts that we were so close to state. Our season was difficult. It seems that it was either one sickness after the other or one injury after another. I couldn't figure out our best rotation and it seemed that there was always something just a little off. As we got closer to divisionals, I could tell that individually, they were getting better and better," she said. "At divisionals the girls showed up. They played with heart and passion and they left it all on the court. I was proud of the way they showed up and fought hard. I wanted to take them to state so badly because lots of people told them they would never do it. In sports, the other team always gets a say and Dillon just left with the final word.  I'm grateful for the opportunity to have worked with these girls this season and I'm proud that they finished better than they started."  
---