Gridders fall short to Cowboys, 21-20
by
By JP EDGE/Hungry Horse News
|
November 3, 2021 7:15 AM
JP EDGE
Hungry Horse News
The Columbia Falls football team lost at home on Saturday to Miles City 21-20, knocking them out of the playoffs and ending a well-fought season for the Wildcats.
"It was a good season with a disappointing ending," coach Jaxon Schweikert said about the game. "We did so many things right and dominated the game and still managed to lose, it feels like a punch in the gut."
Cats' quarterback Cody Schweikert was 18-for-22, passing for 231 yards and 16 carries for 67 yards, one rushing touchdown in the first half. Star senior running back Isaiah Roth, who ran for 89 yards on eight carries, was taken out just before halftime with a knee injury, putting the Cats in a tough position offensively.
Cowboys' quarterback Dalton Polesky threw for three touchdowns in the first half, and for the whole game was 15-for-31, passing for 160 yards.
Miles City went into the half up 14-7, and scored once in the third quarter. The Wildcats fumbled five times in the second half, and still had a chance to come back. Their second touchdown was scored by Mark Robison on a 46-yard pass from Schweikert, making it 21-14.
Then Mason Peters lined up under center and ran for an 11-yard-touchdown with 3:30 left in the game. But, when the Cats went for two to take the lead, the Cowboys stopped them on a screen pass that typically would have gone to Roth. Columbia Falls would get the ball once more in the fourth, but a fumble on a 35-yard pass would end their season.
Coach Schweikert said he is hopeful for the next season. Having played this season with a lot of sophomores in prominent roles, the team should keep improving.
"We only fumbled a few times in the regular season, and five in the playoffs," Schweikert said. "We're all feeling a mixed bag of emotions, especially the younger kids, but the future is really bright for the sports program as a whole."
Columbia Falls 7 0 0 13 - 20
Miles City 6 8 7 0 - 21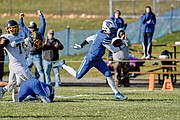 ---