Ample snow at Sperry Chalet
|
November 3, 2021 7:30 AM
JP EDGE
Hungry Horse News
Last Wednesday, I set out on my own for a hike to the Sperry Chalet in Glacier National Park, with hopes of reaching the summit of Lincoln Peak, and the hike to Sperry Glacier overlook as a backup. My plans were quickly thwarted by the amount of snow and quickly dropping temperatures.
As snow continues to build a good base in Glacier National Park and the surrounding area, I figured now would be a good time to try and get some images of snow capped peaks and beautiful vistas of larch and reflective mountain lakes. Bringing proper snow gear on the other hand, seemed to have slipped my mind.

After leaving Lake McDonald Lodge, the trail was damp from the previous night's rainfall, and kept alive with fluttering birds, including a hairy woodpecker. As I continued to the first set of switchbacks, I passed another group of hikers, who warned me of an unexpected amount of snow once reaching the chalet at 6,400 feet. The snow progressively became deeper as the trail went higher, however, the tracks made by the previous party made hiking in running shoes much less difficult.
The views all the way back to Lake McDonald were fantastic as the clouds brought in a light snow.
In total, I hiked for six hours and 15 minutes for 14.8 miles with 3,741 feet in elevation gain, including a side hike to Fish Lake.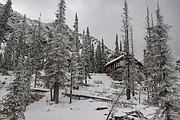 Recent Headlines
---