Track squads fine tune performances, hosts divisionals this week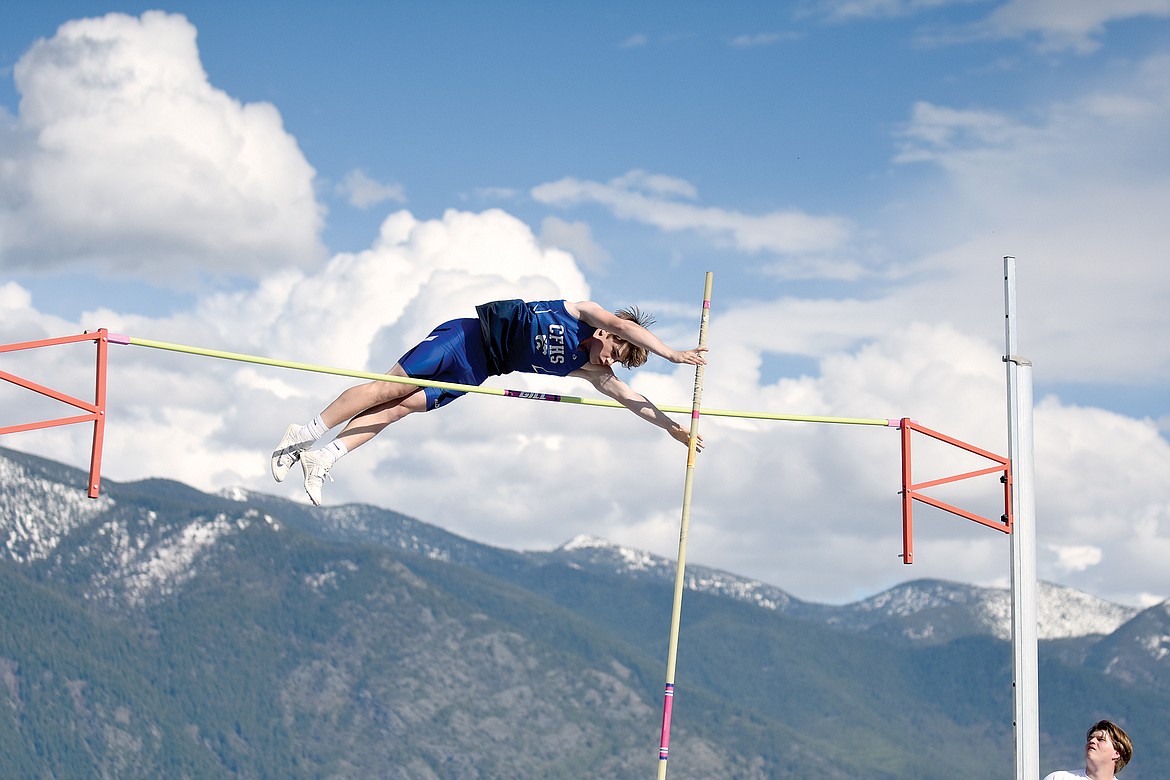 Mark Robison clears the vault at the dual against Polson in Columbia Falls on Thursday. (Teresa Byrd/Hungry Horse News)
by
TERESA BYRD
Staff Writer
|
May 19, 2021 7:50 AM
Columbia Falls track and field began the week on firm footing when both the girls and boys teams overshadowed Polson by more than 40 points each at the brilliantly sunny home-dual meet against the Pirates on Thursday.
It was a great day for Wildcats on the field where the girls swept first place finishes in every category and the boys swept first in all but the high jump. It was another good day for the boys 1,600 meters in which a pack of Cats stacked the first six places. All-in-all the girls took first in 13 of the 17 track and field events while the boys took first in 12.
"Our varsity kids are definitely peaking… and I'm just seeing great performances across the board from everybody— a lot of PRs or tied PRs today, including for our JV kids" said head coach Jamie Heinz.
The Wildcats then turned around to compete in Polson on Saturday in a meet that simulated divisionals by hosting all but two of the Western A divisional teams.
Columbia Falls boys and girls teams each took fourth place at the Saturday event. The girls had top-three finishers in seven events and the boys had top-three finishers in five. The girls were led by Lara Erickson who took first in the 1,600 meters with a 5:13.86; Siri Erickson who took first in the 3,200 meters with 12:13.53; Maddie Robison who took second in the long jump with a 16-1.5; Hannah Sempf who took second in the pole vault with 10-0; and Ally Sempf who took third in the 400 meters with 1:02.76. The girls 4-by-100 and 4-by-400 relay teams also each took second behind Whitefish.
The boys were led in Polson by Jace Duval who took first in the 200 meters with 23.64, Allec Knapton who took second in the discus with 136-6, Levi Bachteler who took third in the 300 meter hurdles with 45.04, and Jaxon Heinz who took third in the triple jump with 40-10.25. The boys 4by-100 meter relay team also took second behind Frenchtown.
Columbia Falls competes next at the Western A divisional meet that will be hosted by the Wildcats at home on the Dr. Nicosia Track Complex on Friday and Saturday, May 21-22.
---