Tennis squads struggle against Whitefish; rained out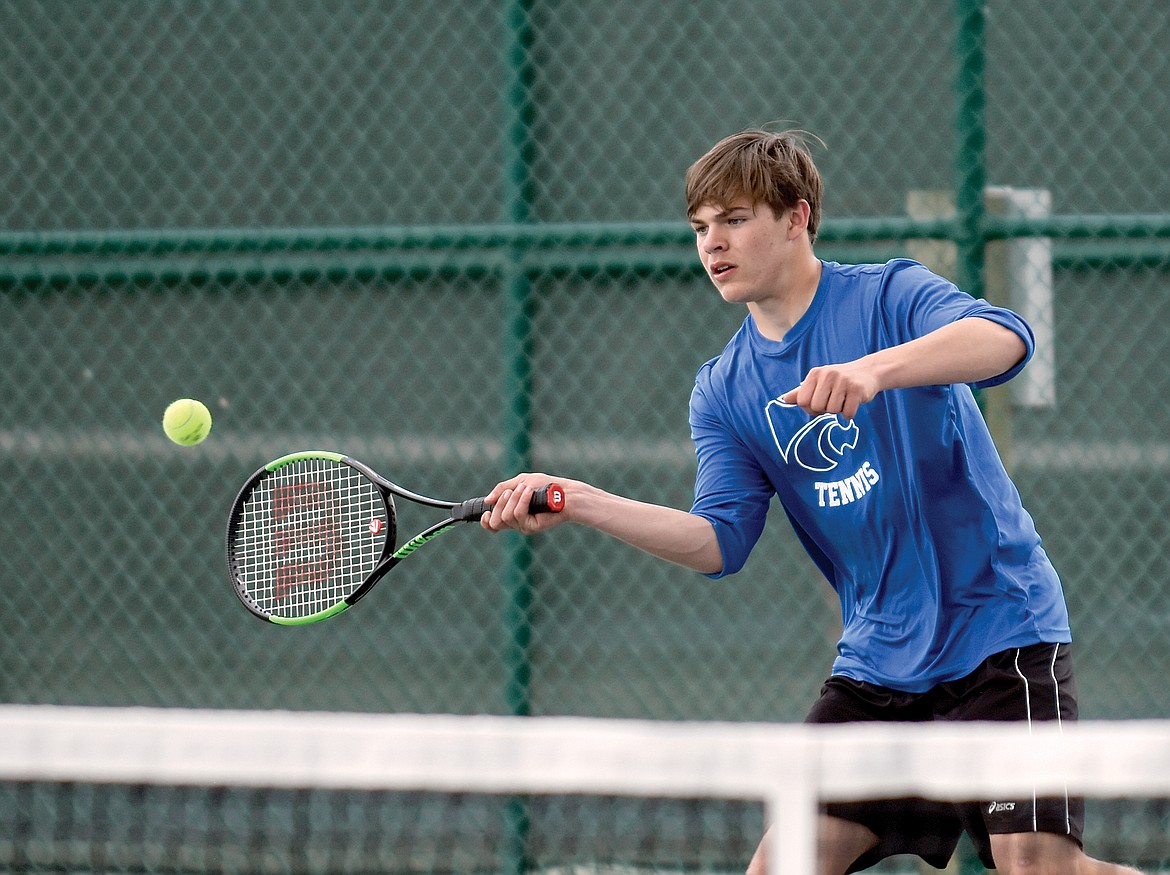 Wildcat Nico Lang hits a return in a No. 2 doubles match against Whitefish in Kalispell on Tuesday. (Teresa Byrd/Hungry Horse News)
Columbia Falls tennis had a short week last week after a home triangular against Libby and Ronan on Saturday was canceled due to rain.
The teams' lone matchup was another tough bout against Whitefish, which, except for a sole victory from the Wildcats' No. 2 boys doubles players Dale Blickhan and Nico Lang, was a repeat of the previous week's one-sided triumph of the Bulldogs over Columbia Falls.
The Wildcats have rescheduled their Libby dual for 3 p.m. at home on May 13, followed by an away match against Libby on Friday, and a double header at FVCC against Corvallis and Hamilton at 11 a.m. on Saturday.
GIRLS
Totals: CF 0, WF 7 Singles: 1. Grace Smyley (WF) def Hannah Schweikert 6-0, 6-1 2. Lauren Brown (WF def Cloey Ramage 6-0, 6-1 3. Anyah Cripe (WF) def Anne Lybbert 6-0, 6-0 4. Emma Shaffer (WF) def MacKenzie Nelson 6-0, 6-2 Doubles: 1. Tallory Workman/ Ali Hirsch (WF) def Grace Gedlaman/Lillian McDonald 6-4, 6-2 2. Emma Trieweiler/Stacia Tremper (WF) def Abbey Biel/ Alyssa Williams 2-6, 6-0, 6-2 3. Ashley Gunset/Addie Oehlerich (WF) def Zoey Byrd/ Kati Crockett 6-1, 6-0
BOYS
Totals: CF 1, WF 6 Singles: 1. Jayce Cripe (WF) def Niels Getts 6-3, 6-2 2. Joe Brandt (WF) def Orion Barta 6-0, 6-1 3. Aydin Mulholland (WF) def Lucas Thacker 6-1, 6-2 4. Connor Kelly (WF) def Malachi Brower 6-2, 6-1 Doubles: 1. Aaron Dicks/Highland Lee-French (WF) def Cade Morgan/Cody Schweikert 7-6 (8-6), 1-6, 6-4 2. Dale Blickhan/Nico Lang (CF) def Mason Kekh/ Austin Gunset 6-3, 1-6, 6-4 3. Fin Stagg/Jesse Burrough (WF) def Logan Heuple/Finley Sundberg 6-1, 6-0
---