Duane Burl Hagadone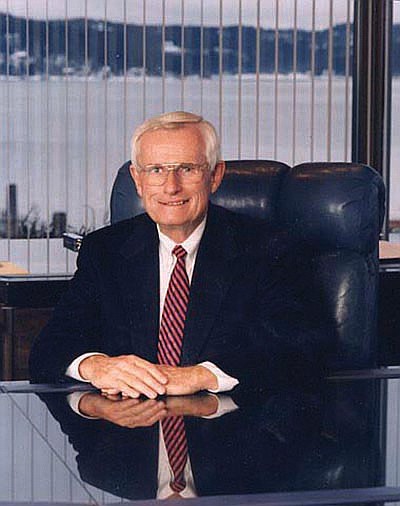 Duane Burl Hagadone was born in Coeur d'Alene in 1932 to Burl and Beverly Hagadone.
He spent his life investing in project after project in his beloved hometown.
Those most notably included the Hagadone News Network, The Coeur d'Alene Resort, The Coeur d'Alene Resort Golf Course, Hagadone Marine Group and a number of restaurants and other properties, most of them beside Lake Coeur d'Alene. It was a place he dearly cherished. Mr. Hagadone died peacefully at his Palm Desert winter home April 24, 2021, at the age of 88.
In 2004, Hagadone was honored with the Horatio Alger Award by the Horatio Alger Association of Distinguished Americans. The award recognizes "outstanding Americans who exemplify dedication, purpose, and perseverance in their personal and professional lives who have often achieved success in the face of adversity."
Often quietly, Duane and Lola Hagadone have been major contributors to charity. There are few causes in Coeur d'Alene which have not benefited from his generosity.
Their $2 million gift helped make the Boys & Girls Club of Kootenai County a reality.
He is survived by his wife, Lola; his children Brad and wife Teresa and Todd and partner Adam; his stepchildren Dennis Spurlock and wife Lynn and Paige Leifer and husband Steve; his grandchildren Taj Hagadone and wife Kandis; his great-grandchildren Trace Hagadone and Koraline Hagadone; his step-grandchildren, Morgan Leifer, Bo Leifer, Reilly Spurlock, Madison Spurlock, Teena Frank (deceased) and son Jaxon Frank, Shaila Macioseck and children Peyton Graham and
Bo Macioseck; his sisters Kay Wellman and husband Roy and Joan Kellner and husband David; and numerous nieces and nephews.
A private service will be held for the immediate family.
A celebration of life will be held at a later date.
In lieu of flowers, contributions may be made to Boys & Girls Club of Coeur d'Alene, Idaho.
---