Track squads down in numbers, but young and talented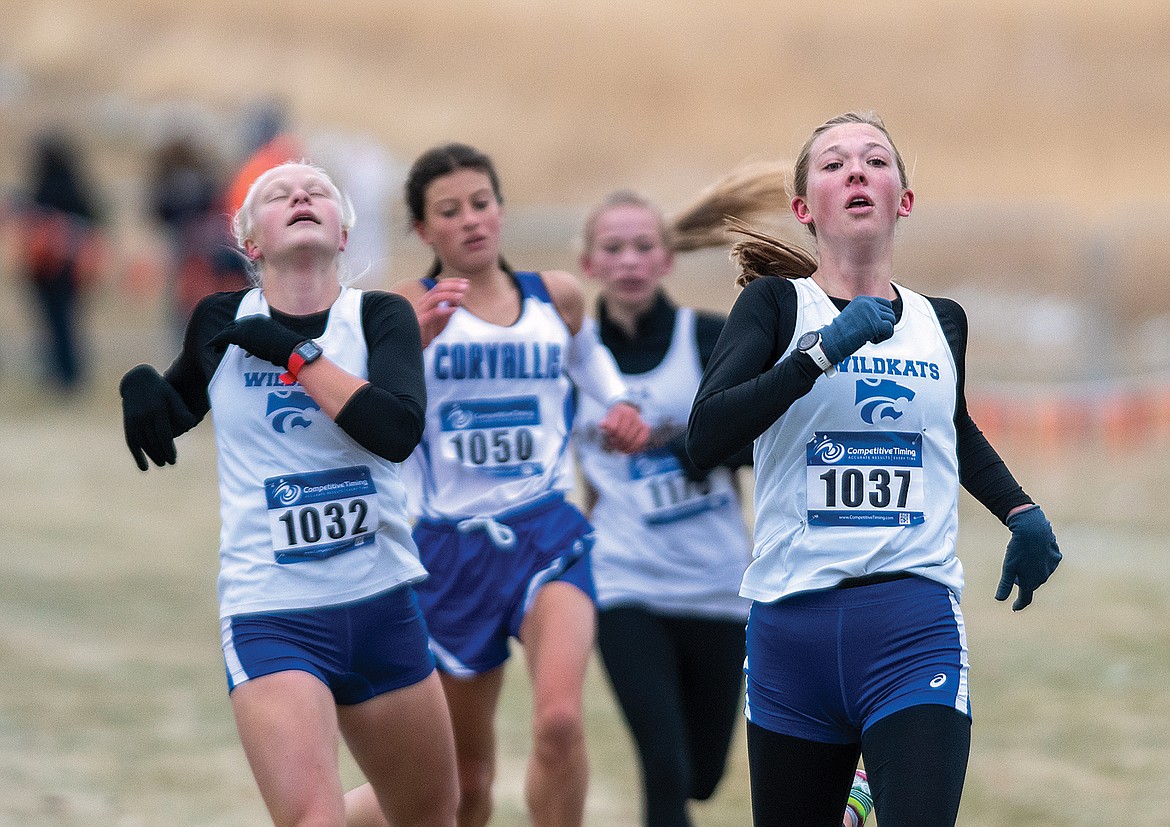 Teammates Hannah Sempf, right, and Lara Erickson, left, cross the line to take third and fourth at the state A championship at Rebecca Farm. Look for them to make waves this season in track events, too.
by
TERESA BYRD
Staff Writer
|
March 24, 2021 10:00 AM
Despite dwindling numbers in the boys and girls track and field teams this year, with about 30 girls —half of what is typical— and around 60 boys, Columbia Falls head coach Jamie Heinz is full of enthusiasm for the upcoming season.
"Overall I'm just super excited we get to have a season after last year got canceled," said Heinz. "You know, we went from probably being one of the top teams in the state last year, on the girls and boys sides, to not being able to see where we actually finished, which was frustrating, and then we lost a lot of those kids."
One of last year's graduates Heinz was referencing was Wildcat Angellica Street, who became the Montana girls all-class record holder in javelin her junior year before having to forfeit her senior season to covid restrictions.
Heinz largely attributes the dip seen in girls participation this year to the recent break in seasons.
"It's hard to hook those kids and get them into track when they're not here every year," he said.
This was exacerbated by the fact that the last track season in 2019 was a "miserably" cold wet and snowy year, said Heinz, leaving that year's freshmen, now juniors, with a less-than-eager desire to return.
"The biggest thing about not having a season last year was, we're extremely young this year," Heinz said.
His team has very few junior and senior boys.
Given that, Heinz's biggest goal this year is to build back and re-energize the program.
"Honestly my main objective for the season is, getting track going back to where it was, getting those kids back out here and excited about being here," said Heinz. "This year's all about, sure being competitive and trying to achieve some goals as always, but mostly just making sure we get the fun back into track and field so we get our kids back and keep the future strong."
The youthfulness of the team combined with this season's COVID-19 regulations has led Wildcat track and field coaches to reevaluate how they structured this year's competitions.
According to recent guidelines put forth by the Montana High School Association, large multi-team events, up to 25 teams, will be allowed with the stipulation that as the number of teams competing increases, the number of athletes each team can enter for an event decreases.
In addition, a school's boys and girls varsity and JV rosters are each to be considered their own team, meaning most schools, including Columbia Falls will "bring" a total of four teams to every meet.
So, for example, a 20 to 25-team meet would allow a school three varsity entries and three JV entries per event, while say a four-10-team meet allows for five entries per team per event. Dual or triangular meets allow for unlimited entries.
Given this, Columbia Falls coaches have opted out of this year's larger competitions.
"Like I've said, we've already lost a year of development, we're extremely young as it is; I can't afford to tell JV kids they can't compete because the meet's too big," said Heinz. "So we're going to do a lot of triangulars, duals, and then a couple five-or-less school track meets."
While skipping last year has made it difficult to know where the team's strengths lie, it's certain that the distance groups, both boys and girls, will be among their top, with Kat cross country coming in second at state this fall and the boys finishing third.
"All of those [runners] are going to make noise on the track this year in terms of the distance races, from the 800 up through the 3200, and even dropping down into the 400," said Heinz.
Heinz also feels that the girls team even outside the distance stars, while small, is strong, with several returning sprinters and jumpers.
"Talent wise, we have the talent, but where we stack up in the state is uncertain at this point," he said.
---