Reservation system back on the table for Sun Road this summer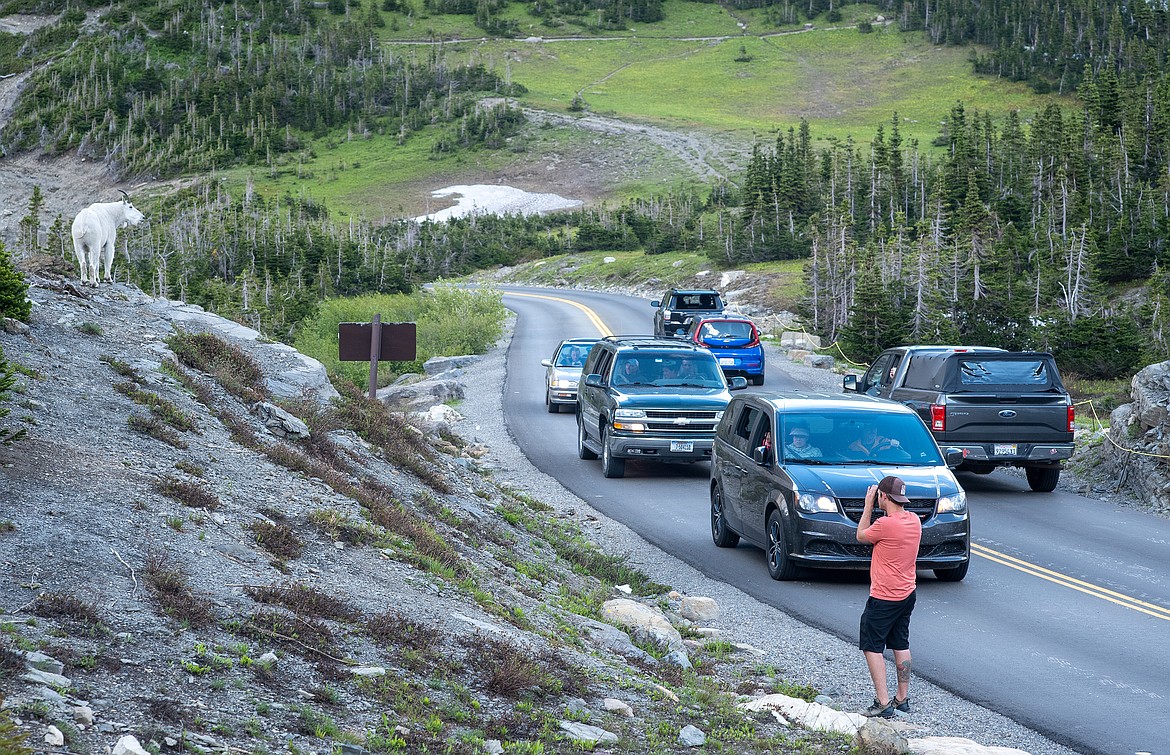 A mountain goat watches as a line of traffic goes up the Going-to-the Sun Road in this file photo.
by
CHRIS PETERSON
Editor
|
March 8, 2021 7:10 AM
Glacier National Park could institute a ticketed entry system for the Going-to-the-Sun Road this summer, superintendent Jeff Mow said Thursday during the North Fork Interlocal meeting.
The details of the plan aren't set in stone and the Park still plans on speaking to area businesses before the tourists season gets in full swing. But park spokeswoman Gina Kerzman said after the meeting that they expect a final decision by the end of the month.
Mow said in November that the Park wouldn't be going to a reservation system for the Sun Road, but things have changed.
In its current form, Glacier would allow about 80% of the traffic to reserve a week of Sun Road travel about 60 days in advance. The remaining 20% would be two days in advance.
The system would be in place from June 1 to Labor Day and would impact the busiest parts of the day. People who arrived at Glacier early in the morning before entrance staff
started their shift wouldn't need a reservation and those arriving later in the evening wouldn't need a reservation, either.
The system would only be in place for the Sun Road corridor. Other roads in the park wouldn't adhere to it.
"We're going to have more conversations with the business community on ticketed entry," Mow said.
The park floated the idea last year to local businesses as a way to control crowds, but businesses opposed the measure at the time because it came too late in what was shaping up, at least at the time, as an unpredictable year due to coronavirus restrictions.
On a peak day, the Sun Road will see more than 5,000 vehicles. Last summer if the Sun Road saw 1,800 cars by 11 a.m. Glacier staff ended up having to institute closures as nearly every turnout and parking lot along its 52-mile length would fill.
Without ticketed entry, Mow projected the park
would likely shut down the west entrance about 25 times this season. This year's tourist season is expected to be a robust one, as most Americans aren't traveling abroad, so they're taking vacations in the U.S. National parks have been a major tourist draw across the U.S. and Glacier is on the national radar as a place to visit.
Mow reiterated Glacier plans on opening the east side of the park to visitors this summer, though not all the campgrounds will likely open.
Because of coronavirus restrictions, Glacier will be down seasonal
employees. Typically employees can share a room in seasonal housing. But with coronavirus restrictions, it's expected they won't be able to this summer. In short, it means one person to one bedroom.
That could change as summer goes along, but that's the situation right now.
As such, Mow said he expects that the campgrounds at St. Mary and Rising Sun will not be open, but Many Glacier and Two Medicine will.
The park also plans on having staff outside the park to help handle traffic and warn people of closures and delays.
The Park will open its free shuttle service this summer, operating at least to start at 50% capacity. Kerzman said the park would have to complete an environmental analysis of a long-term ticketed entry system for future years. But this year it could be allowed due to coronavirus concerns as an emergency measure. Other national parks have also gone to a ticketed entry, including Yosemite National Park.
Recent Headlines
---