Yesterdays: Glacier Park building new headquarters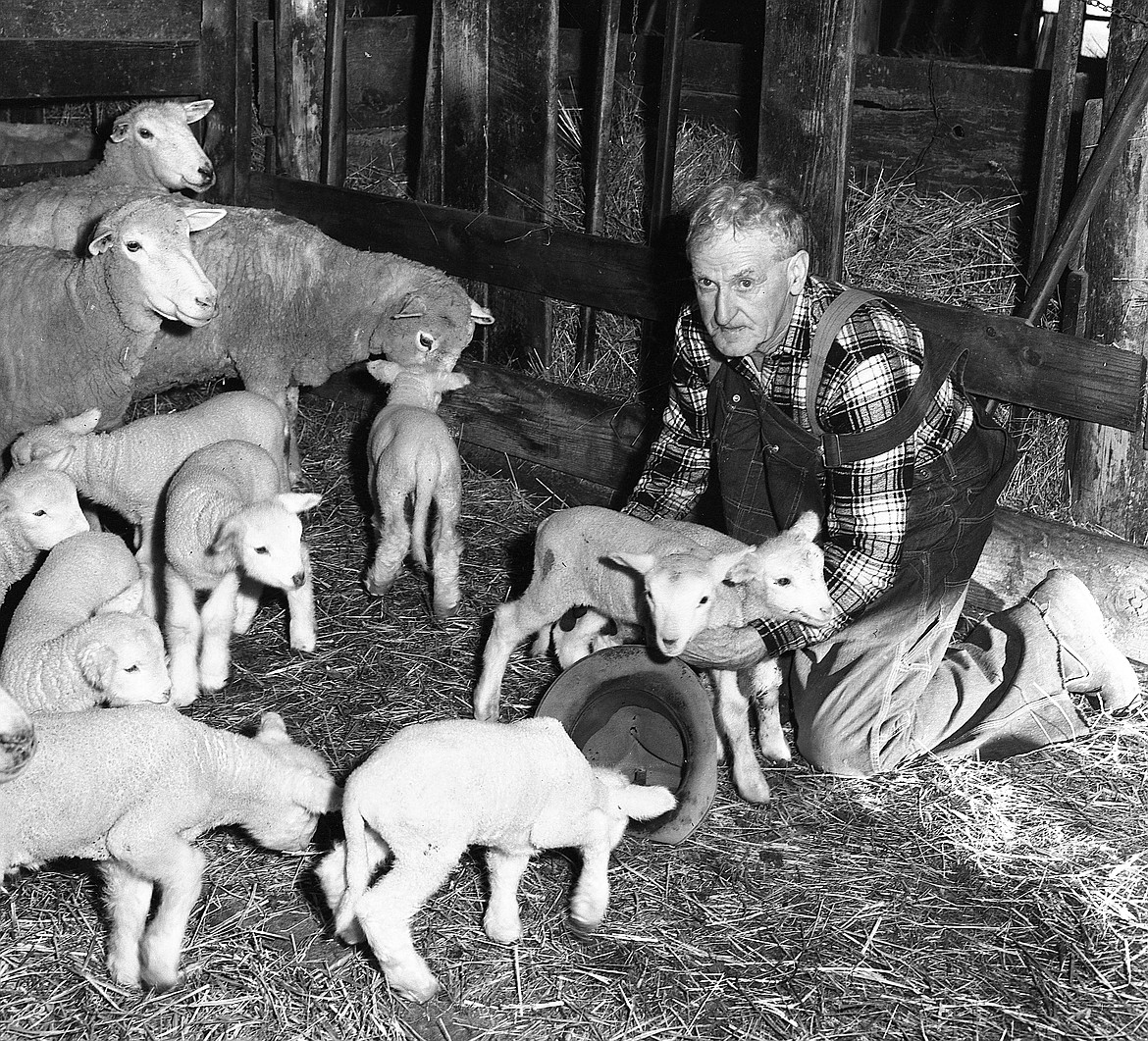 Tim Sullivan with just some of the 30 ewes and 41 lambs on his farm in Bad Rock near Mount Blaine, March 19, 1951. (Mel Ruder photo)
70 years ago March 2, 1951
Big Mountain would host the national downhill and slalom ski races. There were 80 contestants expected to compete. School District 6 teachers wanted a $500 across the board increase in annual pay. The minimum salary at the time
was $2,000 for grade school and $2,400 for high school.
60 years ago
March 2, 1961
The Glacier National Park budget included $1.135 million for construction projects. The largest single project was for a new headquarters building, expected to cost about $426,700. The old headquarters was a two-story log building.
Front page photo featured a farmer doing spring plowing in late February.
50 years ago March 5, 1971 A report by Glacier Park biologist Clifford Martinka noted that not a single visitor had been injured by either a black or grizzly bear in 1970.
The Park had changed several rules and regulations concerning garbage and feeding bears since two people were killed in 1967 by grizzlies that were food conditioned.
40 years ago March 5, 1981 An eastbound Amtrak train derailed about five miles from Marias Pass.
Eighteen people were treated for injuries at area hospitals. The front page photo featured dozens of other passengers with their luggage waiting on the tracks, with the train on its side.
30 years ago March 7, 1991 After most of the hostilities had ended in the Persian Gulf War, local families were breathing a sigh of relief. Now they were just waiting to hear back
from their sons and daughters who fought in the war.
20 years ago
March 1, 2001
Mitzy Pemberton, a well-known cook at the Columbia Bar was retiring. She was 62 and wellknown for her breakfast meals cooked out of the small kitchen at the bar.
10 years ago
March 2, 2011
They say that no man's life or property is safe while the Montana State Legislature is in session and 2011 was no exception. State lawmaker Greg Hinkle proposed a bill that would make a spear a legal weapon.
---