Norman  Elsberry and Geri 'Newberg'  Elsberry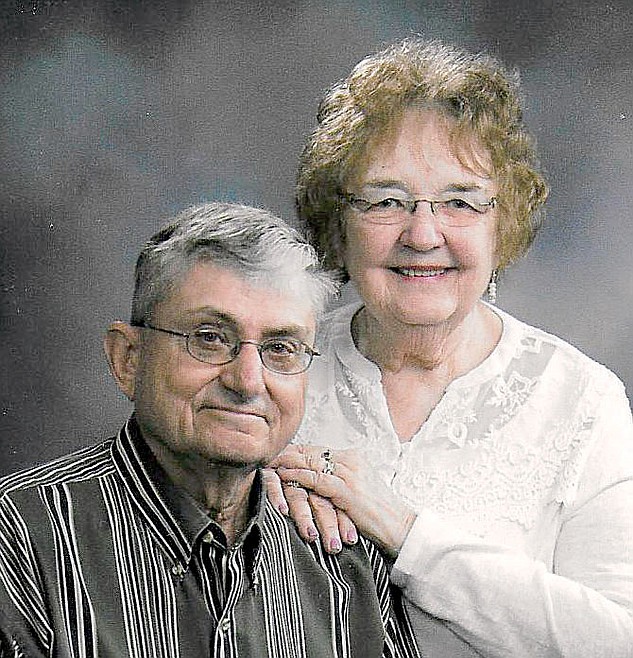 Norman  Elsberry and Geri 'Newberg'  Elsberry
Funeral Services for Norman Elsberry, 72, and Geri "Newberg" Elsberry, 74, of Orchard, Nebraska were Friday, June 18, 2021 at Cornerstone Bible Church in Orchard.  Pastor Troy Watson officiated.  Burial followed in the Page Cemetery.  The couple passed away as the result of a car accident on Friday, June 11, 2021 in Neligh, Nebraska.  Memorials may be directed to the family for future designation.  Arrangements are under the direction of Biglin's Mortuary in O'Neill.
Geraldine Fae Hunt was born on June 19, 1946 in Hot Springs, South Dakota to Kenneth and Laslie "Allene" (Westlake) Hunt.  When her mother passed away from cancer when she was 4 years old, her father married Laura "Avis" Drown.  Tragedy struck again when Avis passed away from cancer when Geri was 21.  She attended school in Custer and graduated from Custer High School in 1966 and briefly attended college in Bartlesville, OK, returning to Custer to help her father with her five little siblings after Avis passed away.  Her father then married Crystal French.
After graduating, Geri worked at the Hot Springs Hospital where she met Edgar Newberg. Both Ed and Geri then worked at Custer State Hospital after they were married on May 18, 1968 in Custer, South Dakota.  They also briefly ran the Dry Cleaners in Custer. To this union three children were born; Michele, Jerri Lynn, and Michael. 
The couple moved to Clinton, Tennessee for a time, then Whitefish, Montana where their son, Michael was born.  Geri worked for many years as the Activity Director at North Valley Hospital.  In 1998, they moved to Wheatridge, Colorado where Ed passed away from complications of diabetes on Dec. 8, 1998. 
Geri then moved back to Whitefish where she fought and won a courageous battle with breast cancer.
Geri's high school friend, Judi Elsberry, introduced Geri to her brother-in-law, Norman Elsberry of Orchard, Nebraska.  Due to the long distance, the couple had a very unique courtship, mainly writing letters and talking on the phone, before Norman drove to Whitefish to ask Geri to marry him. 
The couple was married on Oct. 12, 2002 in Whitefish.  They then made their home on Norman's family farm, near Orchard.  
 Norman Walter Elsberry was born on October 29, 1948 in O'Neill, Nebraska to Myrl and Arlene (Lichty) Elsberry.  He grew up on the family farm, north west of Orchard, and attended several country schools.  Norman then attended Page High School until it closed after his junior year. He graduated from Orchard High School in 1968.  He then helped his father on the family farm.
 Norman married Margaret Rifer on Oct. 19, 1971 in Page, Nebraska.  To this union two children were born, Rebecca and Daniel.  The couple made their home on Norman's family farm and they later divorced.
After moving to Nebraska, Geri worked at the Evergreen in O'Neill, Nebraska for several years as an Activity Director, until she retired in 2015.  She was always helping Norman on the farm.
Norman also had a couple of off farm jobs for extra income.  He worked at Wayne State College as a custodian for a time, Bartlett Foods on the pig farm, Cargill in O'Neill, and lastly, for Ferguson Fertilizer in Orchard.  He semi-retired in 2020.
Norman and Geri were members of the Cornerstone Bible Church in Orchard.  Geri loved collecting angels, canning, drinking coffee, gardening (especially her flowers), embroidery, and camping.  Norman enjoyed fishing, hunting, and loved working his farm.  Together, they enjoyed camping, were starting to travel, and spending time with their families, especially their grandchildren. They spent winters in Mission, Texas where they enjoyed doing Mission Work.        
 Norman and Geri are survived by their four children, Rebecca (Chad) Kallhoff of San Tan Valley, Arizona; Daniel (Lisa) Elsberry of Lincoln, Nebraska; Michele (Shawn) Ruff of Richmond, Texas; Michael (Jennifer) Newberg of Chattanooga, Tennessee; eight grandchildren, Jessica Kallhoff, Cole Kallhoff, Samantha Kallhoff, Lane Elsberry, Mackenzie (Garrett) Schwankhart, Korey Ruff, Bailey Ruff, Grace Newberg; great grandchildren, Carter Kallhoff, Payton Kallhoff, Mia Kallhoff, Cole "CJ" Kallhoff, Levi Schwankhart; Norman's siblings, Sharon (Milton) Boysen of Sun City, Arizona; Ronald Elsberry of Wayne, Nebraska; Eugene (Trudy) Elsberry of Page, Nebraska; Janiece (Dennis) Fox of Albion; sister-in-law, Judi Elsberry of Rushville, Nebraska; Geri's half siblings, Don (Jody) Hunt of Kalispell; Montana, Dallas (Cristie) Hunt of Kalispell; Montana, Delores (Pete) MacMillian of Aberdeen, Washington; Darlene (George) Mumm of Great Falls, Montana; Mary (Duane/Butch) Halden of Fairbanks, Alaska; sister-in-law, Sue Hunt of Colorado; many nieces and nephews.
Geri was preceded in death by her parents; two stepmothers, Laura Avis Hunt and Crystal Hunt; her first husband, Edgar; her second husband, Norman Elsberry; an infant daughter Jerri Lynn Newberg; and a brother, Robert K. Hunt.
Norman was preceded in death by his parents; his wife, Geri Elsberry; brother, Virgil Elsberry; sister, Lois Urwiler; and an infant sister.
---