In Glacier, the early birds get the worms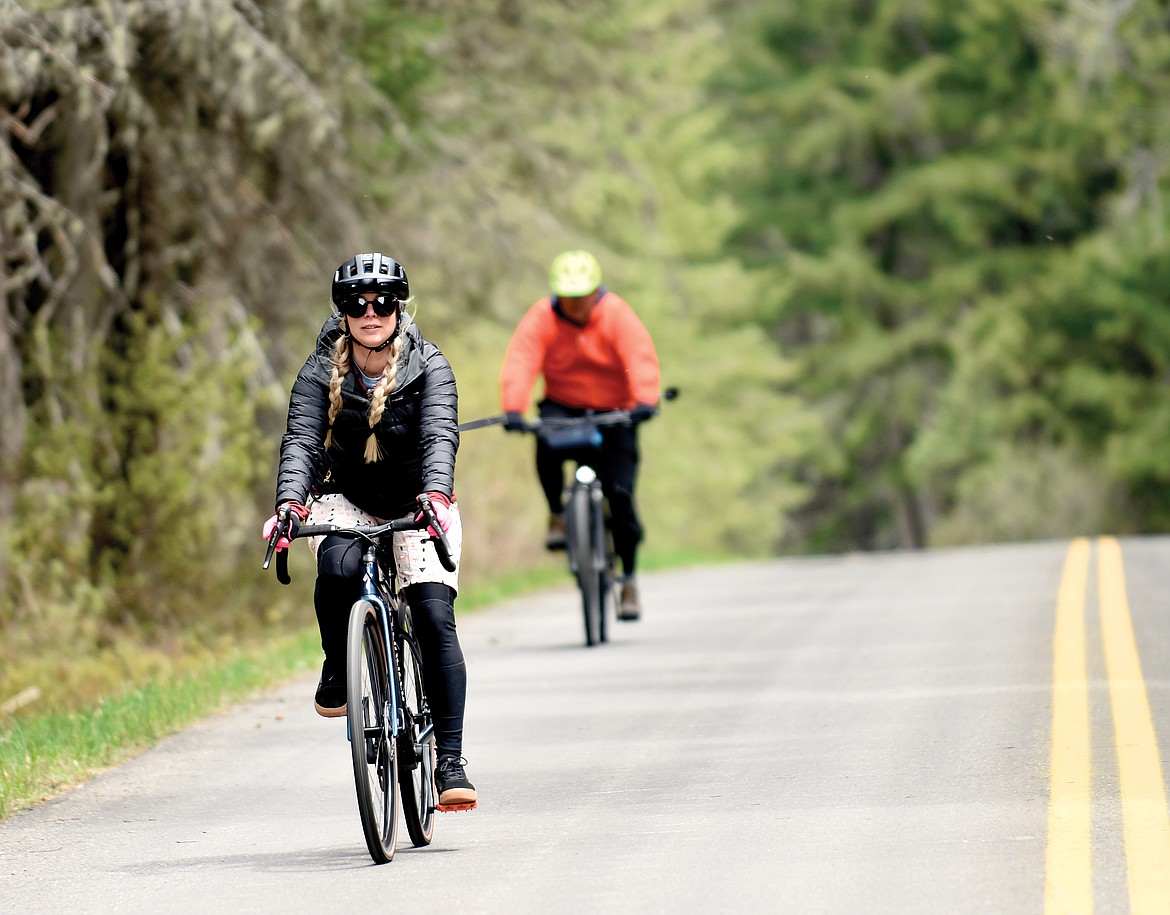 A cyclist heads down the Sun Road last week. (Teresa Byrd photo)
by
CHRIS PETERSON
Editor
|
June 9, 2021 6:30 AM
They say the early bird gets the worm and that certainly appears to be the case this year with Glacier National Park about two weeks into its ticketed entry system for the Going-to-the-Sun Road.
There's noticeably more traffic around 5 a.m. on U.S. Highway 2 heading toward the park as folks look to get into Glacier before 6 a.m., when a ticket is required.
Glacier is turning back plenty of motorists who don't have tickets.
Park spokeswoman Gina Kerzman said staff was working on getting exact
figures on the number that have been turned away. But it wasn't available at presstime.
The ticketed entry has also caused a bit of surge in traffic right at 5 p.m., when tickets are no longer needed, but the Hungry Horse News has witnessed that slow down considerably by 6 p.m.
Folks are going to other reaches of the Park. Over the Memorial Day weekend, Glacier did have to close Two Medicine temporarily due to lack of parking, Kerzman confirmed.
In April, visitation to Glacier was 53,134 — up 49% over 2019. The park was closed down entirely in April last year. Ticketed entry started May 28. Tickets 60 days out, when the Sun Road is expected to be fully open, seem to be relatively easy to get on the recreation.gov website, provided one tries to buy them earlier in the morning. They become available at 8 a.m. each day. But same-day tickets are harder to come by and seem to sell out quickly.
Glacier has also started taking reservations for the shuttle service in advance. Will Hammerquist, owner of the Polebridge Mercantile, said it's been somewhat busier than last year, but he thought the ticketed entry was going fairly well so far.
"I think it's working," he said. He recently spent some time in Apgar. "It didn't feel like Times Square," he said, which, he stressed, makes for a better park experience. He said while Polebridge has been busier than last year, the atmosphere is positive.
"People are excited to be here," he said.
Early risers will be rewarded in the North Fork as well. Kerzman said traffic lately has been restricted to Bowman and Kintla Lakes in late morning or early afternoons each day as the parking lots fill up. It eases up later in the evenings as people leave.
There's still plenty of places outside the Park to day hike in the Whitefish Range of the Flathead National Forest and many trails give great views back into the park, particularly the ones that go to lookouts or run a ridgeline.
On the east side of the park, the Many Glacier
Road opened late in the day on June 3. Motorists should expect up to 40 minute delays heading into the valley and 40 minutes heading out, with up to three hour delays at night as road reconstruction continues from Babb into the valley.
The Inside North Fork Road is now open to Logging Creek from the north and Camas Creek from the south. The middle section is closed to vehicles, but open to hikers and bikers.
---