Class of 2021: Erickson looks to take running, academic success to next level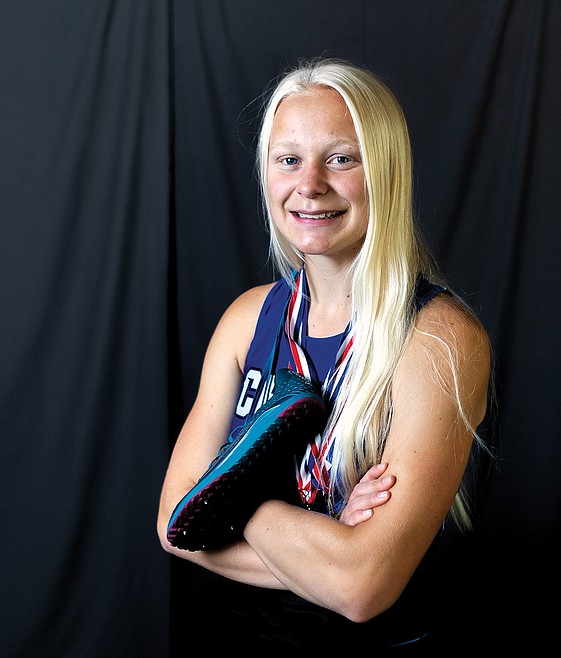 Lara Erickson was a standout athlete and student at Columbia Falls.
by
CHRIS PETERSON
Editor
|
June 9, 2021 6:30 AM
Senior Lara Erickson set her mark at the state A track meet with championship titles in the 1,600 and 3,200 meters. Now the Columbia Falls senior will look to make her mark in the college ranks as a member of the Carleton College cross country and track squad. Carleton is a small liberal arts college in Minnesota. Erickson said she chose the school, in part, because of its excellent running program under coach Donna Ricks, who has a stellar record, including a fifth-place finish at the NCAA championships in 2017.
Erickson ran cross country last fall, helping lead the Wildkats to a second place finish in the state tourney.
In addition to her track and cross country accomplishments, Erickson was also tops in the Columbia Falls Class of 2021, virtually tied with classmate Kate Hatfield.
She said she plans on majoring in environmental studies and possibly political science as well.
She said snow also played a role in her decision.
"I couldn't go anywhere without cold," she said. She said she's concerned about the environment and climate change and hopes to work in that field professionally after college. Lara is a middle child. She has an older sister Emma and a younger sister, Siri. She is the daughter of Peter and Tonja Erickson.
As for her running success, she gave kudos to coach Jim Peacock, who runs with the team and lifted weights with the team in the winter months.
"He's been really helpful," she said. "I'd definitely have to credit him with my success. He takes a lot of time with us and dedicates a lot to the team. He's out there doing the work with us."
Erickson started running in sixth grade, along with her sister, Siri. Once they started running, Peter, also took up the sport, she said. Peter is the pastor of Our Saviour's Lutheran Church in Columbia Falls.
He's been a big help as well, she said.
She said the church has been very supportive as well.
"I'm going to miss going to church here," she said. But she also has family in Minnesota to keep her company. Peter graduated from St. Olaf's College, which is also in Minnesota.
Running track and cross country events has its pluses and minuses. In track, she knows where her splits have to be and the course is fairly predictable. In cross country, there's more of a family atmosphere at races.
Both are fun, but what she really enjoys is just getting out and running without any pressure. She says it typically takes about four to six miles to really get in a groove and start feeling good.
"I love the offseason where it's training just for fun," she said. "I really like longer runs, like 10 miles."
Recent Headlines
---