Yesterdays: Larry Snyder of Columbia Falls won $5,000 in Montana Lottery Wildcard.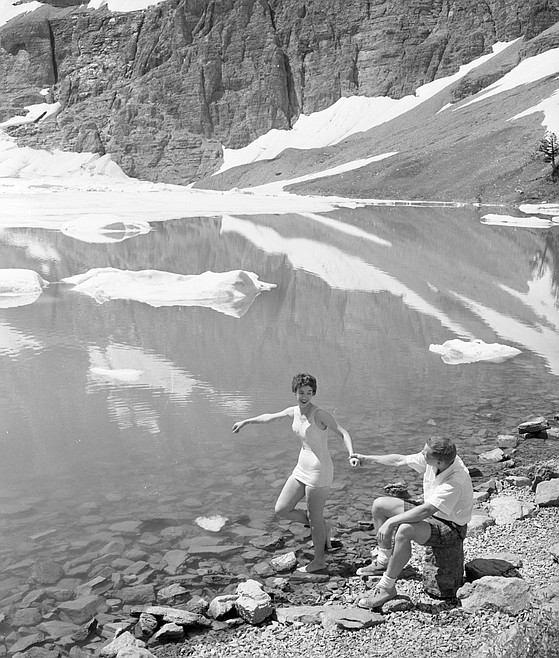 Jeanine Dotter of Missoula wets her toes in Iceberg Lake in July, 1961. With her is Tim Nixon. She did not go for a swim. (Mel Ruder photo)
70 years ago
July 27, 1951
Within a couple of months, the Hungry Horse Dam diversion tunnel was expected to close and the dam would start holding water. The diversion tunnel was expected to close in spring of '53, but construction progress had it ahead of schedule.
60 years ago
July 28, 1961
A new heated swimming pool was completed at the Hungry Horse Motel. The swimming pool was for guests only but from July 31 to Aug. 11 it was open so the Hungry Horse parent-teacher association could host swimming lessons there. The pool is still there today.
50 years ago
July 30, 1971
A two-vehicle accident killed two people on what was then Highway 2 near the Bad Rock Fire Hall. A man from Missoula and a man from Lewiston, Idaho were killed when one of the vehicles went into the borrow pit, overcorrected and slammed into a car in the opposite lane. Killed were Hank Mohland of Missoula and Jack McKean of Lewiston. Mrs. Lanny Luding of Martin City, a passenger in the McKean vehicle, was injured. The McKean vehicle was the one that was sucked into the ditch. It was going about 70 mph.
40 years ago
July 30, 1981
Three people drowned in two separate incidents in upper McDonald Creek. In one incident, Kevin Dolack, 7, of Illinois slipped into the water near McDonald Falls and drowned, despite the efforts of a fisherman to save him. In the second incident, Donald and Betty Danielowski both of Minnesota drowned trying to save their 9-year-old nephew who fell in the creek near Moose Country. The boy was saved by his father, who had also jumped in, but the couple, age 40 and 36 respectively, didn't make it.
30 years ago
July 25, 1991
The area was seeing summer temperatures as the high one day reached 87. It seemed hotter, though, as it had been cooler than normal. The temperature dipped to 38 one day that week, tying a record set in 1962.
20 years ago
July 27, 2001
The city of Columbia Falls approved a $4.1 million budget that would not increase the mill levy. City council however balked at a line item for a $33,000 toilet at Horine Park. The toilet was never installed. Homer Wulf celebrated his 80th birthday by taking a flight in a powered parachute with pilot Dennis Mitchell.
10 years ago
July 27, 2011
Larry Snyder of Columbia Falls won $5,000 in Montana Lottery Wildcard . He tried to cash the ticket in at Smith's but they didn't have enough money so he had to drive to Helena to get the cash.
---