LaTray recognized by governor for service to Bad Rock community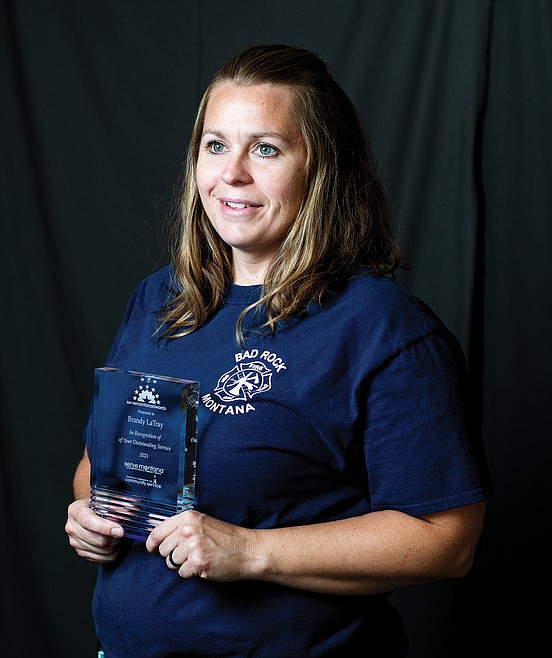 Brandy LaTray was recently recognized for her volunteer efforts as an EMT with the Bad Rock Fire Department with a Serve Montana Award by Gov. Greg Gianforte.
by
CHRIS PETERSON
Editor
|
July 28, 2021 8:35 AM
Bad Rock Fire Department emergency medical technician and firefighter Brandy LaTray was recently recognized by Gov. Greg Gianforte with a ServeMontana award.
LaTray has been a volunteer firefighter with the department for three years and an EMT for the past two years.
LaTray's husband, Ron, who is also a volunteer with the department, motivated her to join the force after some of their own firefighters often needed medical help on the scene when responding to emergencies.
So she volunteered for a year as a firefighter to get the training she needed and then the department and the county paid for her training as an EMT.
It was a tough go, she said. She was working full-time, then going to night classes at Flathead Valley Community College in addition to responding to calls with the department.
She goes to more than 150 calls a year and is often the first medical help a victim sees in an emergency.
Accolades aside, LaTray says she enjoys the work.
"I do it for the community," she said. "I've never done it for the awards."
She was also named the Bad Rock firefighter of the year in 2020. For that she said she was given a beautiful medical bag that can withstand the punishment of the calls throughout the year.
She grew up in Columbia Falls and has always been a go-getter. In her youth, you could find her in the boxing ring duking it out against an opponent.
She has been a massage therapist for 17 years and is the lead massage therapist at the Lodge at Whitefish Lake.
She said winning one of the seven ServeMontana awards this year was a little embarrassing.
"I like to be one of those people in the back that makes things happen," she said.
In addition to helping out others, she also helps out her own family, keeping on eye on her aging grandfather, who is 90 and lives next door.
She said she enjoys being an EMT, but wouldn't want to do it professionally.
"You lose that heart you have for it," she said.
The world of EMTs is a tight knit community she said. Other EMTs she doesn't even know will wave when they see her license plate which identifies her as such.
"It's probably one of the best brotherhoods I've been part of," she said.
She encourages people who are able to volunteer. Not everyone has to be a firefighter to be helpful. Almost all scenes require people to help out with traffic control or other duties, she noted.
LaTray said she deals with the potential trauma of being an EMT by simply doing the best she can.
"You do the best you can while you're there," she said. "Do what you can 100 percent."
LaTray and four other individuals and two groups in the state were recognized last month at a banquet in Helena hosted by Gianforte.
---