Hay Creek Fire near Polebridge now more than 1,000 acres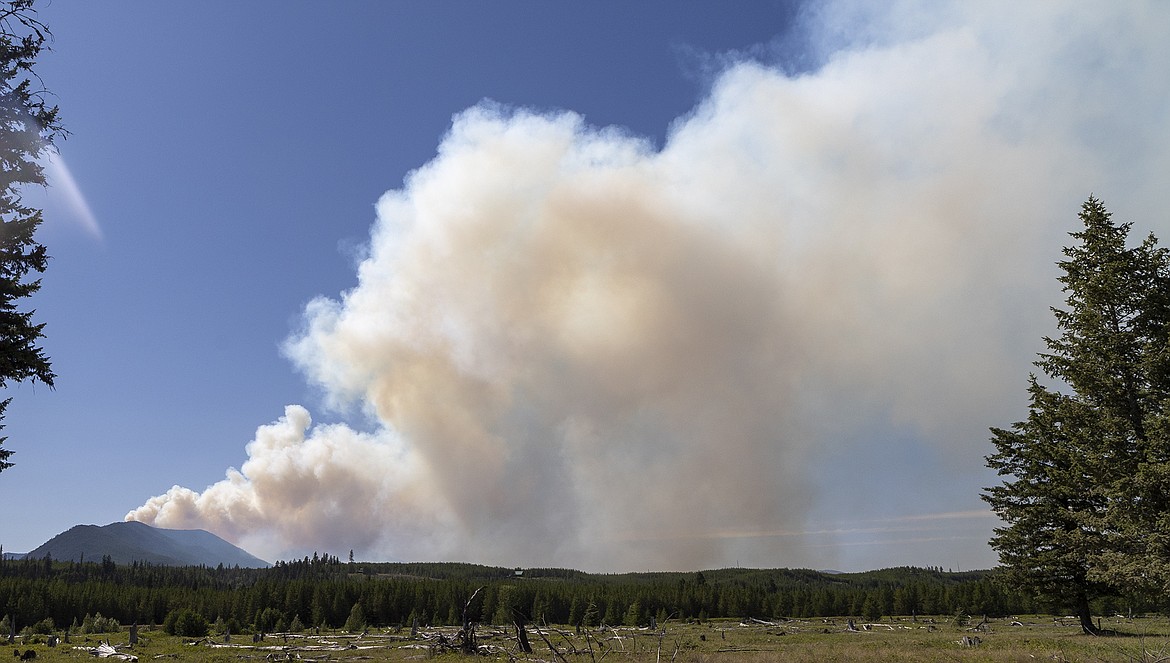 The Hay Creek Fire near Polebridge on Thursday.
by
CHRIS PETERSON
Editor
|
July 24, 2021 9:35 AM
The Hay Creek Fire near Polebridge is now more than 1,000 acres. Crews were considering doing burnouts in front of the blaze on Friday, but windy conditions did not allow it, fire managers said.
A burnout is a fire that is purposely set by firefighters to try to control a blaze's progression.
The wind is expected to pick up again this afternoon, with low humidities and gusts of 20 mph or more, fire information officer Diane Sine said.
Temperatures today will be in the 80s and the same weather pattern is expected tomorrow, though tomorrow is expected to be even warmer.
The fire has 70 personnel working on building shaded fuel breaks on roads surrounding the fire, but there is not a direct line around the fire. The fire is not in a heavily roaded area.
In years past, many fires that have started in the North Fork have burned well into Glacier National Park. The Moose Fire of 2001 burned into Glacier, as did the Robert and Wedge Canyon fires of 2003.
The Red Bench Fire of 1988 also burned into Glacier.
A pre-evacuation notice has been issued for about 20 residences in the potential path of the fire.
A community meeting on is scheduled for 6 p.m. at Sondreson Hall tonight.
The Red Meadow and Hay Creek Roads are closed as are all the trails in between to the Whitefish Divide. The main North Fork Road remains open.
As a precaution, Glacier National Park will not be issuing backcountry permits for the Quartz, Bowman, Akokala, Kintla, Kishenehn and Round Prairie drainages.
The area currently remains open for day use on trails and for frontcountry camping.
Recent Headlines
---