Twins close out stellar regular season, head to districts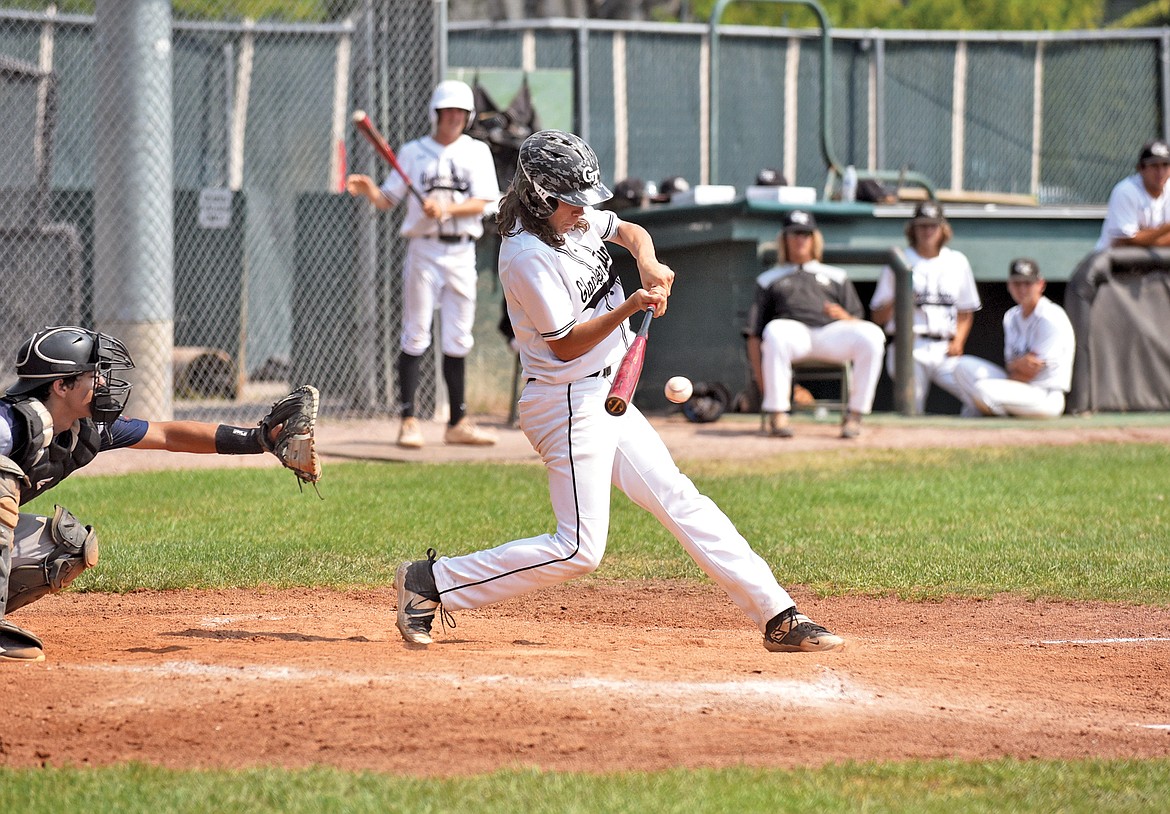 George Robbins with a big cut. (Whitney England photo)
by
WHITNEY ENGLAND
Whitefish Pilot
|
July 21, 2021 8:35 AM
The Glacier Twins closed out their regular season play last week by sweeping the Missoula Mavs A and splitting games with the Bitterroot Bucs A.
Glacier finished out the regular season with an overall record of 45-14.
Sunday the Twins had a disappointing defeat to the Bucs after narrowly dropping the first game 5-3, but Glacier bounced back with an 11-1 blowout in the second game.
Scoring in the opening game started in the second inning when the Bitterroot Bucs put up two runs in the top of the inning. The Twins responded with three runs of their own, two of those scored off an error from the Bucs.
Bitterroot knotted the game at 3-3 in the sixth inning before scoring two runs in the top of the seventh to secure the win.
Glacier's Jacob Polumbus went 2-for-2 at the plate and also recorded two stolen bases.
In the next game, the story unfolded differently. The Twins put four runs on the board right away in the bottom of the first inning, after giving up one run to the Bucs on an error.
The runs flowed easily in this game though, as Glacier tallied seven hits for 11 runs. George Robbins led the Twins with two hits and Polumbus was on the mound for Glacier going five innings allowing just one run and four hits.
Earlier in the week, Glacier faced the Missoula Mavs and fought to win both on a hot Wednesday evening. In a low scoring affair, the Twins beat the Mavs 4-1 in the first game — three runs in the bottom of the sixth gave Glacier the victory.
Zach Veneman started as pitcher for the Twins, going five innings allowing one run and three hits. He also went 3-for-3 at the plate.
The next game against the Mavs resulted in a commanding 9-3 win by the Twins. The Mavs were first to get on the scoreboard, scoring one run in the opening inning. But Glacier piled on runs in each inning after that while allowing little offense for the Mavs.
The sixth inning was the biggest offensively for the Twins, as they notched three runs led by sacrifice flies by Mikey Glass and Danny Dunn.
The Twins will head to the Class A West District Tournament this week in Missoula. The tournament begins Wednesday, July 21, and runs through Saturday, July 24.
Recent Headlines
---