Plans to fix a short, wretched road to Polebridge entrance 'on life support'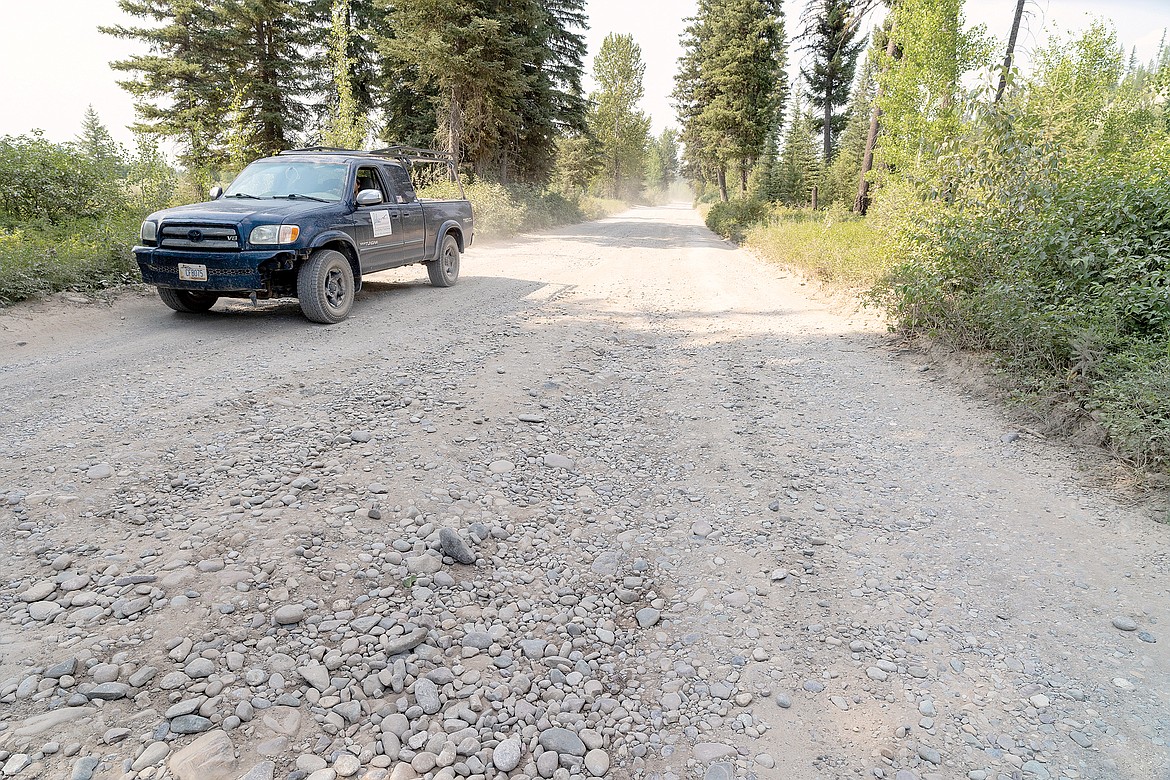 A vehicle drives down Glacier View Drive near Polebridge.
by
CHRIS PETERSON
Editor
|
July 21, 2021 7:50 AM
A plan to fix Glacier View Drive is "on life support" Flathead County Public Works Director Dave Prunty told the crowd at the North Fork Interlocal last week.
The county had planned on fixing the road using a blend of county, Park Service, Flathead National Forest and Border Patrol funds to use millings from the Going-to-the-Sun Road.
The Sun Road will see work this fall.
Some of the millings, which the Park Service had agreed to donate to the county, would be used to, in essence, pave Glacier View Drive.
But that project is now in doubt, as some folks have objected to paving the road and money to just put down just gravel instead of millings isn't there.
The county still hopes to get the Sun Road millings pending the approval of the Sun Road contract, they just won't go to Glacier Drive at this point.
Glacier View is in very rough shape, with deep large holes that fill full of water in the spring. It is the only way to get to the Polebridge Entrance station.
According to the Park Service, it saw at least 23,752 visitors in June alone and since it's an in-and-out road, they drove it at least twice.
An option to fix it with gravel from a pit at Whale Creek had a pricetag of about $700,000, Prunty noted after the meeting.
"This cost was higher than the available match dollars from the partners providing it….Flathead County, Glacier Park, the Flathead National Forest and Border Patrol.  When the millings became a possibility from Glacier they have a much higher value to them for match than the gravel from Forest Service," Prunty noted in an email.
The county share of the project is just over 13%, so the millings value makes a big difference to what the county would have to match. 
Glacier Park acting superintendent Pete Webster said the Park Service did not object to using the millings. He noted the Park's general management plan calls for managing the North Fork in a rustic condition, but the Glacier View Drive is outside the park and the park recognizes it's poor shape.
The North Fork Road proper, however, will see work.
A cooperative plan between the county, Forest Service and Border Patrol to improve the last 5 miles of the road should go out to bid this fall with work starting next summer, Prunty said.
That project is about $3 million and has been in the planning stages for years.
The county will also provide a 13.42% match and the Border Patrol will kick in $100,000. The balance comes from federal land access funds.
---