Wildkats remain perfect at midway point through season
by
CHRIS PETERSON
Editor
|
January 27, 2021 7:00 AM
The Columbia Falls girls basketball team is perfect midway through the season, after downing some formidable rivals last week.
Last Tuesday they dropped Ronan 58-38 at home, then on Friday they dropped Class B Eureka 67-49 on the road, then they dispatched Hamilton Saturday at home, 47-38.
The Wildkats are now 8-0 on the season and have yet to allow more than 49 points in a game this year.
Their defense did not disappoint last week, either. The game of the week was against Hamilton, who led the Southwest conference heading into the game.
Junior Maddie Robison led the scoring for the Kats with 16 points, 11 in the first quarter. Senior LaKia Hill had a solid game with 10 points and Madysen Hoerner had eight rebounds.
The game was a bit closer than the score would suggest. The Kats would build a sizable lead, only to have Hamilton cut it to a couple of baskets. At one point in the third, the Broncs would be down by just two, but the Kats pulled away after that.
Against conference rival Ronan, Hannah Schweikert had the hot hand, with 22 points. Hill had 11. The Kats held the Maidens to just one point in the first quarter. Lauren Falkner was great on the boards with 11 rebounds.
Eureka is one of the top teams in Class B.
At Eureka, Hill led the team with 17, Robison had 14 as the Kats hit nine treys in the game.
Coach Cary Finberg was pleased with the team's defensive effort. On the offensive side, they've also improved their turnover margin. Against Hamilton, they had just 12, a season low.
The girls are on the road this week, with an away game against Frenchtown Tuesday after presstme.
The junior varsity team squares off against Stillwater on the road Friday.
Hamilton 11 9 9 8 – 37
Columbia Falls 15 14 8 11 – 48
HAMILTON – Amanda Wilson 1, Layne Kearns 9, Rylee Brackman 2, Morgan Brenneman 2, Maggie Ringer 15, Maddie DeVall 2, Mya Winkler 1, Katelyn Dickemore 4.
COLUMBIA FALLS – Maddie Robison 16, Lakia Hill 10, Grace Gedlaman 4, Peyton Rhodes 2, Hannah Schweikert 8, Lauren Falkner 2, Mady Hoerner 6.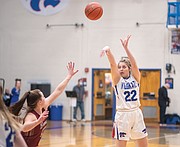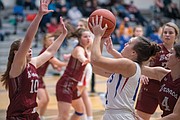 ---