Windstorm knocks out power, blocks Sun Road. Avalanche danger is high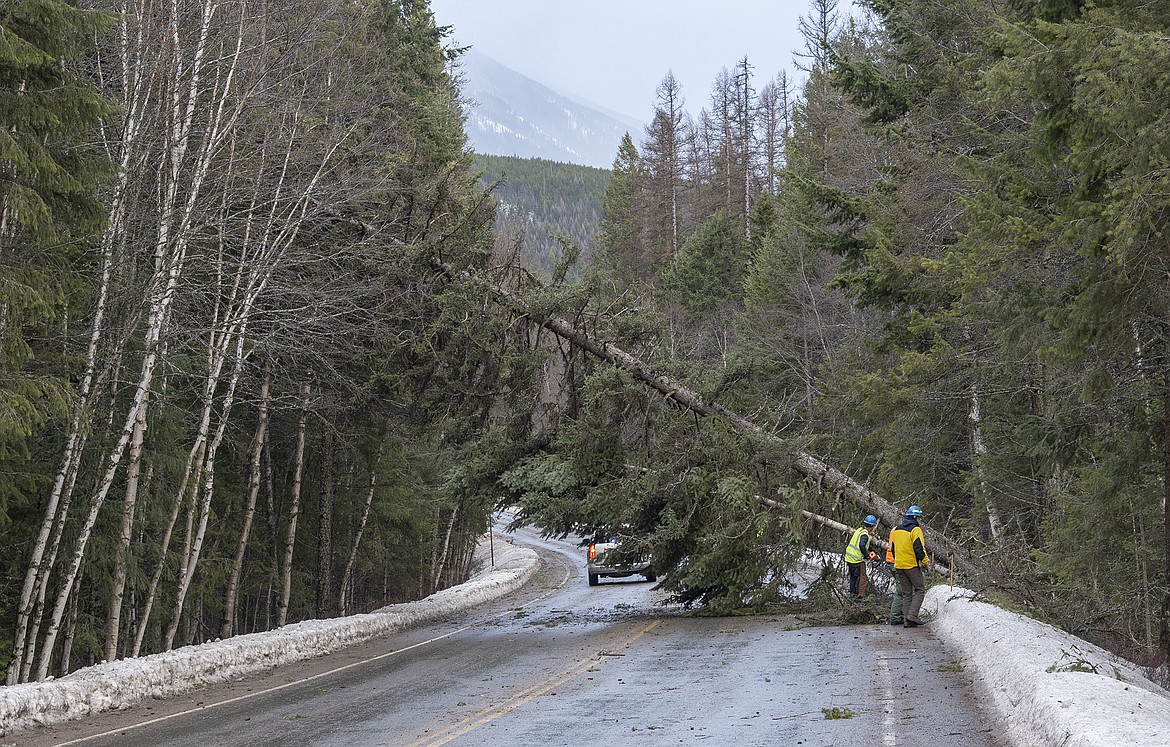 Crews from Glacier National Park clear a downed tree near the entrance of the Park Wednesday morning.
by
CHRIS PETERSON
Editor
|
January 13, 2021 12:20 AM
A windstorm Wednesday morning sent trees crashing down across the region and Glacier National Park had temporarily closed the Going-to-the-Sun Road down to the foot of Lake McDonald.
Numerous trees were down in the Canyon communities due to high winds. The Hungry Horse News watched as a line of trees fell down along U.S. Highway 2 between Coram and West Glacier Wednesday morning.
A large tree fell over the Sun Road at the entrance of the Glacier Park as well, temporarily blocking traffic both and and out of the park.
There were numerous power outages in the Canyon and across the Flathead Valley. AT&T cell phone service was also out in the Canyon this morning.
Power was also out in Libby and places west of Kalispell.
The National Weather Service has issued a high wind warning until 9 p.m. Hungry Horse saw wind gusts approaching 50 mph. There is also an avalanche warning for all mountain ranges in the area.
The avalanche danger is rated as high.
"Travel in avalanche terrain is not recommended. Avalanches may run long distances and can run into mature forests, valley floors, or flat terrain," the Flathead Avalanche Center said Wednesday.
From Tuesday into Wednesday morning there was upwards of 1.5 inches of rain in places like West Glacier, with wet, heavy, snow in the higher terrain, creating prime avalanche conditions.
Recreating in the woods or in avalanche terrain is not recommended. In the woods, trees are coming down and in the avalanche zones, naturally occurring avalanches are expected.
---