Grapplers split the bill at home double dual to open the season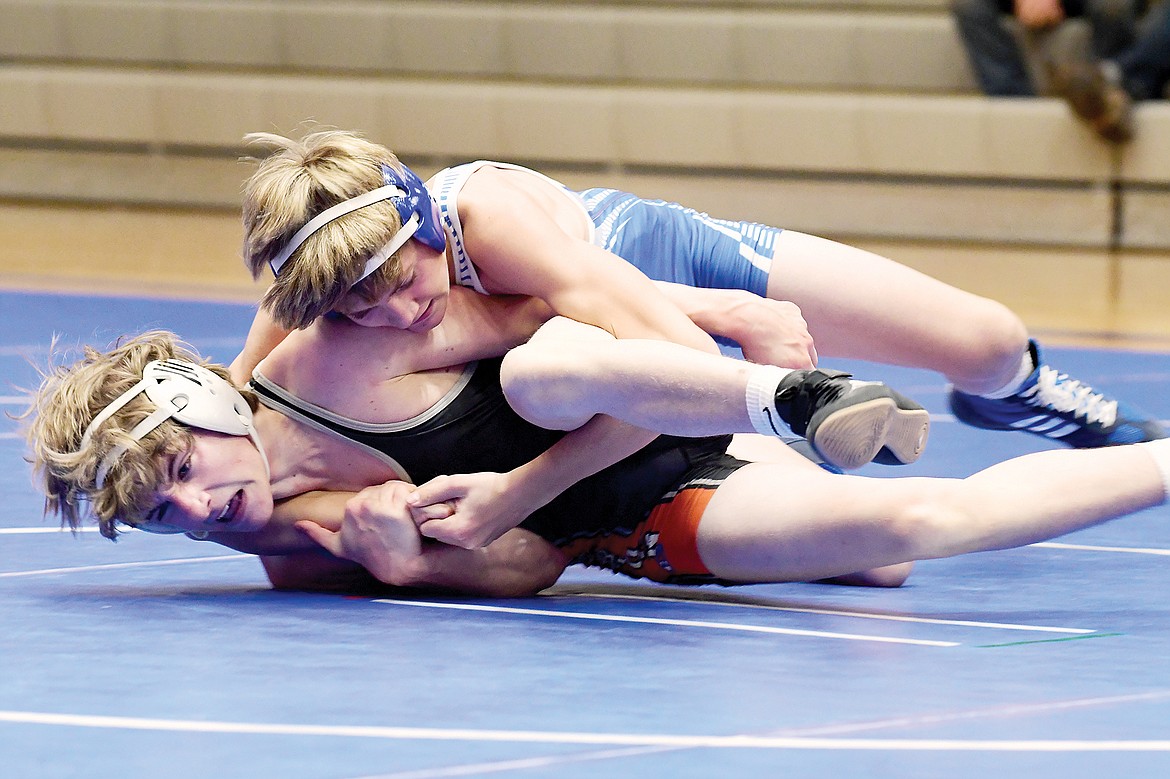 Billy Gustafson sets up a cradle against Gabe Mobley of Frenchtown during Tuesday's double-dual including Hamilton. (Teresa Byrd/Hungry Horse News)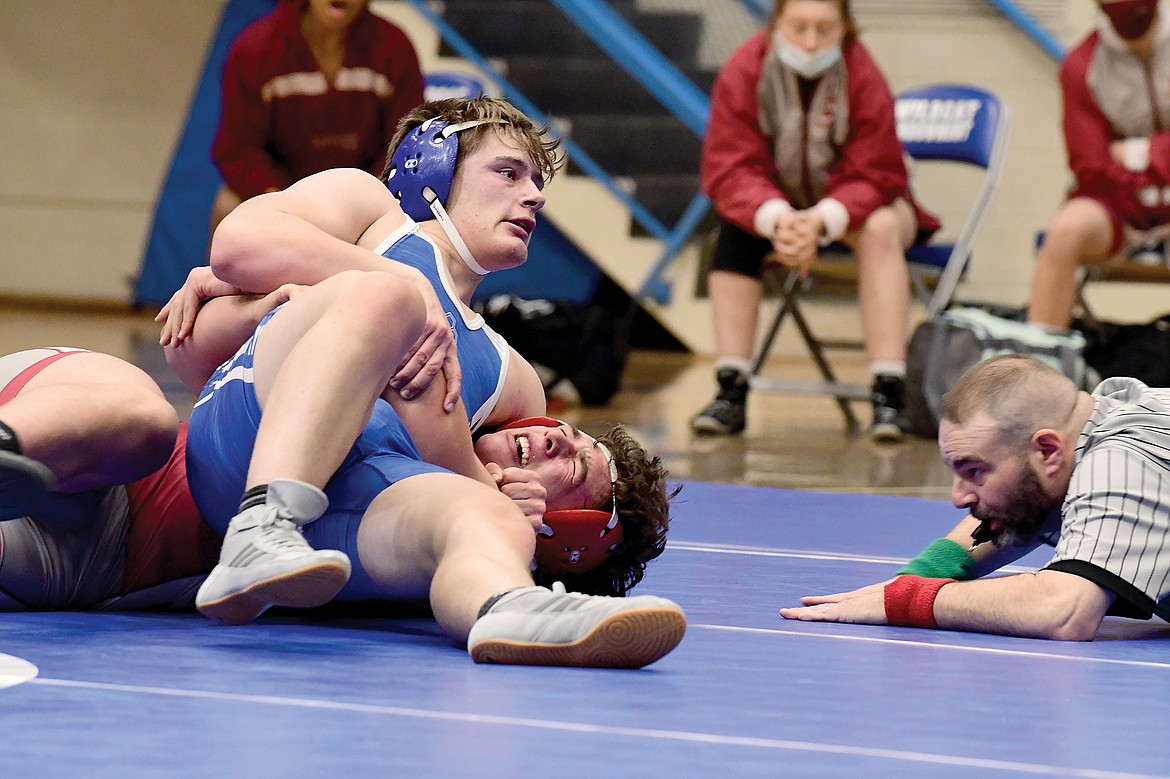 Wildcat sophomore Brandon Role pins Hamilton's Derrick Saltzman during a double-dual in Columbia Falls Tuesday evening. (Teresa Byrd/Hungry Horse News)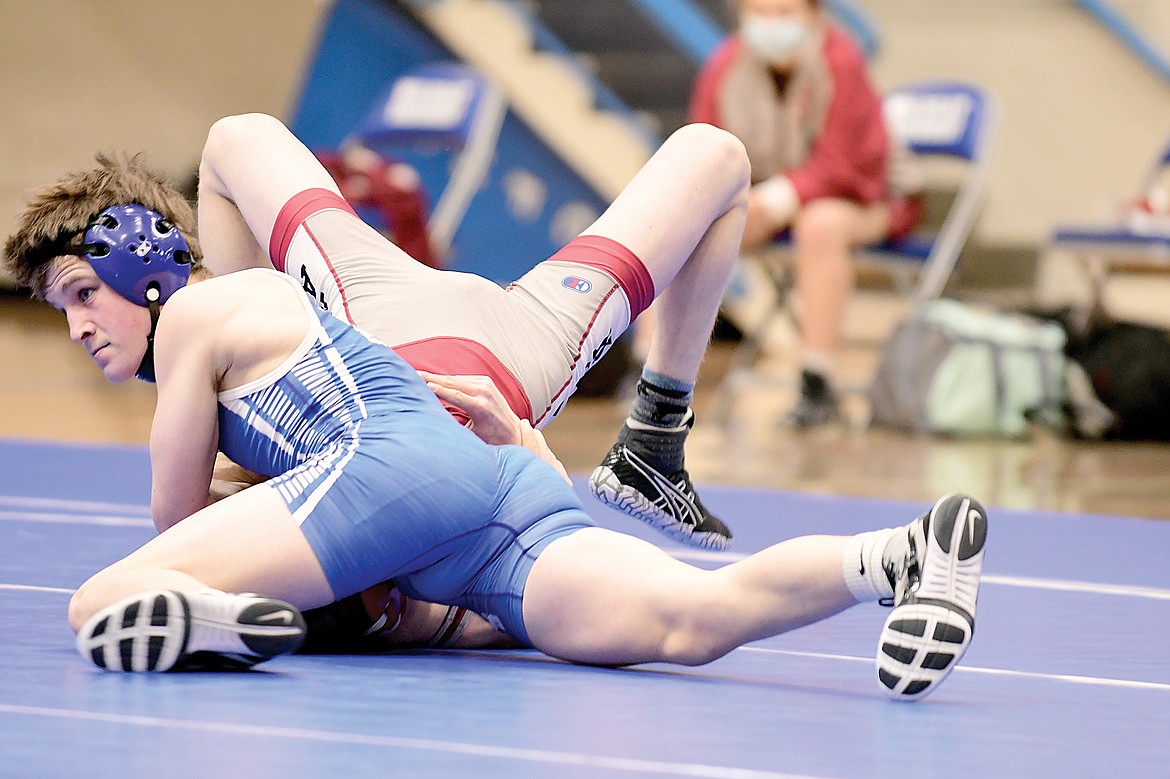 Orion Barta pins Hamilton's Logan Bratsch of Hamilton Tuesday evening. (Teresa Byrd/Hungry Horse News)
Previous
Next
by
TERESA BYRD
Staff Writer
|
January 13, 2021 1:00 AM
Wildcat wrestling opened the season with a hardy win against Hamilton and a close loss to Frenchtown during the first double-dual meet of the season at home last week.
"The Hamilton dual was a good start for the kids to gain some confidence moving forward into the season," head coach Jessie Schaeffer said.
The Cats secured a whopping 66-12 score over Hamilton, a young team with forfeits in several weight classes, before turning around to compete against highly ranked Frenchtown.
The Cats held their own with a 39-30 loss against the Broncs, a team that took second at state last year, incurring only a nine-point loss which included a forfeit for the Cats in the 113-pound division.
"[Frenchtown's] typically a top-three team in the state, so we were pleased with the outcome," said Schaeffer. "We had some matches we need to work and turn around, and we had some big matches that we wrestled well in."
Several of those triumphs were against top-ranked brawlers including Orion Barta's win by decision over Frenchtown's Nick Blanchard, and Josh Bertram's defeat of Canyon Shope, last year's third-place finisher in the 182 pound division.
Wildcat senior and team captain Lucas Thacker also had a nice win, pinning opponent Noah Rausch with a standing cradle in 39 seconds.
"We had some good scrambles tonight," said Schaeffer.
Despite the scrappy competition, the event had a distinctly different feel from years past due to coronavirus precautions.
"Seeing the kids in their masks in the lineup, not shaking hands, not really doing a faceoff and having very few fans, it was definitely a different environment," said Schaeffer. "The atmosphere was not as energetic, but we're obviously glad to be on the mat."
"We're just thankful for our administration," Schaeffer added. "It's definitely been a tough year and they've put a lot of work in trying to keep us able to wrestle."
The Wildcats went on to wrestle Corvallis and Polson Saturday, thumping both the Pirates, 51-24, and Blue Devils, 63-18.
The wrestlers head to Libby for a double-dual against the Loggers and Polson at 5 p.m. on Friday, Jan. 15. They had matches against Hamilton Tuesday as well after presstime.
Columbia Falls (66) vs. Hamilton (12)
126: Justin Windauer (COFA) over Jesse Anson (Ham) (Fall 3:22)
132: Orion Barta (COFA) over Logan Bratsch (Ham) (Fall 3:50)
138: Gage Lemburg (COFA) over Malachi Jackson (Ham) (Fall 2:32)
145: Ty Allen (COFA) over Jesse Riddle (Ham) (Fall 1:07)
152: Bryan Osborne (COFA) over Carter Morgan (Ham) (Fall 4:36)
160: Rowdy White (COFA) over Asher Frost (Ham) (Fall 1:51)
170: Jordan Knapton (COFA) over Colton Frost (Ham) (Fall 4:57)
205: Brandon Roll (COFA) over Derrick Saltzman (Ham) (Fall 4:55)
285: Cadogan Wheat (Ham) over Josh Price (COFA) (Fall 1:30)
Frenchtown (39) vs. Columbia Falls (30)
103: Landen Stewart (FREN) over Cash Byrd (COFA) (Fall 0:20)
113: Jett Cambell-Herald (FREN) over (COFA) (For.)
120: Josiah Kilman (COFA) over Gavin Bauman (FREN) (Fall 3:35)
126: Orion Barta (COFA) over Nic Blanchard (FREN) (Dec 3-2)
132: Justin Windauer (COFA) over Grant Hoskinson (FREN) (Fall 2:51)
138: John Warner (FREN) over Gage Lemburg (COFA) (Fall 3:34)
145: Zane Martin (FREN) over Ty Allen (COFA) (Dec 7-2)
152: Smokey Stoker (FREN) over Isaiah Roth (COFA) (Fall 4:28)
160: Gavin McLean (FREN) over Trey Torpen (COFA) (Fall 1:12)
170: Lucas Thacker (COFA) over Noah Rausch (FREN) (Fall 0:39)
182: Josh Bertram (COFA) over Canyon Shope (FREN) (Dec 9-8)
205: Brandon Roll (COFA) over Nathan Hansen (FREN) (Fall 1:48)
285: Philip Herald (FREN) over Josh Price (COFA) (Fall 2:35)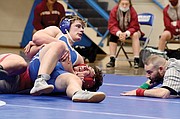 ---