Yesterdays: Elk hunt in Glacier Park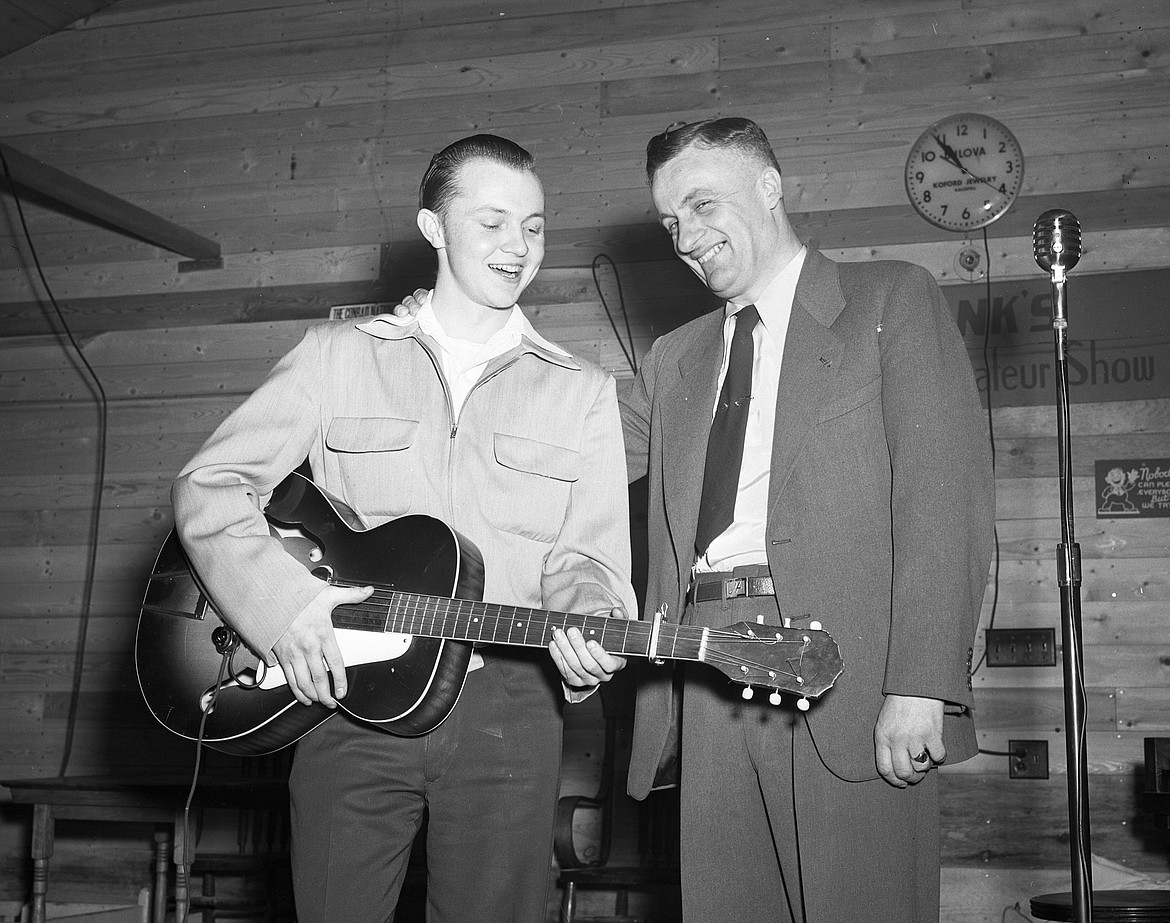 Clark Harlan is congratulated by Henry Eckleberry after winning the amatuer hour at the Sunrift Community Hall near Columbia Falls. Harlan got $3 for his efforts. (Mel Ruder photo)
|
January 6, 2021 1:00 AM
70 years ago
Jan. 5, 1951
Wages at the Hungry Horse Dam could be going up. The average wage was about $1.50 an hour. The union was asking for a 15 cents per hour increase. F.H. Stoltze was going to shut down its mill for winter repairs. The mill had a backlog, too, with 6.5 million board feet of lumber in the yard and 5.5 million board feet in its ponds.
60 years ago
Jan. 6, 1961
One of the favorite places for kids in Columbia Falls was the skating rink between Ted Andrews' home and Pat Kelly's home. Front page photo showed a large rink. Glacier Park would have its annual elk harvest in St. Mary, with the meat going to the Blackfeet Tribe. About 50 elk were expected to be taken. Four Blackfeet rangers would take the elk. Without the annual harvest, it was expected the herd would increase about 20 percent per year.
50 years ago
Jan. 8, 1971
Mr. and Mrs. Bob Williams of Creston drove their sled dog team in Glacier National Park. Front page photo featured them on the shores of Lake McDonald. The newspaper came out against a proposed dump between Whitefish and Columbia Falls. The county wanted a dump there. Columbia Falls had its own free dump on land owned by the Anaconda Aluminum Co. at the time.
40 years ago
Jan. 8, 1981
A Park Service-wide budget cut meant Glacier National Park would have $100,000 less to work with than it did in the previous year. The Park hadn't decided how to handle the cut.
30 years ago
Jan. 4, 1991
The year 1990 was the wettest year on record with 23.93 inches of moisture overall. A snowstorm dropped 11 inches Dec. 27, putting the year over the top. Four days later, Columbia Falls saw another foot of powder. The airport had 34 inches of snow on the ground.
20 years ago
Jan. 4, 2001
Front page story featured Becky Hardey, who delivered mail up the North Fork twice a week on a contract with the Postal service. She'd being doing it for 18 years.
10 years ago
Jan. 5, 2011
Glacier National Park's headquarters building was deemed safe after concerns about lead and asbestos in the 1960s-era structure. Tests showed the air was safe, but the building was emptied of employees so a new heating and air conditioning system could be installed.
---