Boys start season on high note with win over Blue Devils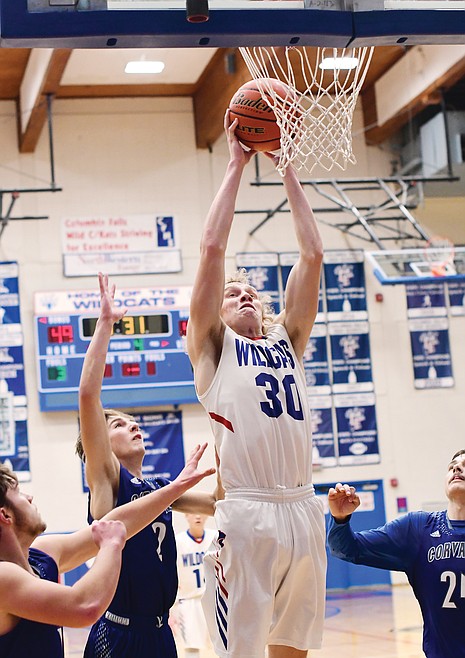 Allec Knapton goes for the shot after snagging a rebound during the Cats' first game of the season against Corvallis on Saturday. (Teresa Byrd/Hungry Horse News)
by
TERESA BYRD
Staff Writer
|
January 6, 2021 1:00 AM
Columbia Falls boys basketball started their season off on a high note after securing a 59-50 win against Corvallis Saturday evening.
"You know, I knew the team could play, even though we're pretty young," said head coach Chris Finberg. "And we showed that for most of the game."
The victory came despite the fairly inexperienced Wildcats, whose starting squad featured two freshmen and only one returning senior, facing a Blue Devils lineup stacked with seven seniors.
The win was made all the sweeter following last season when the Cats were defeated twice by the same team.
"[Corvallis] had a lot of kids back off last year's team that thumped us pretty good last year," said Finberg. "So to come out with the young squad that we've got— that was a pretty good win."
The youthful Wildcats executed a strong, well-rounded game where they kept a close but exciting lead for all four quarters.
The Cats did well at the line, with 15 free throws as opposed to Corvallis' three.
Finberg cited control of the ball as key to the team's success in besting the veteran Blue Devils.
"The guys that were handling the ball a lot only turned the ball over four times," said Finberg. "So that's going to win you a lot of games."
The matchup also showcased the Cats' diversified scoring capabilities, with nearly five Columbia Falls athletes scoring in the double digits.
Cade Morgan led the team with 13 points, followed by Jace Hill with 12, Allec Knapton with 11, Alihn Anderson with 10 and Mason Peters with nine.
"We had pretty good individual performances by a few guys," said Finberg. "But a really good team performance by everybody."
The Wildcats play the Libby Loggers on the road at 7:15 p.m. on Friday, Jan. 8 and are home against Polson Saturday at 6 p.m.
---