Kats drop Ronan for Western A crown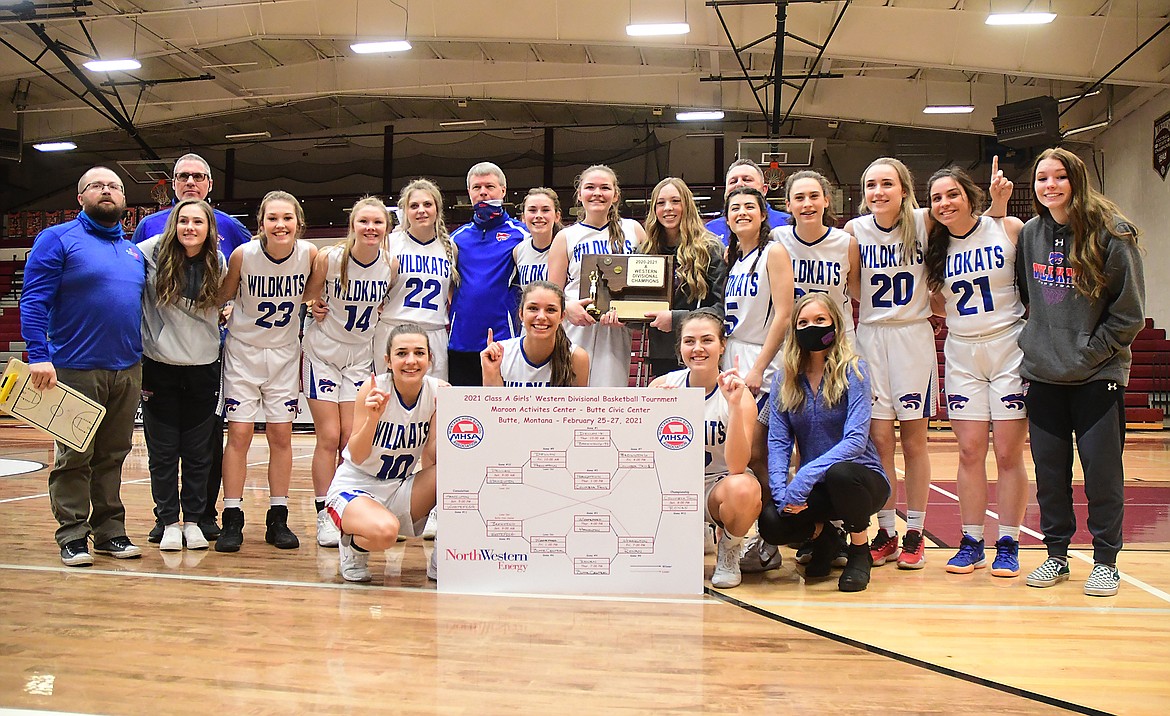 The Columbia Falls girls basketball team with the Western A trophy. (Teresa Byrd photo)
by
CHRIS PETERSON
Editor
|
February 28, 2021 10:30 AM
The Columbia Falls girls basketball team won the Western A divisional tournament in Butte Saturday night, holding off a late rally by Ronan for a 59-54 victory. The Wildkats hit some clutch free throws down the stretch to secure the win. Maddie Robision scored 21 to lead the Kats, but it truly was a team effort, as six girls made the scoring column.
The Chiefs shot out to a 7-0 lead in the first, but the Kats evaporated that margin fairly quickly and were up 13-10 at the end of the quarter and 31-20 at the half. At the break Robison and LaKia Hill led the scoring effort with eight and six points apiece. Clarissa Erb came off the bench and scored five.
The Kats were without Lauren Falkner who turned her ankle in the semifinal against Browning the night before, but Grace Gedlaman stepped in and scored six points in the second half.
In the third the Kats extended the lead early on to 41-29 and it looked like a rout might be in the works. But Ronan cut the margin to just four and the Kats clung onto a 42-38 margin after three. Robison hit a jumper to open the fourth and the Kats were up 44-38 and had extended the lead to 12 points midway through the fourth on a trey by Hill. But Ronan cut it back to four with a little over two minutes left. Hannah Schweikert went to the line and sunk two free throws to put the Kats up by eight. Ronan hit a deep trey to cut in back to five with a minute left.
Ronan hit a jumper to cut the margin to three, 57-54 and with about 10 seconds left they fouled Robison. She hit both free throws to ice the game.
The Kats will face Glendive Wednesday in Great Falls in the opener of a four-day tourney that has a gap between the semis on Thursday and the championship on
Saturday due to coronavirus restrictions and jockeying games between the boys and girls.
Unlike Butte, where the boys and girls played in separate venues, they'll all play in the Four Seasons Arena in Great Falls.
The Kats made it to the Western A finals with a win over Frenchtown in the opener 54-40. They then hung on for a 45-42 win in the semis against Browning.
Schweikert led the squad with 18 against the Broncs. Robison had 16.
Against Browning, the Lady Indians battled back from a 17-point deficit to make it interesting.
Schweikert had 17, Robison had 14 in the squeaker.
Robison was named tournament MVP.
"She had a tremendous tourney," coach Cary Finberg said. He noted that Robison was perfect from the line — 7-for-7 in the championship. Schweikert was a firstteam all tourney selection and led the team in rebounds. Finberg was also pleased with Gedlaman, Erb and Alexis Green's efforts on the final. It was the first start for Gedlaman.
"They came in and did a good job for us," he said.
Glendive dropped Livingston to make it to state in the Eastern A tourney consolation round. If the Kats get past Glendive, they'll likely face Havre in the semis. Havre lost a squeaker to Billings Central 44-43 in the Eastern A final.
The Western A tourney was dominated by the Northwest teams. Only one Southwest team — Hamilton, made it to state. Butte Central, the top seed, was knocked out by Whitefish in the consolation bracket. Whitefish also qualified for state.
Finberg said that wasn't unexpected.
"I knew our conference was a lot better than it has been," he said.
The Kats hope to have
Falkner back sometime in the state tournament. Finberg said they need her presence in the post.
"She's a tough kid," Finberg said, noting she'll try to play unless she absolutely can't.
Frenchtown 11 6 6 17 - 40 Columbia Falls 11 13 17 13 - 54
FRENCHTOWN — Maddy Eggers 11, Cassidy Bangell 2, Lauren Demmons 3, Demi Smith 8, Sadie Smith 13, Shelby Smith 3.
COLUMBIA FALLS — Maddie Robison 16, LaKia Hill 7, Hannah Schweikert 18, Lauren Falkner 4, Madysen Hoerner 3, Clarissa Erb 2, Grace Gedlaman 4.
Columbia Falls 13 18 11 17- 59 Ronan 10 10 18 16 - 54 COLUMBIA FALLS — Maddie Robison 6-10 7-7 21, LaKia HIll 5-11 1-2 13, Grace Gedlaman 3-5 0-4 6, Hannah Schweikert 2-9 6-8 10, Madysen Hoerner 1-2 0-0 2, Clarissa Erb 2-3 0-0 5, Alexis Green 0-0 0-0 0, Hope McAtee 1-3 00-0 2, Peyton Rhodes 0-0 0-0 0. Totals 20-43 14-21 59.
RONAN — LaReina Cordove 3-13 0-0 6, Danielle Coffman 3-4 2-4 9, Areanna Burke 4-10 0-0 11, Madeline McCrea 0-1 0- 0, Jaylea Lunceford 3-5 5-6 11, Margaret Cordova 1-1 0-0 3, Leina Ulutoa 0-2 0-0 0, Jaeleigh Gatch 0-4 4-7 4, Olivia Heiner 3-6 3-6 10, Adriana Tatukivei 0-0 0-0 0. Totals 17-46 14-25 54.
3-point goals — C. Falls 5 (Robison 3, Hill 3, Erb), Ronan 6 (Burke 3, Heiner, MCordova, Coffman). Rebounds — C. Falls 31 (Schweikert 10), Ronan 23 (Coffman 6). Fouls — C. Falls 20, Ronan 16. Fouled out — none.
---