Wildcats punch ticket to tourney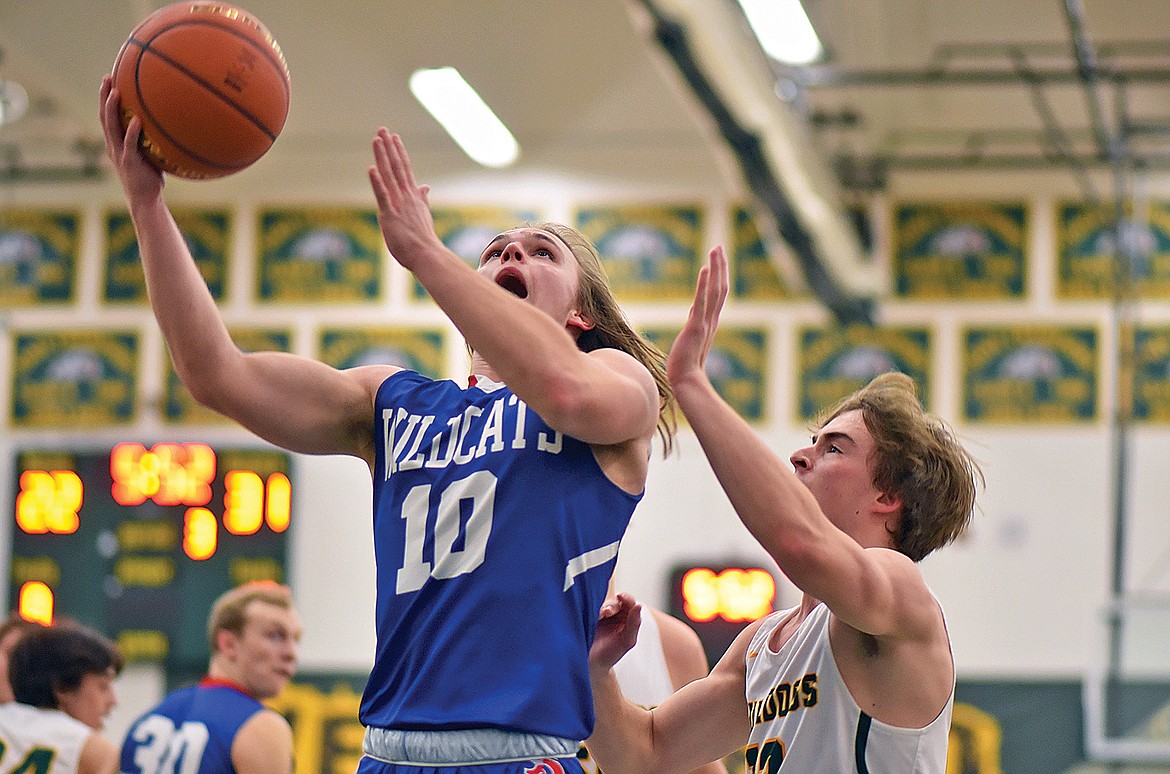 Cade Morgan goes up for a shot against Whitefish. (Whitney England photo)
by
TERESA BYRD
Staff Writer
|
February 24, 2021 9:40 AM
The Columbia Falls boys basketball team secured a berth to the Western A divisional tournament Monday night, dropping Whitefish, 58-43.
The Wildcats were led by freshman Alihn Anderson with 18 points. Frosh Jace Hill added 12 points and senior Allec Knapton scored 13. Knapton had 10 boards, six on the offensive end for the Cats, who rounded out the season at 7-0.
The boys overcame a late season skid to make the playoffs in Butte. They face Dillon in the opener at 7 p.m. Last week, the Cats dropped Ronan in the final seconds of the last regular season and home game of the year to bring the final score to 56-55 Thursday.
The Wildcats came out with a strong lead against Ronan, ending the first quarter 20-11, but the Chiefs were able to even it up before the break, gaining a one-point lead at 35-34.
Ronan was able to grow their lead to eight in the next quarter, ending the third up 48-40.
But the Cats battled back in the fourth, with Cade Morgan tightening the score by sinking a three-pointer late in the quarter.
The final few minutes of the game was an action-packed sequence that had fans on the edge of their seats.
With a couple minutes left on the clock, the Wildcats were down by one when Ronan was given a free throw that missed. Ronan then fouled, bringing the Cats to the free throw line. Both shots were missed but Allec Knapton snagged the offensive rebound to sink it for two, bringing the Cats to a one-point lead with two seconds left on the board.
The referees then bumped the clock back to four seconds, in which Ronan got in a shot that bounced off the rim at the buzzer, leaving the Cats with the victory.
"I thought the kids persevered and were able to pull it off," said head coach Chris Finberg. "It was a very good team win."
Finberg praised the diversity of effort among the players, with Anderson getting the Cats' momentum started early in the game, Hill staying steady with big shots throughout, Knapton with another double-double on points and rebounds, Cade Morgan with the clutch in the fourth and Mason Peters with overall support.
"Peters was just all over the place, hustling and doing the little things that don't show up on the stat line," said Finberg.
---