The name has changed, the excellence is still the same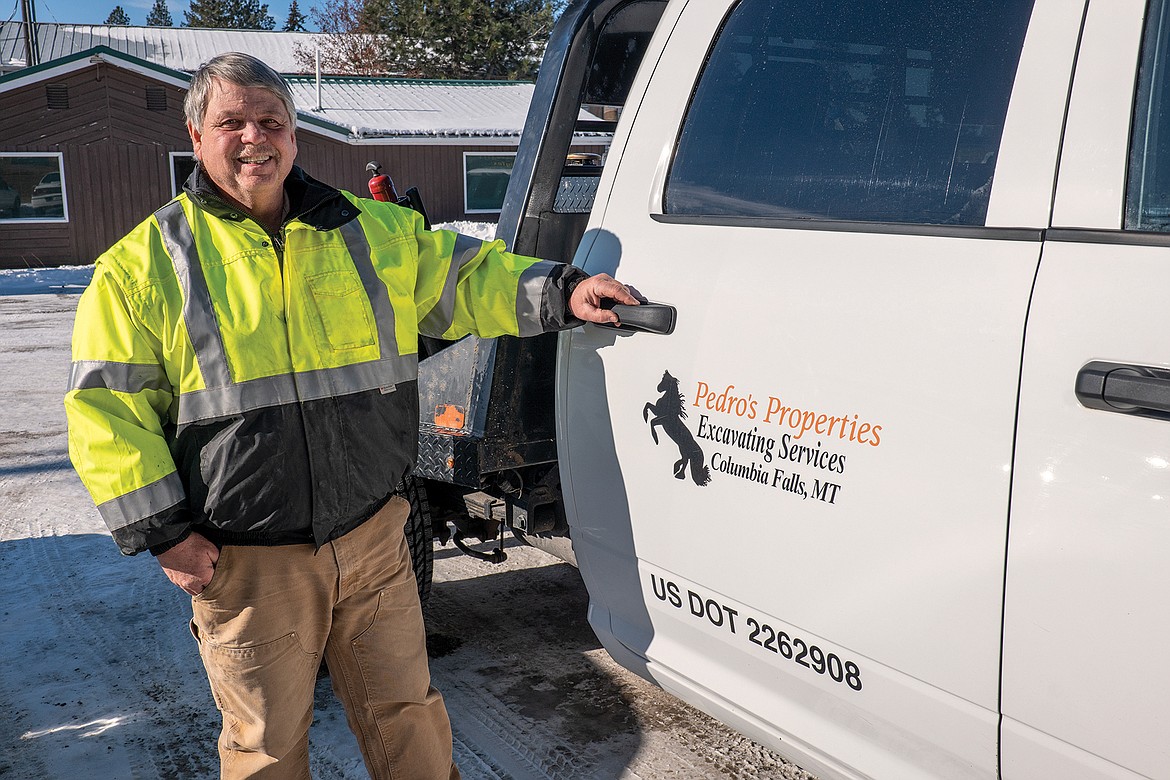 Don Barnhart has sold his business, B&F Excavating. It is now Pedro's Properties Excavating Services. He will slowly retire in the next couple of years, steering the company into its future. (Chris Peterson photo)
by
CHRIS PETERSON
Editor
|
February 17, 2021 7:00 AM
After 66 years of working on numerous major construction projects in and around Columbia Falls, B&F Excavating is no more. It is now Pedro's Properties Excavating Services.
Owner Don Barnhart sold B&F last year to Marquis Laude, the owner of Integrated Securities Solutions of Kalispell.
But Barnhart will still be the smiling face behind the wheel of the dump truck and excavator for at least a couple more years to come, as he's agreed to stay on with the new company during the transition. At 68, Barnhart still enjoys the work.
B&F started out in 1955 when Barnhart's father, Ray, and neighbor Fred Fowler bought out E.J. Lundstrom. The pair had worked for Lundstrom about a year doing excavation work in Columbia Falls.
In the deal they got an old pickup, an equally old dump truck and a line excavator.
The Barnharts have been in Montana for several generations now. Ray's father and mother, Roy and Ellen moved here from Minnesota to Fairview and ran a store there.
Ray joined the Navy in World War II and his four brothers joined the service as well. They all survived and Ray moved to Columbia Falls after the war because there was work here. The Hungry Horse Dam was being built and after that, the Anaconda Aluminum Co. plant.
Don began working for B&F in his teens. He would ride his bike to job sites and then help out. He got his commercial driver's license at 15 — driving a standard shift dump truck with nine gears was an adventure.
"I was 5-feet-2," he said."I could barely see over the steering wheel."
Over the years the business grew, doing well in the good times and surviving the bad.
"If there was digging to be done around here, we did it," Barnhart said.
Numerous buildings in town have seen B&F dirt work. They dug the foundation for the Cedar Palace, part of Weyerhaeuser's MDF plant, the former Conrad Bank in Kalispell and too many houses to count.
Barnhart's wall in his office has numerous photos of projects from yesteryears, including a big fish pond he dug near Haskill Basin.
The equipment today is far better than it was back then. Tractors and excavators had no rollover bars and the work could be dangerous if you weren't careful. The rigs were all two-wheeled drive, too.
Barnhart said he bought his first four-wheel drive backhoe with an extended hoe in 1988.
The family also did a lot of volunteer work in the community. Ray was an ambulance driver, and Columbia Falls fire chief (the hall is named after him) and Don followed in his footsteps, also rising up through the ranks to be chief for seven years.
Don was active in the now defunct Jaycees, doing numerous community projects over the years. He served on the Columbia Falls city council for seven years and has been mayor now for 10.
Ray died in 1986 and Don and his wife Barb have run the business since, buying out his mother, Irene in the early 1990s.
"I haven't had a boss since 1986," Barnhart said with a smile.
Now he has a boss, but a hands off one. Barnhart enjoys the work without having to deal with the paperwork of running the business himself now.
"I really enjoy doing this," he said.
He's now looking for someone who will manage it into the future.
"We're trying to find someone who wants to do this job," he said.
As far as the name Pedro goes, Pedro is one of Laude's horses. He often rides it in local parades.
Barnhart's advice for anyone looking to start their own business?
"Dedicate yourself to it," he said. "Get some skin in the game."
Candidates interested in the managing post should have some management experience and experience in the industry. They can call 892-5152 for more information.
---