Kats now 15-0
by
CHRIS PETERSON
Editor
|
February 17, 2021 7:00 AM
The streak continues.
The Columbia Falls girls basketball team won a three games last week to extend their record to 15-0.
They dropped Bigfork on the road in a tight matchup last Tuesday, 56-51, then hapless Polson away 74-26 and then they beat Browning 62-46 at home for senior night.
Against Bigfork, the Wildkats were led by Hannah Schweikert and Maddie Robison with 15 apiece.
In the Browning game, Schweikert led all scorers with 22. Lakia Hill had a great game with 15 points, five assists and she also was a defensive force against the Lady Indians.
Lauren Falkner was also solid in both games, battling the boards for 10 points against Bigfork and 11 against Browning. She had 10 rebounds against Browning as did Schweikert. Robison had five assists.
The Kats outrebounded Browning 48-35.
The Browning game was fairly tight in the first half, with teams trading turnovers in the first stanza. But then the Kats found a groove in the second and were up by nine at the break and they outscored Browning 20-8 in the fourth to seal the win.
Against Bigfork the girls allowed a team for the first time this year to score more than 50 points, as the Class B Valkyries gave the Kats a run for their money, as they were down just two points after three quarters.
But the Kats were able to pull away in the fourth.
Coach Cary Finberg was pleased with the team's performances overall.
"It was good for us to put together a good solid game this time of year," he said about the Browning game.
Against Bigfork, he said Valkyries had some girls come in the second half and had a hot night shooting the ball. The Kats responded, however, holding them off in the fourth for the win.
The Kats wrap up the regular season on the road with a game against Stevensville Tuesday and Ronan Thursday.
The state A tournament as been pushed up a week and moved to Great Falls, but the Kats have to make it through the bracket at divisionals in Butte Feb. 25. The southern conference has a stack of talented teams, with Butte Central on top at 10-2 and then a host of teams virtually tied for second.
Browning 11 9 18 8 – 46
Columbia Falls 11 18 20 13 – 62
BROWNING – Chalissa Kipp 4, Arena Matt 3, Mecca Bullchild 9, Walker Running Crane 1, Tatum Running Crane 8, Brailey Racine 3, Amari Calf Robe 8.
COLUMBIA FALLS – Hannah Schweikert 22, Lakia Hill 15, Lauren Falkner 11, Maddie Robison 10, Grace Gedlaman 2, Hope McAtee 2.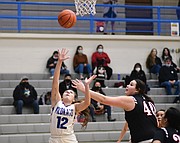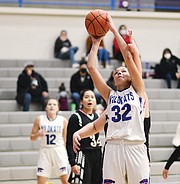 ---