After storm, local vet lends helping hand to cemetery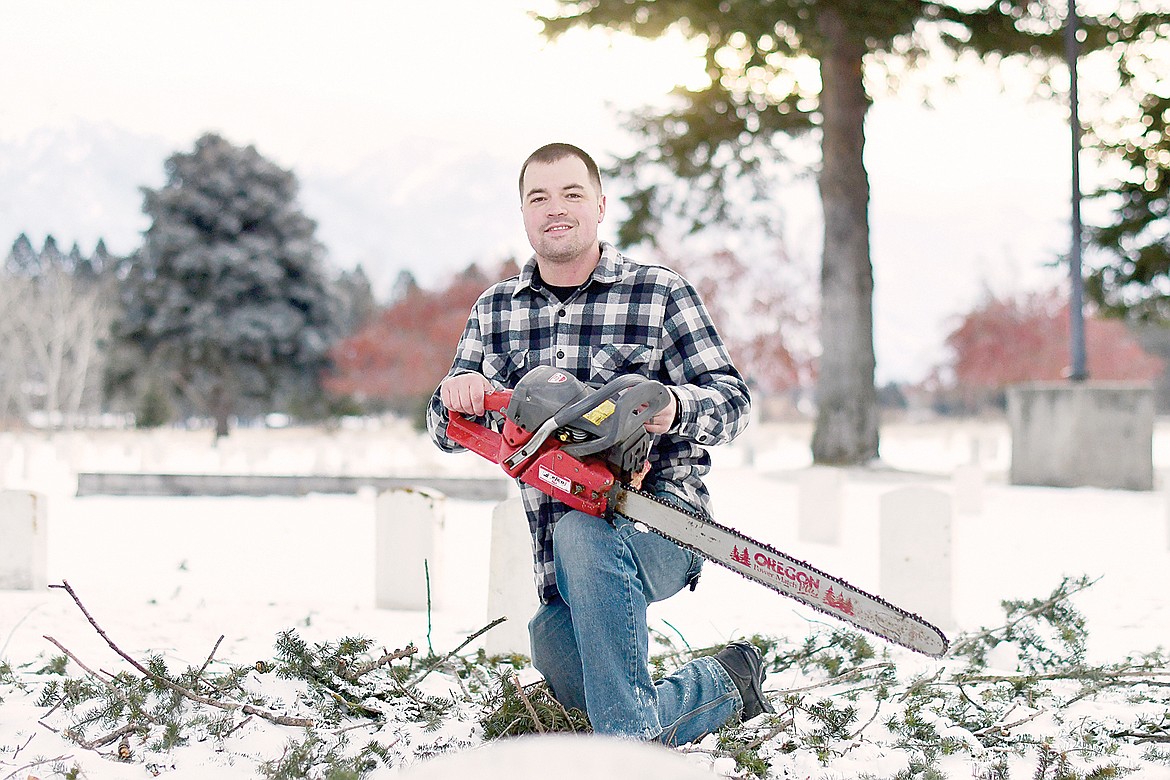 Sgt. Brady Wassam after clearing away large storm debris from gravesites in the Montana Veterans' Home Cemetary last week. (Teresa Byrd/Hungry Horse News)
by
TERESA BYRD
Staff Writer
|
February 17, 2021 7:00 AM
While driving past the Montana Veterans' Home Cemetery on his way home after a recent snowstorm, Sgt. Brady Wassam, of the Army National Guard, noticed that a scattering of heavy tree limbs had fallen among the headstones.
It wasn't long before he packed up his chainsaw and headed out into the bitter cold to clean up the mess.

"I'm a vet myself," said Wassam. "And, I don't know, I just figured they've done a lot cooler stuff than I have, and served our country way better than I have, so the least I can do is make sure they're not disrespected by having branches and stuff laying on their grave sites."
Wassam, a 2009 Columbia Falls High School graduate and engineer for BNSF Railway, joined the National Guard four and a half years ago.
In October of 2019 he was activated for a year-long deployment to Iraq as part of the ongoing "Operation Inherent Resolve."
While there, Wassam served as a fueler, mainly for aircraft but also tanks and other ground vehicles, helping dispense the 2.6 million gallons of fuel pumped that year.
Wassam returned home to his wife and three children in October, and continues to work as a railway engineer, while drilling for the National Guard on the weekends.
Last week, after bucking up the small-tree sized limbs and tossing them over the fence into a pile, Wassam sent out a post on Facebook calling for anyone who had the use of a pickup truck or trailer to help with the cleanup. The pile was gone by the next morning.
Wassam was happy to report that none of the headstones were damaged.
During the cleanup, Wassam was struck by the sense of connection he felt with the servicemen the tombstones paid tribute to, even across a timespan of generations.
"One of the headstones was from 1920, so it's literally been there for 100 years," said Wassam. "I thought it was cool that we have uniformity with people from a hundred years ago. Hopefully —maybe in a hundred years— there will be some other 29-year-old dude who will clean up present day veterans' gravesites."
---