MatCats did well in duals in Ronan last week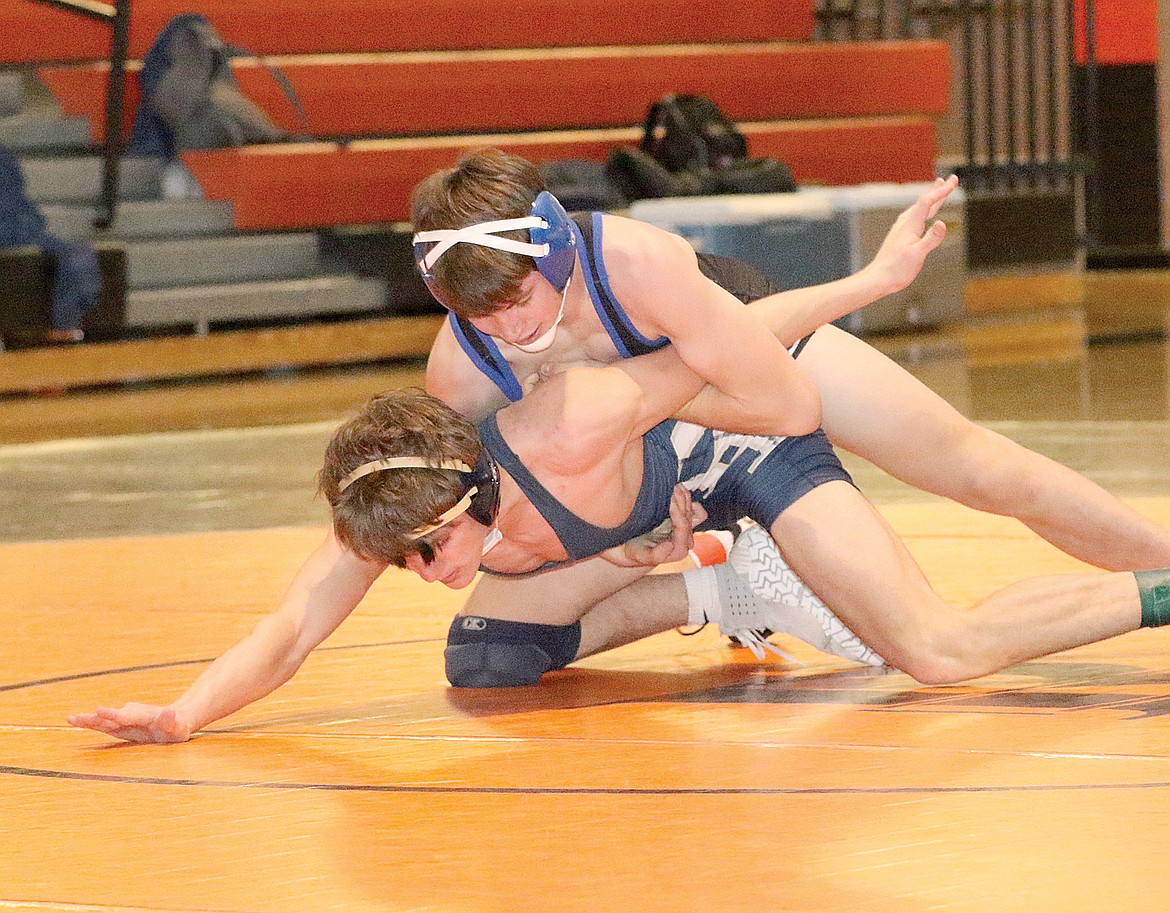 Justin Windauer (top) grapples last week. (Bob Windauer photo)
by
TERESA BYRD
Staff Writer
|
February 10, 2021 7:00 AM
Wildcat wrestling traveled to Ronan Saturday for a double-dual event that featured a mix of competitors from Dillon, Butte Central, and Stevensville.
"It's always nice to wrestle different competition," stated head coach Jessie Schaeffer in reference to the non-conference matchups.
The double-dual on Friday in Browning was canceled due to weather.
The Cats stacked up well on Saturday, coming away with victories in both duals after defeating Dillon 52-19, and Stevensville/ Butte Central 70-6.
The MatCats claimed wins in 13 of the 18 matches wrestled, of which 11 were falls and two were major decisions.
Wildcat Justin Windauer (126) had a standout match against Dillon when he pinned Noah Huffaker, who's ranked third in the state.
"Windauer got in his match and started wrestling his style and ended his match on a very solid note," said Schaeffer.
Windauer is undefeated so far this season.
And Wildcat Rowdy White (160) had an excellent evening against Stevensville after turning around to pin opponent Aaron Springer, who he'd lost to earlier in the season.
The Cats wrestle this week at 5 p.m. against Eureka at home Thursday and at 1 p.m. on Saturday in Whitefish.
The Browning match was canceled.
Columbia Falls (52) vs. Dillon/ Twin Bridges / Sheridan (19)
103: Cash Byrd (COFA) over (BCDT) (For.)
113: Hunter Barnes (BCDT) over Tyler Gilfry (COFA) (MD 13-5)
120: Josiah Kilman (COFA) over Neal Brandon (BCDT) (Fall 1:48)
126: Justin Windauer (COFA) over Noah Huffaker (BCDT) (Fall 4:25)
132: Tel Holland (BCDT) over Gage Lemburg (COFA) (Fall 4:40)
138: Forrest Wagoner (BCDT) over Ty Allen (COFA) (Dec 12-5)
145: Isaiah Roth (COFA) over (BCDT) (For.)
152: Tate Hanson (BCDT) over Trey Torpen (COFA) (Fall 1:17)
160: Lucas Thacker (COFA) over Tanner Mussard (BCDT) (Fall 1:25)
170: Rowdy White (COFA) over (BCDT) (For.)
182: Josh Bertram (COFA) over Johnathan Johnson (BCDT) (Fall 0:28)
205: Brandon Roll (COFA) over Jesse Hughes (BCDT) (Fall 1:00)
285: Josh Price (COFA) over Mateo Martinez (BCDT) (MD 9-1)
Columbia Falls (70) vs. Stevensville / Victor (6)
103: Cash Byrd (COFA) over (STVI) (For.)
113: Tyler Gilfry (COFA) over (STVI) (For.)
120: Josiah Kilman (COFA) over Gunnar Larson (STVI) (Fall 1:44)
126: Justin Windauer (COFA) over William Chiaverini (STVI) (Fall 3:27)
132: Gage Lemburg (COFA) over (STVI) (For.)
138: Ty Allen (COFA) over Ty Thompson (STVI) (Fall 1:08)
145: Isaiah Roth (COFA) over Dylan Janes (STVI) (Fall 2:59)
152: Jeffrey Berryman (STVI) over Trey Torpen (COFA) (Fall 2:36)
160: Rowdy White (COFA) over Aaron Springer (STVI) (Fall 3:16)
170: Lucas Thacker (COFA) over (STVI) (For.)
182: Josh Bertram (COFA) over (STVI) (For.)
205: Brandon Roll (COFA) over Kaden Sunderland (STVI) (Fall 1:49)
285: Josh Price (COFA) over Zachary Sannar (STVI) (MD 14-4)
---