Streak ends, as speech takes second at state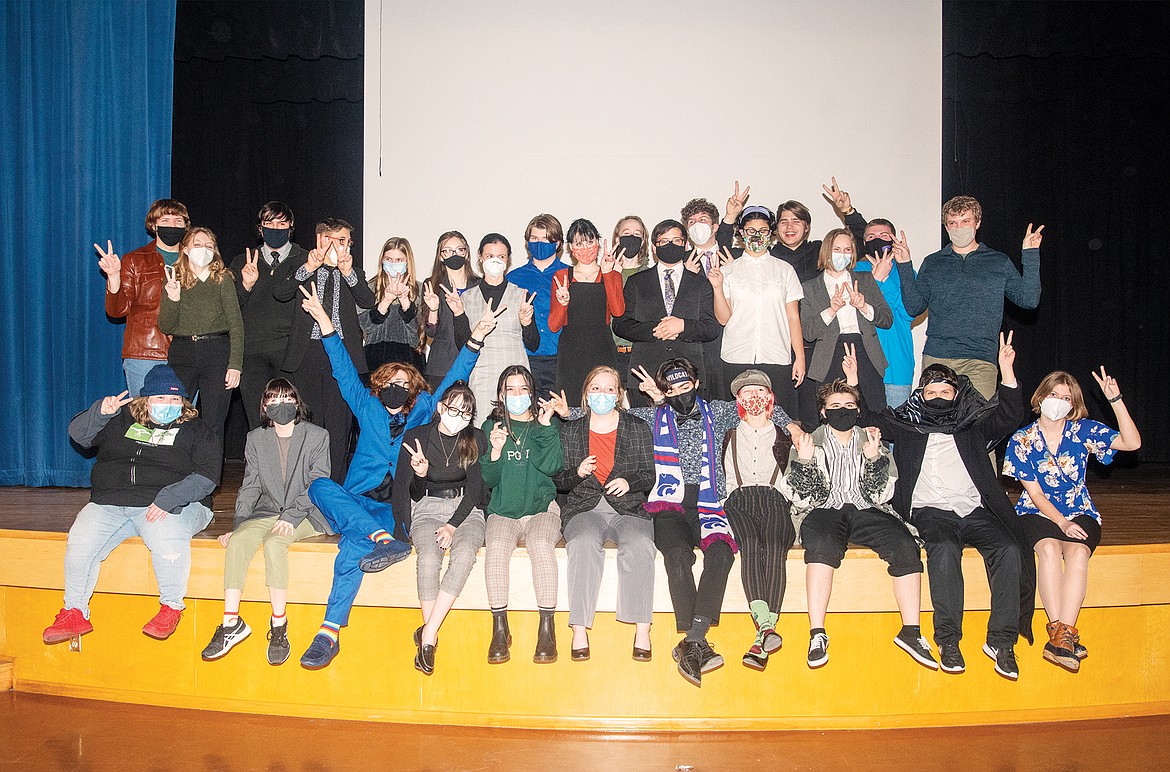 Front row, from left, interpretative coach Alix Major, Elleanor Hollingsworth, Aiden Judge, Eddie Chisholm, Lillian McDonald, Taylor Stephens, Zack Tillman, Ruby Davis, Lidda Peterson, Carter Harvey, Julia Sowerwine; back row, debate coach Mikel Knutson, Emma Stephens, Tre Finley, Finley Sundberg, Paige Moriarty, Callie Johnson, short prep coach Jodi Schipper, Raphe Salmon, Chloe Coberley, Griffin Conger, Brayden Crawford, Aiden Rohn, Nakita Kamat, Konnor Heindl, Emma Snedecker, Riley Garner, head coach Blake Ladenburg. (Chris Peterson photo)
by
CHRIS PETERSON
Editor
|
February 3, 2021 7:00 AM
The streak is over.
The Columbia Falls Wildcat Speech and Debate team took second at the state A tournament Saturday, falling to rival Whitefish, 200-167.
It marked the end of 15 straight state A titles for the Cats.
The Cats had champions in both speech and debate. Griffin Conger took first in dramatic interpretation. In debate, Emma Stephens and Tre Finley took first in policy debate.
But the end result wasn't entirely unexpected, noted coach Blake Ladenburg. The speakers took on additional speeches and events in different categories with just weeks to go in the season to try to pick up more points, but it wasn't quite enough.
Whitefish, Frenchtown and Columbia Falls had been neck-and-neck most of the season.
Frenchtown faded a bit at state, taking fourth, Laurel was third.
"This entire season was so close, and coming into this tournament we knew it could go any direction." Ladenburg said.
He noted that Whitefish had an amazing tournament from start to finish, and not only scored the most points in speech, something they had done most of the season, but also in debate. Ladenburg credited Bulldog's coach Sara Mueller and her competitors for their performance.
"It is hard to compete against such a strong performance across the board. Whitefish has been such a strong competitive force since I have been back coaching for three years. We push each other to be better, and it's been an honor to compete on their level with them this year," he said.
This year all performances were done via video conference online due to coronavirus concerns, which presented plenty of challenges.
Columbia Falls had more than 80 volunteer judges.
"A huge shout out to judges this year," Ladenburg said. "The virtual season wouldn't be possible without them."
He told the team he was proud of them and taking second had its virtues.
"It will make you better adults and citizens in the world," he said.
"I could not be more proud of my students. They each persevered through an altered and difficult season, and their resiliency was something to behold. I give them a huge amount of credit for showing up week after week and giving it their all," he added.
Individual Results:
Memorized Public Address
3rd Julia Sowerwine
5th Taylor Stephens
Informative Speaking
3rd Taylor Stephens
8th Aiden Judge
Original Oratory
3rd Griffin Conger
5th Julia Sowerwine
Impromptu
2nd Chloe Coberley
8th Paige Moriarty
Extemporaneous
8th Aiden Judge
Dramatic Interp
6th Chloe Coberley
Humorous Interp
2nd Ruby Davis
8th Zack Tillman
Policy Debate
1st Emma Stephens and Tre Finley
Public Forum Debate
2nd Calie Johnson and Raphe Salmon
Lincoln Douglas Debate
5th Eddie Chisholm
---