MatCats shake off Bigfork loss to drop Browning, Polson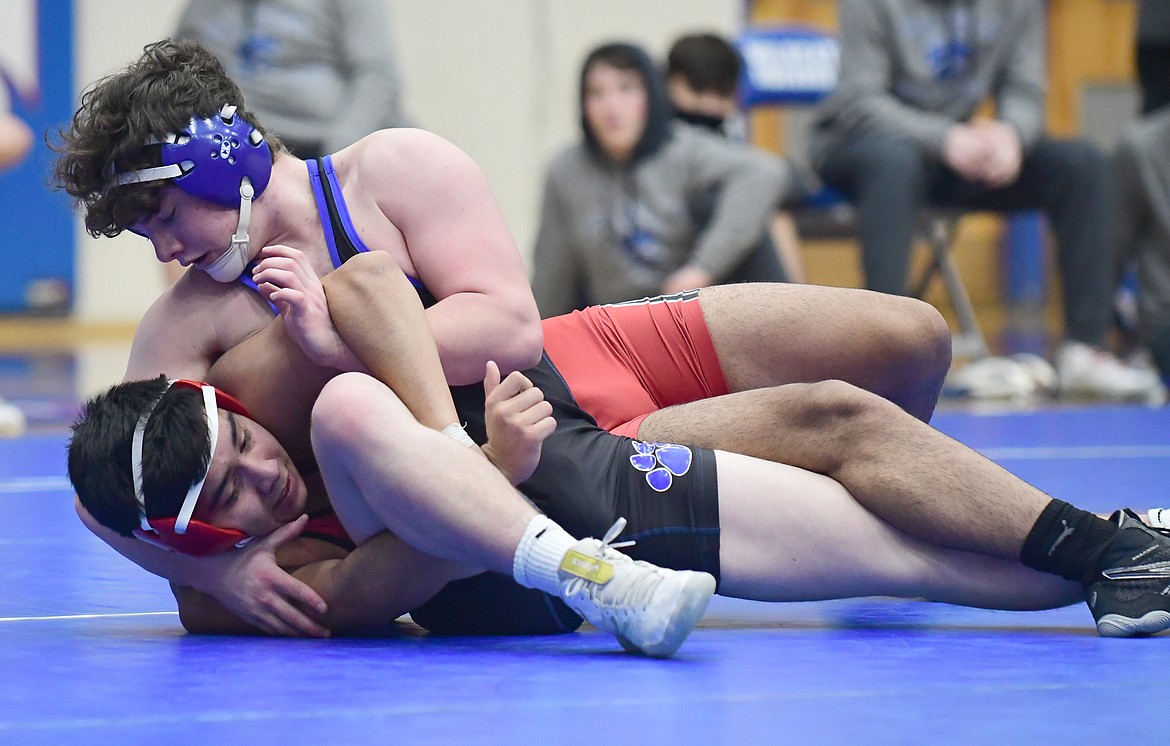 Isaiah Roth in a match against Browning on Saturday. (Teresa Byrd/Hungry Horse News)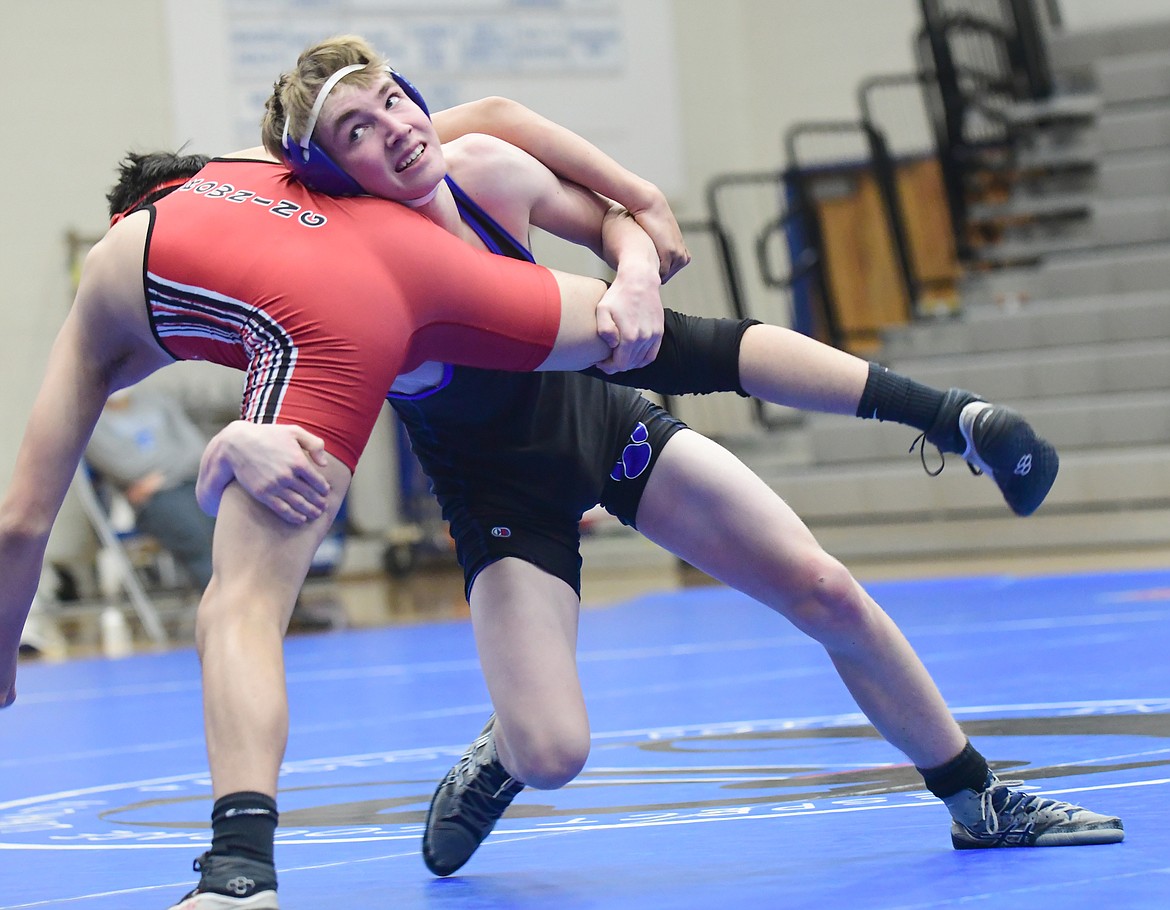 Colton Hogan goes for a takedown in a match against Browning on Saturday. (Teresa Byrd/Hungry Horse News)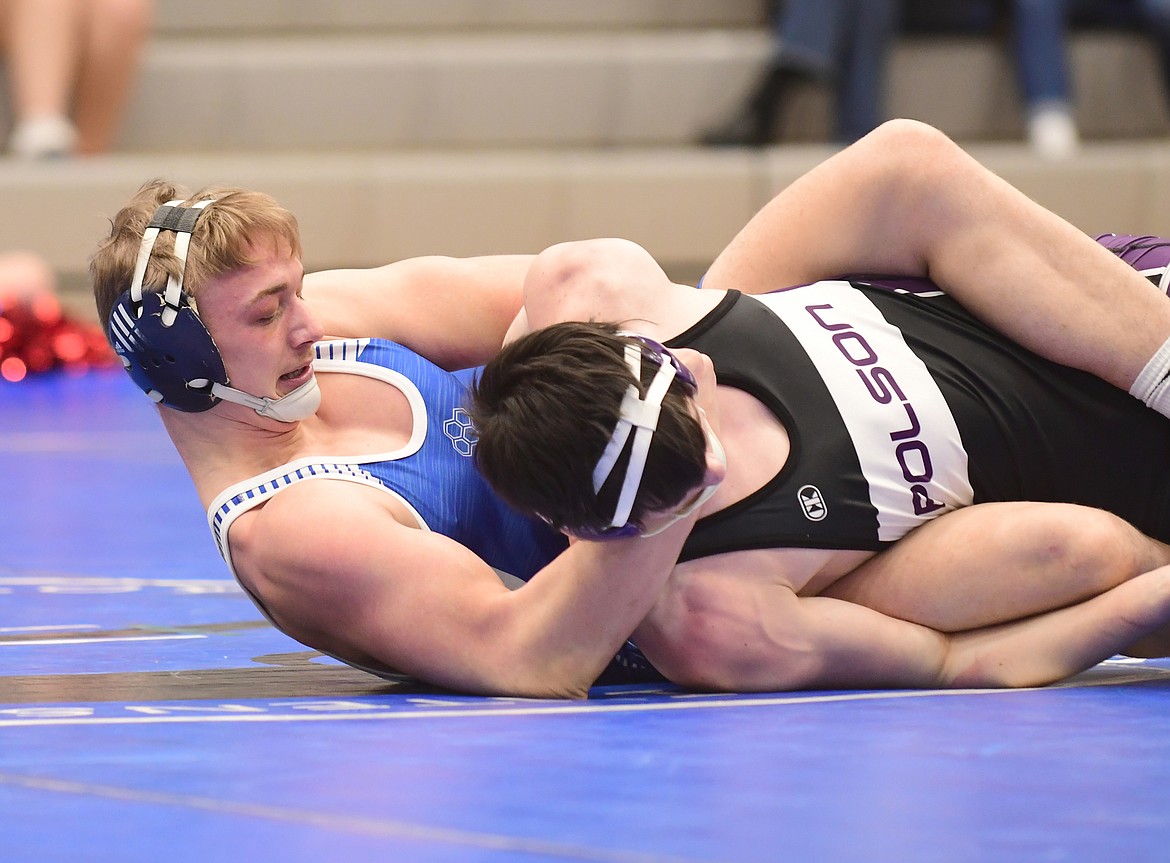 Lucas Thacker gets his three points near-fall in a match against Polson Saturday. (Teresa Byrd/Hungry Horse News)
Previous
Next
by
TERESA BYRD
Staff Writer
|
February 3, 2021 7:00 AM
Wildcat wrestling took a slightly unexpected hit after closely losing to Bigfork, 36-33, Thursday evening before returning to claim back-to-back victories in a double-dual against Browning, 42-27, and Polson, 59-18 on Saturday.
"[Bigfork] came in and wrestled well," said head coach Jessie Schaeffer regarding Thursday's dual against the class B school. "And we needed that, as a team, to reevaluate and move forward, you know, you can't put anybody out of the picture. You gotta show up and be ready every time."
"And [Bigfork] deserves recognition, you know," added Schaeffer. "What a great deal for them. They've come a long ways with their program. So... our head gear's off to them."
The MatCats then faced Browning on Saturday in a meet featuring two anticipated matchups in the middle weight divisions, both of which ended well for Columbia Falls. Wildcat Isaiah Roth (152) defeated Jaren Keene in a 13-10 decision, and Wildcat Rowdy White (160) defeated Brennyn Running Crane in a 5-2 decision. The Cats also had three pins over Browning.
Columbia Falls brawlers ended the week by handily defeating Polson Saturday afternoon.

The Wildcats hit the road this week to face Browning and Polson again in a double-dual in Browning at 5 p.m. on Friday, followed by a mixer event in Ronan at 1 p.m on Saturday against Ronan, Stevensville, Dillon and Butte Central.
Columbia Falls (33) vs. Bigfork (36)
103: Traic Fainter (BIGF) over Cash Byrd (COFA) (Fall 0:40)
113: Tyler Gilfry (COFA) over Jason Merringer (BIGF) (Fall 0:27)
120: Angus Anderson (BIGF) over Logan Riley (COFA) (Fall 0:53)
126: Connor Venezio (COFA) over (BIGF) (For.)
132: Justin Windauer (COFA) over Ryder Nollan (BIGF) (MD 13-3)
138: Ty Allen (COFA) over Eli Tidwell (BIGF) (Dec 12-7)
145: Shelton Woll (BIGF) over Colten Hogan (COFA) (Fall 3:22)
152: Isaiah Roth (COFA) over Vaughn Pendlay (BIGF) (Dec 14-10)
160: Archie Brevik (BIGF) over Trey Torpen (COFA) (Fall 2:38)
170: Lucas Thacker (COFA) over Joseph Ferrier (BIGF) (TF 17-2 6:00)
182: Josh Bertram (COFA) over Evan Tidwell (BIGF) (Fall 0:30)
205: Isaac Bjorge (BIGF) over Brandon Roll (COFA) (Fall 1:24)
285: Fletcher Postelwait (BIGF) over Josh Price (COFA) (Fall 3:14)
Columbia Falls (42) vs. Browning (27)
103: Chris Hall (BROW) over Cash Byrd (COFA) (Fall 1:50)
113: Tyler Gilfry (COFA) over (BROW) (For.)
120: Billy Gustafson (COFA) over (BROW) (For.)
126: Orion Barta (COFA) over (BROW) (For.)
132: Justin Windauer (COFA) over Quenton Campos (BROW) (Fall 5:01)
138: Ty Allen (COFA) over (BROW) (For.)
145: David Sharp (BROW) over Colten Hogan (COFA) (Dec 10-4)
152: Isaiah Roth (COFA) over Jaren Keene (BROW) (Dec 13-10)
160: Rowdy White (COFA) over Brennyn Running Crane (BROW) (Dec 5-2)
170: Lucas Thacker (COFA) over Jace Augare (BROW) (Fall 1:41)
182: Gabe Walker (BROW) over (COFA) (For.)
205: Brendyn Whiteman (BROW) over (COFA) (For.)
285: Waylon Bull Calf (BROW) over Josh Price (COFA) (Fall 3:14)
Columbia Falls (59) vs. Polson (18)
103: Ryley Knutson (POLS) over Cash Byrd (COFA) (Fall 1:41)
113: Tyler Gilfry (COFA) over Cole Cross (POLS) (Fall 2:54)
120: Billy Gustafson (COFA) over Micah Craig (POLS) (TF 18-2 5:24)
126: Orion Barta (COFA) over Gavin Knutson (POLS) (Fall 3:49)
132: Justin Windauer (COFA) over (POLS) (For.)
138: Ty Allen (COFA) over Noah Trosper (POLS) (Fall 1:17)
145: Colten Hogan (COFA) over Xavier Pierre (POLS) (Fall 4:53)
152: Isaiah Roth (COFA) over Caleb Pierre (POLS) (Fall 1:57)
160: Rowdy White (COFA) over Michael Pierre (POLS) (Fall 3:00)
170: Lucas Thacker (COFA) over Abel Kimmel (POLS) (Fall 1:36)
182: Josh Bertram (COFA) over (POLS) (For.)
205: Jamison Webster (POLS) over (COFA) (For.)
285: Aaron O`Roake (POLS) over Josh Price (COFA) (Fall 2:50)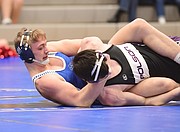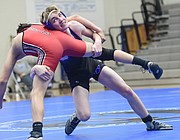 ---