Marion Andrew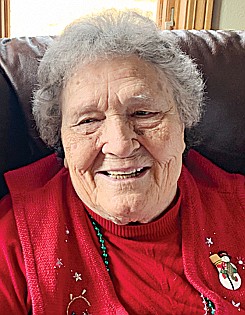 |
December 22, 2021 6:00 AM
Marion Andrew joined her Lord on Dec. 16, 2021, after a courageous battle with cancer.
Born in Laurel on Jan. 27, 1929, to James Albert and Esther Anderson Mitchell, Marion grew up in Belfry, Montana. She played saxophone in the school's bands, was the center on the girl's basketball team, and was active in the Order of Rainbow for Girls, 4H, and her Presbyterian church. Belfry High School named her valedictorian at her graduation in 1946. At Montana State College (now University) Bozeman, Marion joined the Alpha Gamma Delta sorority and SPURS.
A classmate invited Marion on a blind date with his brother, Teddy Andrew, who had recently been discharged from the Army. The two married on June 21, 1947. They moved to Columbia Falls, where housing was hard to find. After living in two different motels and an unfinished cabin, they built their own one-bedroom home. They soon outgrew it with the birth of their children and began building their lifelong home together. Teddy and Marion were married for 56 years before Teddy passed away in 2003. In 2014 she moved to Billings to be close to family and moved into St. Johns independent living, Chapel Court, where she gained an additional family.

Marion's jobs included working in her home making ceramic skillets for Campfire Memories, Welcome Wagon hostess, teacher's aide and hot lunch clerk. A voracious learner, she attended Flathead Valley Community College and took every class available to her. Marion devoted her free time to her community, which often looked to her as a leader. She spent Sundays at the Methodist church, where she volunteered as the Sunday school superintendent. She held leadership roles in United Methodist Women and was a charter member of the church circle. She was Mother Advisor of the Order of Rainbow for Girls and was awarded the Grand Cross of Colors. She was a Den Mother for Boy Scouts and a Brownie leader for Girl Scouts. She and Teddy hosted three foreign exchange students. Their whole family enjoyed time at their cabin on Echo Lake.
Marion and Teddy took at least one big trip a year including travels around the United States and Hawaii, Canada, Caribbean and Alaska cruises, and a trip to England to visit Dennis and Mary when he was stationed there. They also enjoyed a 10- day back back trip through the Bob Marshall Wilderness.
Marion and Teddy continued volunteering throughout their retirement. They enjoyed their years as trustees of the Flathead Lake Methodist Church camp. Marion volunteered at the Chamber of Commerce visitor's center, Meals on Wheels and the Klothes Kloset. She also worked as a literacy volunteer and helped out with the school cribbage program. Somehow she found time to garden, knit, crochet, read and loved puzzles of all varieties. Marion's winter freezer was famously full of home-grown vegetables. She loved gifting her crafts, including angels, to her beloved grandchildren. She was a skilled and merciless opponent in games like pinochle, cribbage, rummikub, and bridge. The love and warmth she gave and received is what kept her busy in so many activities.

Marion is preceded in death by her husband, Teddy; and her brothers, Charles and Walter. She is survived by her four children: Shirley (John) Collins; Marilyn (Pat) Collins; Dennis (Mary) Andrew; Marie (Larry – deceased) Scharfe; sisters-in-law, Joan and Lois; and many extended family members. She has eight grandchildren, 14 great-grandchildren, and three great-great grandchildren, with one more on the way.
Marion often said: "I've had a fairy tale life, a wonderful husband and family. God has blessed me and my family with good health throughout most of my life. I pray that I've lived my life in gratitude and worthiness of His love for me." She counted her cancer as a blessing because it allowed her to venture out for treatments during the Covid shutdowns and spend time with her family traveling to and from her appointments.
Memorials can be sent to St. Johns United Foundation, Chapel Court, 3920 Rimrock Road, Billings MT, 59102. Thank you to the staff at St. Johns, Billings Clinic, and Riverstone Hospice for all their love and compassionate care.
Recent Headlines
---